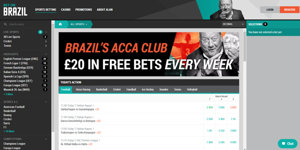 Bet On Brazil was released in 2016 and is owned by Argyll entertainment AG who are based out of Switzerland. The name may be a little confusing at first, but it's named after Scotland football legend, Alan Brazil. OK, we admit it, the association with Alan Brazil is an odd one, even for the gambling industry, but don't let that put you off what's become one of the hottest new sportsbooks in the industry.
Even though the company are based out of Switzerland, they only allow punters from the UK to use the sportsbook and are regulated by the UK Gambling commission as a result. One of the best features about having a brand ambassador that was formerly a professional player is that you get to tap into some valuable resource in the forms of articles within the site, adding a layer of depth that not all sportsbooks are able to offer.

Please note: Bet on Brazil has rebranded to Sport Nation. They've also undergone a pretty intensive facelift at the same time.
Features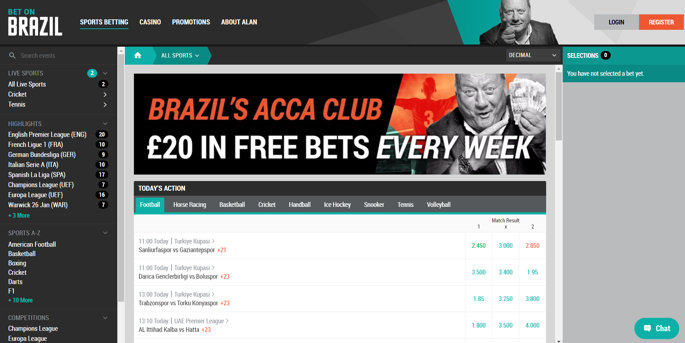 The first thing that really strikes you at the sportsbook is the clean design that's on offer. Usually what you will find from smaller bookmakers is that their design is an area that they are simply not able to match some of the more established brands, but this isn't the case here. It looks modern, slick and very easy to navigate between both sports and markets.
There is a huge football bias on the site, which isn't all that surprising when you have Alan Brazil's mug plastered all over the site. The coverage really is excellent and from this you are able to pick from a massive range of markets for each match that's on offer. Even smaller leagues like the Belgian Pro League and Mexican Primera League have hundreds of markets for each game, which will give you an idea of the scale.
They include 11 other sports as well, which is a pretty small amount when you look at the competition. But, we actually see this as a positive as they've gone with sports that they are confident they can offer a good range of markets and bets for, rather than just throwing sports in to make it look bolstered, when in fact once you scratch the surface you see that coverage is pretty poor.
There aren't an awful lot of features on site if truth be told and it's a very back to basics kind of bookmaker. But again, we didn't see this a negative and if you are looking for a solid, no-frills kind of bookmaker, then Bet On Brazil might just be right up your street!
More Bookmaker Reviews