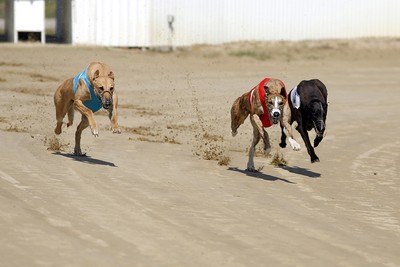 Greyhound racing has been a mainstay of the betting industry for decades. Although attendances at the tracks themselves are now just a fraction of the figures reached during the sport's heydays between the 1920s and 1960s, races are still run up and down the country with morning, afternoon, and evening meetings each day of the week.
Much like horse racing, greyhound racing is intrinsically linked to betting. Dog racing, however, is seen as a far more accessible sport both in terms of placing a wager and attending the stadiums.
Greyhound betting remains a key offering from any online bookmaker in the UK, with plenty of incentives available as a result. We'll exhibit the best of these promotions below.
Latest Greyhound Betting Offers & Promotions
How To Bet On Greyhound Racing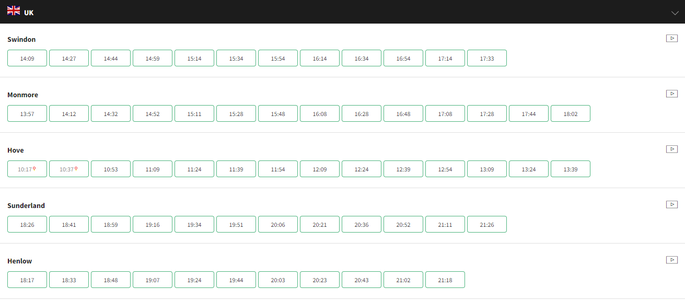 Greyhound betting shares many similarities with horse racing but there are some important differences to look out for. Below we have the lowdown on the most popular markets you will find when looking to bet on the dogs.
Win Betting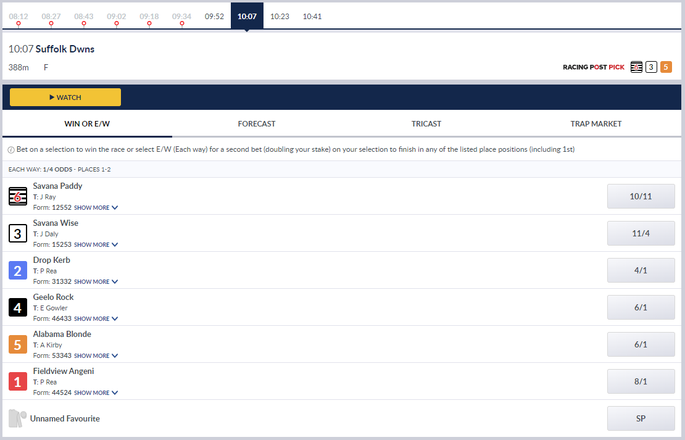 If you want to place a wager on greyhound racing, the simplest one that you can opt for is a bet on the Win. That is exactly as it sounds, being a wager on which dog is going to cross the finish line first. There will be a race favourite, but that doesn't mean that that is the greyhound that is definitely going to win the race. As always, research is your friend here, with a wealth of information available to tell you how each dog has got on in its previous races, as well as how it has done at the course that it is racing on in the past, so use that before making your selection.
Place Betting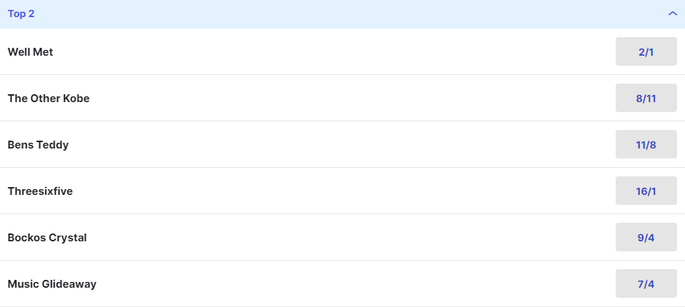 If you're not full of confidence about the ability of your chosen dog to take the win, you can look towards other bets instead. One of these is the Place bet, which is a wager on the idea that your greyhound will finish in the places. Each bookmaker has its own definition of how many places it will pay out on, but generally speaking, a six dog race will have two places. The bigger races will often have promotions on them offering more places in order to try to win your business, so keep an eye out for such offers.
Each-Way Betting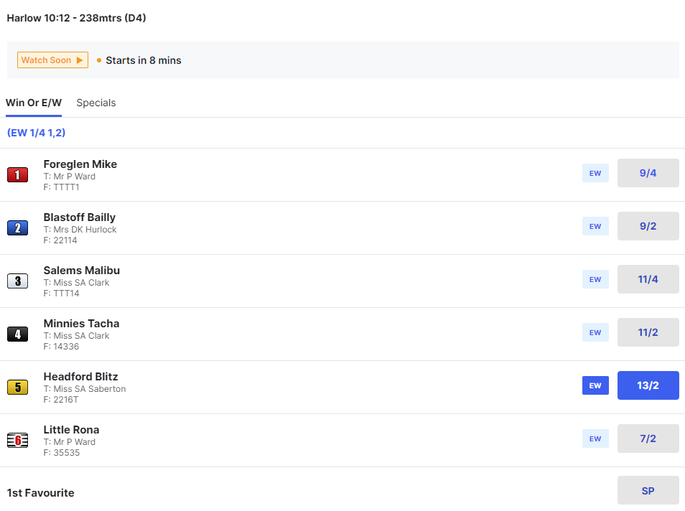 If you want to, you can opt for the best of both worlds by placing a wager on the Each-Way bet. That is a combination of the two bets already mentioned, meaning that you'll win if you chosen dog finishes anywhere in the places. How much you'll win will depend on where they finish and what odds you managed to get them at, in addition to what rules the bookmaker in question applies to Each-Way bets. That is because an Each-Way bet is both a Win bet and a Place bet combined, with the Place side of it paying out at a set fraction of the Win odds as dictated by the bookmaker.
In the majority of instances, bookies will pay out on the first two places, meaning that you'll get some money back provided your dog finishes in the top two. The common decision is to pay out 1/4 odds for the Place part of an Each-Way bet, so if you received odds of 8/1, say, and your greyhound finishes second, you'll get odds of 2/1 for that part of the bet. If it wins, you'll get paid at 8/1 for the Win and 2/1 for the Place. Remember, though, that Each-Way bets are two wagers, so you will need to pay double the stake. A stake of £5, for example, becomes £10 for an Each-Way bet.
Forecast Bets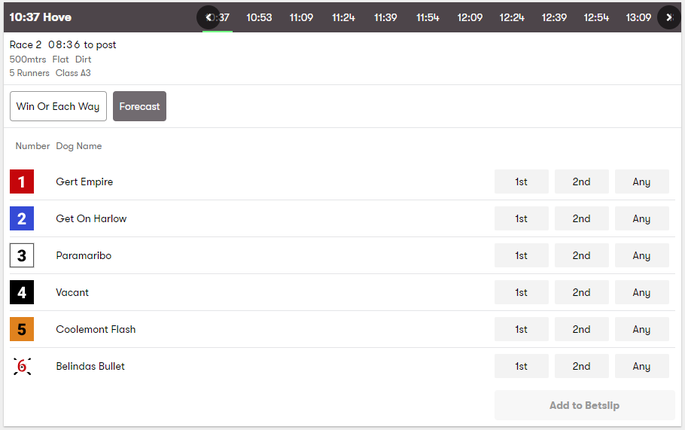 When it comes to greyhound racing, one of the common bets that punters like to turn to is the Forecast. This is where you bet on more than one dog in the same selection, dictating how you think they will finish in the race based on numerous factors. Here is a look at each of the most common types of Forecast wager:
Straight Forecast – Here, you're trying to decide which two dogs will come first and second and you need to pick the order in which they'll finish the race
Tricast – If you place a Tricast bet, you're placing a wager on which greyhounds will come first, second and third in the correct order
Reverse & Combination Forecasts – Bookmakers will offer you Reverse Forecasts or Combination Forecast/Tricasts. This simply means that you can pick the dogs that will come first and second or first, second and third, but it won't matter the order that they finish in
Trap Betting Markets
We will tell you how the traps work in more detail shortly, but one of the things that you can bet on when it comes to greyhound racing is Trap Betting. This is a wagon the trap that will win, as opposed to the greyhound. It isn't uncommon for dogs to be declared non-runners, with another dog brought in to replace them, so betting on the trap is a good way to ensure that your bet will definitely still stand even if the dog that you want to bet on ends up not taking part in the race. This won't be the case if you select a named greyhound.

As well as betting on the individual traps, you can also bet on the Inside v Outside market. This is, as it suggests, a bet on whether the winner will come from the inside traps or the outside ones. The inside traps are usually considered to be traps one, two and three, whilst the outside ones are four, five and six. As long as the winning greyhound was in one of either the inside or the outside traps, depending on which selection you bet on, your bet will be a winning one. As you might imagine, the odds on this will be relatively evenly balanced, given it's effectively a 50/50 chance.
There are two other types of trap betting that you can opt for, with the first being Odd v Even. As you might imagine, this is a bet on whether the winning dog will come from an evenly numbered trap or an odd one. Once again, the odds you'll get here won't be amazing, but that is hardly surprising considering the fact that you're effectively getting three bets in one. As long as the winning greyhound started the race out of a trap with an even number or an odd one, depending on which one you chose to bet on, your wager will be a winning one.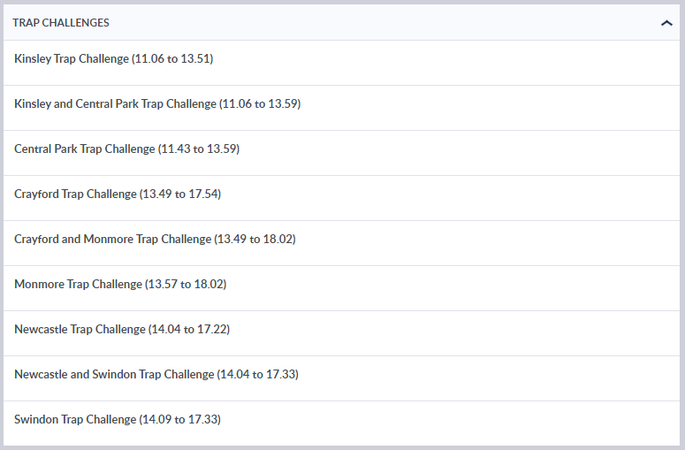 The final trap bet that you might be tempted to go for is known as the Trap Challenge. At the start of a meeting, you select which trap you think the majority of winners will come from. If you are right then you win your bet, whilst if you're wrong then it is a loser. The bookmaker will give you different odds on each of the traps, which are worth weighing up before you place your bet. Make sure you do some research before you opt for your selection, bearing in mind that if two traps produce the same number of winners then standard Dead Heat rules will apply.
Watching Out For Trap Bias
As with certain flat races in the world of horse racing, greyhound events tend to start in a trap. This means that the dogs are put into the traps before the race begins, then the traps all drop at the same time and the dogs shoot off around the course chasing the hare. The interesting thing is that the traps all have their advantages and disadvantages, based on their physical location. Greyhound races tend to be run over a relatively short distance, but that doesn't mean that the traps still can't show a degree of bias over time, which tends to be dependent on the specific course and the conditions.
At a course without any bias whatsoever, you'd expect each of the traps to produce a winner at roughly the same rate. In reality, though, that is rarely the case. Here is a look at a selected meeting to give you a sense of how the winning order of the races can pan out: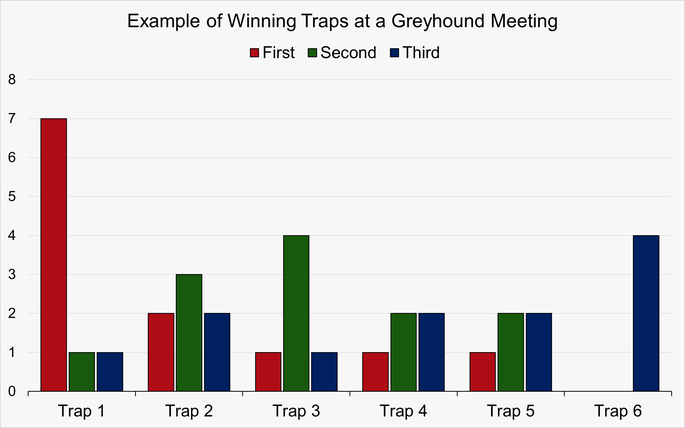 The interesting thing to note here is that Trap 1 produced the winner in seven out of the 12 races that took place. Whilst the trap might have featured the favourite on a few occasions, that is simply too many race wins for it to be entirely random. In 58.33% of the races, the winner came out of Trap 1. There is unquestionably some bias at play there, which some research into the course would have flagged up for you. You would then have been able to place some bets with the knowledge that what you were betting on was an unfair trap system, taking advantage accordingly.
Of course, not every course has a bias with its traps. There are some where you will get the standard number of wins over the course of the day. On a completely fair course, each trap should produce the winner 16.66% of the time, but that obviously doesn't tend to happen all that often. There are outside influences such as the ability of the greyhound in each track, meaning that sometimes you'll get the best dog in the same track more than once completely at random. If the winner tends to come from the same trap repeatedly, regardless of odds, you should consider the possibility of trap bias.
The UK Greyhound Racing Stadiums
Currently there are 20 licensed greyhound racing stadiums in the UK. The word 'licensed' is important there, given the fact that there are also some unlicensed stadiums in which flapping races take place, but you can't bet on them with most bookmakers so we're not going to look at them. Instead, we're going to focus on the main stadiums in which legal greyhound racing takes place on a regular basis, with the following being those that can host licensed greyhound events:
Brighton & Hove

First opened in 1928, Brighton & Hove Greyhound Stadium is owned by the Gala Coral Group and hosts meetings every Thursday and Saturday evening, in addition to some afternoon meetings. The big races hosted by the venue are the Regency, the Olympic, the Brighton Belle and the Sussex Cup

Central Park

Formerly known as Sittingbourne Stadium, Central Park Stadium was built and opened in 1990. It is unusual in being a relatively modern venue, having been opened as a time when greyhound racing was becoming less popular. That is because it began life as a football ground, with greyhound racing only arriving in 1995. The likes of the Grand National, the Springbok and the Kent Derby take place here

Crayford

Located in the London borough of Bexley, Crayford is one of the capital's last remaining greyhound racing venues. It opened in 1986, two years after Ladbrokes confirmed that racing would end at Crayford & Bexleyheath Stadium in order to accommodate a newer venue. Races such as the Golden Jacket, the Gold Collar and the Kent St. Leger take place here

Doncaster

Sometimes referred to as Meadow Court Stadium and was previously known as Stainforth Stadium, Doncaster Greyhound Stadium was originally a speedway venue before a greyhound track was added in 1941. This is where the Yorkshire St. Leger is held, amongst other races

Harlow

Another greyhound racing stadium that is relatively accessible to Londoners, Harlow Stadium opened its doors for the first time in 1995. It benefited from the closure of Walthamstow Stadium, with the likes of trainers and the General Manager of the defunct stadium making their way there

Henlow

Located in Bedfordshire, close to Hitchin, Henlow Stadium opened in 1927, which was during the greyhound racing boom. It was initially an unlicensed track, remaining that way for nearly fifty years. One of the main races held here is the Henlow Derby

Kinsley

In 2008, the Greyhound Racing Board voted this track the Best National Greyhound Racing Club Greyhound Stadium in the North, so you can take from that what you wish. The home of the Gymcrack, it opened in 1939 and was renovated in 1985, with minor changes and modernisations taking place since then

Monmore Green

Another of the stadiums that was built during the sport's boom, Monmore Greyhound Stadium opened in 1928 and is also the host of some speedway events. As you can imagine, the track has been modernised a few times over the years and in 2022 the owner, Entain, signed a deal with Arena Racing Company for the media rights of the racing

Newcastle

For a time, Newcastle Stadium was the home of a speedway track, but nowadays it is limited to just greyhound events. It opened in 1928 and was renovated in 2003, having previously been known as Brough Park. The likes of the Northern Puppy Derby, the All England Cup and the Northern Flat take place here

Nottingham

With two football grounds and other sports areas aside, Nottingham is a sporting city. It is no surprise, therefore, that there is a greyhound stadium here, having opened in 1980 before being renovated and expanded in 2008. It opened a decade after the White City Stadium of Nottingham closed and hosts events such as the Select Stakes and the National Sprint

Oxford

The racing stadium in Oxford opened in 1938 as a flapping track, meaning that owners could turn up and run their greyhounds when they wanted. A year after the greyhound racing began, speedway racing started taking place at the venue. It closed in 2012, reopening in 2022

Owlerton

Put 'Owl' in a sporting venue and most people will know that it is located in Sheffield, with Owlerton Stadium being located close to Hillsborough in the South Yorkshire city. It opened in 1929 and then 90 years later expanded to add the likes of a conference centre and executive suites

Pelaw Grange

You can find Pelaw Grange near Durham, with the venue having opened for the first time in 1944, according to reports. It didn't become a licensed stadium until 2005, having spent the majority of its time operating as an independent track

Perry Barr

Previously known as Alexander Sports Ground, Perry Barr is located in Birmingham and first opened in 1929. It has been modernised over the years, with an expansion added in 2007. As well as greyhound racing, it is also the home of speedway events and is operated by Arena Racing Company

Romford

Arguably the closest greyhound venue to a lot of Londoners, Romford Stadium originally opened in 1929 before a new track was built two years later. It is owned and operated by the Ladbrokes Coral Group and has hosted some big competitions over the years

Mildenhall

Whilst there is a good deal of greyhound racing that takes place at Mildenhall Stadium, it is also where a number of speedway and stock car racing events take place, so there are plenty of options for sports fans to enjoy. It opened in 1971 and greyhound racing was first introduced 19 years later

Sunderland

Given Newcastle has a greyhound stadium, it is perhaps no surprise that Sunderland does too, such is the rivalry between the two cities. It opened in 1940, being both renovated and expanded in 1989. The Arena Racing Company Grand Prix is the biggest race hosted at the stadium

Swindon

Also known as the Abbey Stadium, Swindon Stadium was built over two years between 1947 and 1949. When it first opened it was the location of the Swindon Robins, a speedway team, with greyhound racing coming along in 1952. It is just a greyhound racing venue nowadays though

Towcester

There are few venues on our list with as much of a troubled history as Towcester Stadium. It opened in 2014 after £1.5 million was spent on its construction, going into administration four years later. It reopened in 2020 and has been the home of the English Greyhound Derby since 2021

Yarmouth

There aren't many sporting venues in Norfolk, but Yarmouth Stadium is one of them. It opened in 1940 and hosted speedway racing between 1948 and 1961, as well as some stock car racing over the years
How Often Races Take Place
With greyhound racing taking place across 20 different venues, it isn't a shock that racing takes place fairly regularly. It is important to draw a distinction between the races in which people are encouraged to attend and those that take place for the purposes of the Bookmakers Afternoon Greyhound Service. The latter is specifically racing for the purposes of people having something to bet on regularly when they go to the bookies in the daytime, with online punters also able to place bets on these races.
The reality is that greyhound racing is a popular sport, taking place all over the world, so if you're looking to place a bet on a race then you'll be able to do so pretty much whenever you fancy. If you are specifically hoping to bet on British races then you will obviously be limited to when there is some racing on, but that is quite a lot of the time. As well as the BAGS races, for example, there is also the BEGS racing, which is Bookmakers Evening Greyhound Service, meaning that you'll also be able to place some wagers at night as well as during the day.
The Greyhound Derby
The most prestigious race in the greyhound calendar is unquestionably the English Greyhound Derby. It took place for the first time in 1927, with the White City Stadium of London, which was built for the 1908 London Olympics, chosen as the place to host it. In 1985, the race was moved to Wimbledon Stadium, staying there until 2016. At that point it was shifted to Towcester, which is where it is held nowadays, but there was short period when it was held at Nottingham Greyhound Stadium on account of the fact that Towcester Stadium went into administration.
There are several dogs that have managed to win the race more than once, including Mick the Miller, Patricias Hope and Rapid Ranger. Similarly, Charlie Lister and Leslie Reynolds are amongst the trainers to have notched up more than one win during their careers. It has had numerous sponsors over the years, with the event itself being run over 500 metres. In 2023, the winning greyhound's connections received a prize of £175,000, which is significantly more than the £1,000 that the winning trainer received after the success of Entry Badge in the inaugural running.