From Mohamed Ali to Mike Tyson, Sugar Ray Robinson to Floyd Mayweather, boxing has produced some of the worlds greatest and most recognised sportsmen. Despite the rise of other combat sports such as MMA, boxing remains the biggest draw for fight fans.
Britain has produced their own elite boxers over the years with the like of Frank Bruno, Chris Eubank, Nigel Ben and Joe Calzaghe holding world titles over recent decades. Britain can also boast two of the sport's current superstars in the form of heavyweights Tyson Fury and Anthony Joshua.
Title fights take place all over the globe, from the sport's spiritual home Las Vegas to new territories to the sport in Saudi Arabia and Dubai.
Below we will give you all the best betting offers for the big fights when they become available.
Latest Boxing Betting Offers & Promotions
Note: Most boxing offers take place around the bigger fights.
How to Bet on Boxing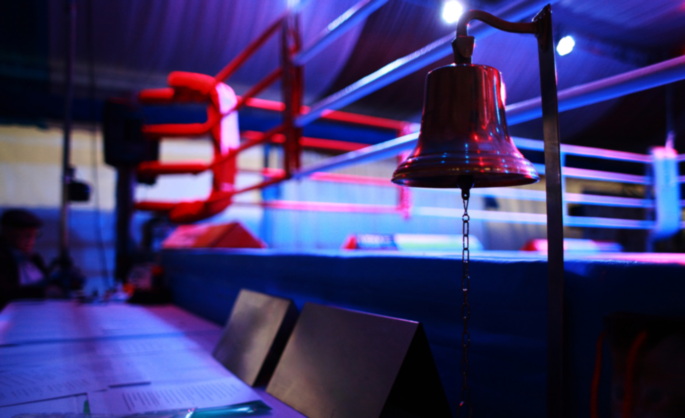 There's a wide range of betting opportunities when it comes to boxing, below is a guide to the main markets and what you should look out for when it comes to placing a wager on fight night.
Is There Value in Betting on the Outright Winner?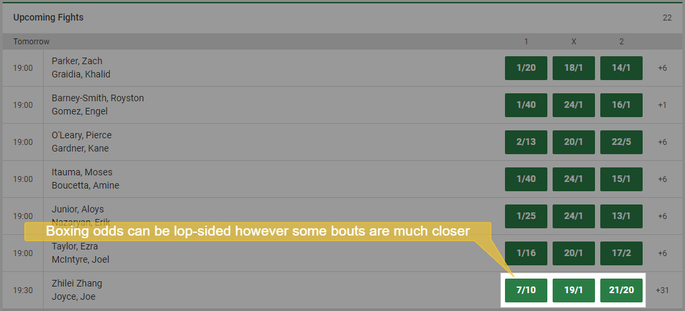 Betting on the outright winner of a contest means picking which fighter wins by whichever method, be it by knockout, points, disqualification etc. Any sporting match up which rarely yields a draw, such as boxing, can often lead to there being a short priced favourite versus a relative outsider. You may favour betting a short priced favourites or you might prefer to speculate on a big upset. Even in fights perceived to be quite close you could see a favourite at 4/6 with the outsider at 5/4 and a draw at around 25/1. If you don't find these odds to your liking, there's a range of alternative bets for you to consider.
What is Round Betting?
One set of such alternative bets is round betting. Here you select which round exactly that your fighter will win in. This could be in a specific round, e.g round 2, or it can be in a group of rounds. These are normally rounds 1-3, 4-6, 7-9 and 10-12 but there may be other boundaries available as specials. Most fights will have individual round betting comfortably into double figures so you may consider splitting your stake across a few rounds. Within these markets you'll also find the odds on either fighter winning by a decision i.e in no specific round and also the odds on a draw.
A common misconception is often that these odds represent the fight finishing in that round irrespective of who wins but it will generally be your specific fighter to prevail in your selected round or group of rounds.
Other Available Bets
If betting on the outright winner or on rounds doesn't take your fancy, there's other options available. Below are the main alternatives, in big fights especially you'll also find a whole raft of specials.
Method of Victory
The most popular form of betting on fights outside of the outright winner and round betting is by choosing how your fighter wins a fight, known as their method of victory. This will be either:
By KO/TKO/Disqualification – This basically entails a stoppage to the fight by the referee for whatever reason. A knockout (KO) will include standing counts, a technical knockout (TKO) will involve any other intervention be it by the referee, the ringside doctor or the fighters corner calling time. Disqualifications, although quite rare, can happen for a number of reasons. Think Mike Tyson biting Evander Holyfield's ear for example.
By Decision/Technical decision – A decision encompasses any verdict on the fight via the judge's points scorecard, whether it be unanimous, majority or split. A technical decision will be when a fight is stopped because of a non-boxing injury. Generally, this will be through a clash of heads.
Exact Method of Victory
You may also find what's called the Exact Method of Victory. This will offer you further lengthening the method of victory odds if you can predict specifically how a fighter will win. This is a breakdown of the grouped methods of victory above, i.e. by KO, TKO, decision etc. You may also be able to bet on the exact points decision for example by a split verdict or unanimous decision.
Will the Fight Go the Distance?
This market is a simple Yes or No on if all rounds will be completed in the fight. You will be betting on if the fight will go to a points decision (yes – it will go the distance) or if there will be a stoppage for either fighter at some point (no – it will not go the distance).
Total Rounds
This is handicap betting on how many rounds will be completed in a specific fight. The exact value will vary from contest to contest but for example it could be under or over 7.5 rounds completed. In this example, the fight being stopped in anything up to and including round 7 will count as 'under' and the fight lasting from round 8 onwards will be 'over'. Like handicap betting in other sports you may find variations on which round the handicap is set at to lengthen or shorten your available odds.
What's The Difference Between Boxing & MMA?
If you don't know much about the two combat sports, you'd be forgiven for wondering what the difference is between boxing and Mixed Martial Arts. In essence, the simple difference is in the rules applied to the two disciplines, with boxing only allowing the competitors to punch each other with their fists. MMA, on the other hand, is a combination of various martial arts disciplines, meaning that the fighters can engage in a variety of combinations to get the job done. MMA fighters can punch, kick, wrestle and grab their opponents, using techniques from the likes of Thai boxing, karate and jujitsu.
Even the gloves are different. Boxing gloves are specifically designed for punching, meaning that the fighters can punch as hard as possible whilst limiting and damage that they might do to their hands. MMA gloves, on the other hand, are designed to flexible, allowing the fighters to use their hands in ways that a boxer simply wouldn't want to or try to. Boxing gloves are, as you might imagine, heavier than MMA gloves, keeping the fingers covered where MMA gloves look to expose them. There are also major differences in the rules of the two sports.
In Mixed Martial Arts fights, the rules say that the action doesn't stop when a fighter gets knocked down. There is no ten-second rule, as there would be in boxing, meaning that fighters can follow-up their opponents and look to either finish them off thanks to more strikes or else get them to submit. Referees might chose to end the fight if they subjectively feel that the fighter is not defending themselves intelligently. You can't poke eyes or grab the ropes, whilst knees to the head are forbidden if the opponent has one or both of their knees on the mat.
In boxing, only the hands can be used to strike, with elbows, spinning strikes or punches to the back of the head forbidden. The rules of boxing gives the fighter ten seconds to get back up after having been knocked down, with the other fighter not allowed to continue fighting at that point. The rope cannot be used to help a fighter gain an advantage. In some sets of rules, a boxer that is knocked down three times is not allowed to keep on fighting, though that is not a rule everywhere. Boxers cannot hit their opponent below the belt, unlike MMA fighters.
There are other big differences between the two sports, including the fact that MMA bouts often take place in a cage, known as the Octagon in UFC, rather than a boxing ring. These octagonal shaped venues having a mat and a cage surrounding them, with the ring being 30 feet across. The fighters enter the arena via gates, which are secured for the duration of the fight. Only the two fighters and the match referee are allowed in at that point, with the gates only being opened between rounds so the fighters can get attention from their respective corners to help to stop bleeding or deal with any cuts or scrapes.
The other major difference comes in the length of the fights. UFC fights last for three rounds of five minutes apiece, with championship fights lasting for five rounds. There is a one-minute break between rounds. In boxing, on the other hand, there are a pre-agreed number of rounds before each fight, with each round lasting for three minutes in professional bouts. There are normally 12 rounds in total, but obviously this might be lessened in instances when young or amateur fighters are up against one another. There is a one-minute break between rounds.
Boxing Organising Bodies
There are a number of different organising bodies when it comes to boxing. Here is a look at each of them:
World Boxing Association (WBA)
The World Boxing Association was founded in 1921 as the National Boxing Association and is the oldest of the four organisations that rule boxing. It was created by representatives of 13 American states, changing its name in recognition of the increasing popularity of the sport on a global scale. In the men's side of the organisation, there are 17 different weight classes, ranging from Minimumweight to Heavyweight. On the women's side, meanwhile, there are 16 different weight classes, starting with Light Minimumweight and going up the Light Heavyweight.
World Boxing Council (WBC)
An international professional boxing organisation, the World Boxing Council was established by United States, Argentina, United Kingdom, France, Mexico, the Philippines, Panama, Chile, Peru, Venezuela and Brazil in 1963. It has grown to have more than 160 members in the modern era, with the WBC's green belt featuring the flags of all 161 member nations. There are nine affiliated regional governing bodies, whilst the men's side features 18 different weight categories. It starts at Strawweight and goes to Heavyweight, whilst the women's starts at Atomweight and goes to Heavyweight, featuring 16 categories in total.
International Boxing Federation (IBF)
Preceded by the United States Boxing Association, the International Boxing Federation was formed in 1983 when Robert W. Lee Senior failed in his bid to become President of the WBA. He withdrew from the organisation alongside several others, forming their own instead. There are 17 weight classes on the men's side of the IBF, with Mini Flyweight being the first and going all the way up to Heavyweight. In the women's game, there are the same number, beginning with Junior Mini Flyweight and moving through to Heavyweight. There are also the Muay Thai World Champions that the IBF organises.
World Boxing Organisation (WBO)
The final organisation that sanctions professional boxing matches is the World Boxing Organisation. Along with the others, it is recognised by the International Boxing Hall of Fame as one of the four major groups for the sport. It launched in 1988 when a group of businessmen from Puerto Rico and Dominica botch out of the annual convention of the WBA and set up their own body. For men, there are 17 weight classes, beginning with Mini Flyweight and working up to Heavyweight. For women, there are also 17 classes, with the first being Atomweight and the top division also being Heavyweight.
MMA Organising Bodies
As mentioned earlier, the UFC is one of the chief organising bodies for Mixed Martial Arts fights, but it isn't the only one, with two organisations standing out.
UFC
The Ultimate Fighting Championship is a production company for Mixed Martial Arts fights that is based in Las Vegas. It is the largest MMA promotion group at the time of writing, offering 12 different weight divisions across the men and women's sport. It abides by the Unified Rules of Mixed Martial Arts, having been founded in the early 1990s by Art Davie and Rorion Gracie. Since 2001, Dana White has been the organisation's president and it has gone from strength to strength, growing to become a multi-billion dollar business that organises fights and championships.
Bellator MMA
Whilst there are a wealth of different MMA organisations all over the world, Bellator is arguably the only one worth mentioning at the same time as UFC as it is its main competitor. Founded as the Bellator Fighting Championships in 2008, it is owned and operated as a subsidiary of Paramount Global. The name comes from the latin word for 'warrior' and was the brainchild of Chairman and CEO Bjorn Rebney. There are seven different weight divisions in the men's version of the organisation, whilst the women's side of it gets two different divisions to fight in.