Horse racing can be a cruel mistress for many punters, especially when it comes to jump racing. You can spend hours researching which horse to bet on only for it fall at the first hurdle in the race, usually losing your bet.
But, many bookmakers now offers up what is called as 'Faller insurance'. This means that you have some protection if your horse were to fall at any point in the race and not simply lose your bet because it effectively didn't win.
Horse Racing Faller Insurance Offers Today
Faller insurance is normally available on both UK and Irish jumps races throughout the national hunt season. This usually runs from October to April though you may find offers available for jumps meetings in the summer months.
What is a Faller in Horse Racing?
Firstly, we should clarify that we are talking about jumps racing here. Whilst rare, horses can lose their footing in flat races and stumble. When referring to horse falling however, we will be talking about chase or hurdle jumps races.
So, what do we mean by a faller? Simply put, this is where a horse loses their footing and falls to the ground. Ordinarily, this either happens whilst jumping a fence or a hurdle or when landing after a fence or a hurdle. This will be as a result of a slight error in judgement whilst jumping, with the obstacle causing the fall. There are however, other ways a horse can exit a race without being classed technically as a faller.
Unseated Jockeys
One of the most common reasons for a horse not finishing a jumps race is from unseating their jockey. Again this normally occurs when a horse makes a mistake either mid jump or on landing. With the horse imbalanced, though not enough to fall themselves, it can be impossible for the jockey to stay on their mount and they fall off their ride. Jockeys are not permitted to remount their horse so this meansthat their race is over.
Brought Down
This is an extremely unfortunate way for a horse's race to end though it does happen frequently. When a horse is brought down, they have essentially tripped over a horse which has fallen in front of them, without time for the jockey to steer their horses around the obstruction.
Pulled Up
This is the most common reason for a horse failing to finish a race. When they are pulled up, the jockey has halted their horse from running, either because the feel their horse is injured, can't carry on because of tiredness or another reason, or has no chance of gaining a win, place or a position gaining prize money.
Refused
Anyone who has ridden a horse knows that horses have their own mind and if they chose not to do something, it can be very difficult to persuade them otherwise. Although racehorse conduct themselves professionally for the vast majority of the time, there are occasions when the decide not to take part in a race. This can be at the very start of a race or more often it can be before a jump during a race. When this happens it is normally because a horse has mistimed their run towards an obstacle and decides that they haven't enough time to make the jump.
Other Reasons
There are a whole host of other reasons a horse doesn't complete a jumps race, though these are less common than those shown above. Running out is where a horse runs off the course of the race, either around an obstacle or part of the course leading off the track. This is sometimes as a result of the horse heading back to the stable block at the racecourse rather than completing the circuit.
Being carried out is similar to running out though is where the horse follows another horse who has run out or they simply don't have room to stay on course as a result of another horse.
Horse can also hit the rails that border the course, be left at the start (similar to refusing though unintentional), be disqualified, or can run in a void race.
How Often Do Horses Fall?
There are jumps races run up and down the country and no two races are the same. The courses and conditions for jumps races can vary widely. Factors affecting the number of fallers and non-finishers can include the track topography, the going, the obstacles and the race distance. As a result of this variability, a flat figure on the number of fallers isn't all that helpful when considering your next bet but to give an idea of how many horses fall, we've looked at the Cheltenham Festival in 2022.
Fallers at the 2022 Cheltenham Festival
The Festival runs for four days between Tuesday and Friday, with 28 races run in total. Cheltenham is seen as a stiff test of a horse's stamina due to the climb up to the home straight. The going is often good but as the meeting is held in March, the UK spring, conditions underfoot do vary from year to year. There are 14 chases, 13 hurdles and a National Hunt flat race which we have included as, even though horses rarely fall, they can be pulled up.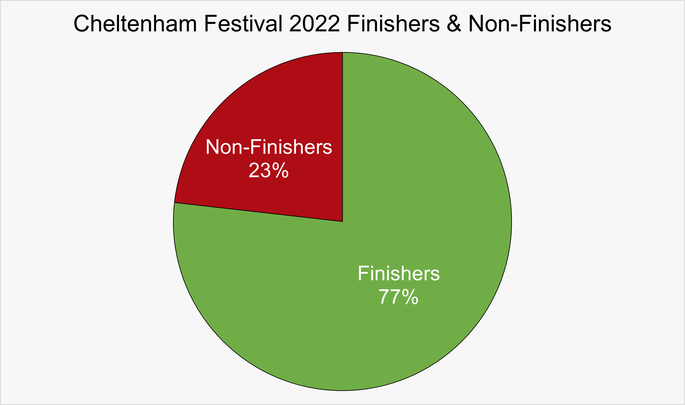 The chart above shows that 23% of runners, roughly a quarter, didn't finish the race that they started. We haven't included non-runners declared before going to post.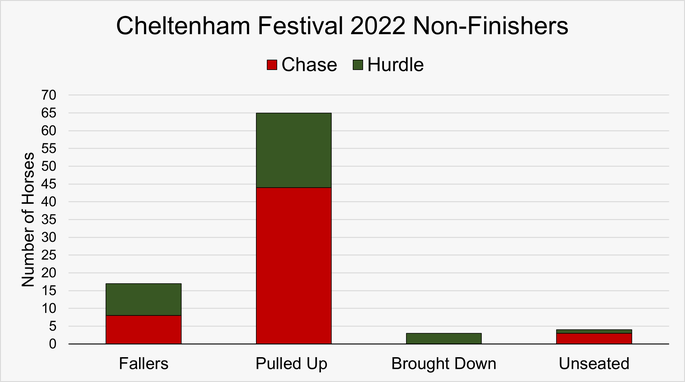 Further investigation for this meeting shows that most common reason for not finishing a race is being pulled up, followed by horses falling. This would suggest that it could be beneficial to look for offers that include other reasons for a horse failing to finish outside of falling alone.
How Does Faller Insurance Work?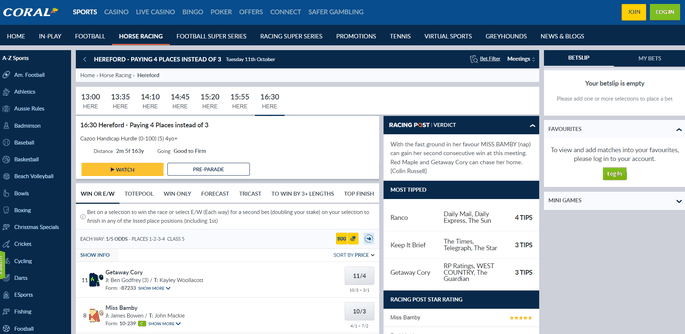 Faller insurance will normally kick in when your horse falls, unseats the jockey or is brought down in a race. If this occurs then the bookmaker will refund your stake up to a certain amount, normally as a free bet. The offers will generally be applicable to most jump races across the UK and Ireland.
Faller insurance also may include all reasons for failing to finish a jumps race including pulling up or refusing to race.
What these offers won't include are horses which are disqualified for racing infringements, taking the wrong course, or failing to weigh in correctly after a race.
Faller Insurance Markets
For most concessions, your refund will come in the form of a free bet up to a maximum value of £10 – £20. Some offers will see a cash refund. However, with a cash refund off, you will find is that the market is a separate one from the outright winners market.
The odds on offer will be slightly less that you would normally get as well, paying almost a 'tax' on what the true odds for your bet would usually be. For example, a horse without faller insurance might be at odds of 5/1, whereas with faller insurance you could get just 4/1. This is essentially a different market which offers your money back if your horse falls.
Withdrawn Horses
If the horse has been withdrawn from the race prior to it starting, your bet will still be refunded under the non-runner, no bet policy that the majority of bookmakers apply on the day of racing. It's worth noting that remaining bets on this race as result of the horse being withdrawn could have Rule 4c applied to them with odds being re-adjusted accordingly.
If your horse comes 'under starters orders' but doesn't race, you will need to check the refund policy with that bookmaker to see if you are covered for your horse not finishing the race in this manner.
Examples Where Faller Insurance Applies
For an example of when faller insurance comes into play, we've taken the biggest and toughest chase in the calendar, the Grand National at Aintree.
Grand National, Aintree, 9th April 2022
The Grand National in 2022 saw the maximum field of 40 runners attempt the famous fences around Aintree racecourse. The full breakdown of the numbers of finishers and non-finishers is shown in the chart below.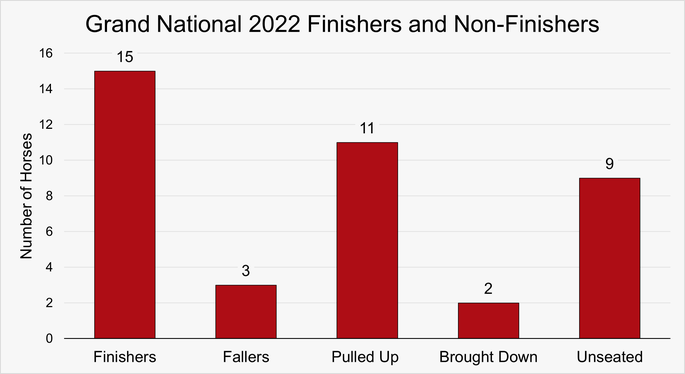 As you can see, just 15 horses, 37.5% of the runners, completed the course. This meant that 25 horses, 62.5% of runners, failed to finish the course.
Of the non-finishers, three fell, eleven pulled up, nine unseated their jockeys and two where brought down.
Fell: Augusta Gold, Run Wild Fred, Eclair Surf
Pulled up: Brahama Bull, Poker Party, Snow Leopardess, Top Ville Ben, Discorama, Cloth Cap, Good Boy Bobby, Mighty Thunder, Deise Aba, School Boy Hours, Two For Gold
Unseated: Death Duty, Dingo Dollar, Kildisart, Burrows Saint, De Rasher Counter, Mount Ida, Domaine De L'Isle, Forescue, Enjoy D'allen
Brought down: Anibale Fly, Minella Times
If only fallers where included, stakes on Augusta Gold, Run Wild Fred and Eclair Surf could have been refunded. If an offer included all non-finishers by these methods, stakes on all 25 horse could have been refunded in some form.