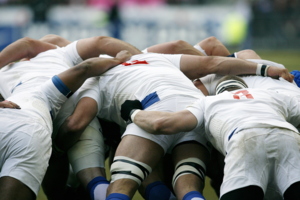 If you are a fan of rugby betting you'll love the fact that bookies go out of their way to bring you a steady stream of offers, bonuses and promotions for both rugby union and rugby league.
You will find particularly rich pickings prior to and during some of the biggest events in both codes including the Six Nations, the Heineken Cup and any England or Lions tours in union and for big Super League matches, the Challenge Cup and the World Cup for league.
Latest Rugby Betting Offers & Promotions
For all Rugby League and Rugby Union matches that go into extra time at bet365. Applies to pre-match bets placed on full-time and second half markets.
Bet restrictions and T&Cs apply. New and eligible customers only. Registration required. #ad
Stats Articles
How to Bet on Rugby
In rugby the scoring system means that draws are infrequent, unlike in football. This can lead to games appearing one sided but there are lots of betting options to take advantage of, the most popular of which we detail below.
Match Betting
The match betting market is where the majority of bets are placed when betting on rugby. This is where punters are able to get a good deal of value and often where bookmakers offer the largest margins.
The market is simple to work in that all you need to do is select the winner of the match. Whilst rare, it's worth noting that rugby matches can end in a draw as well, so the possible results would be home win, away win and the draw.
Half-Time Full-Time
As an extension to this market you're also going to be able to bet on first and second half markets as well. These work in the same way in that you simply choose the winner of either or both halves. This could be something like Team A to win the 1st half and Team B to win the 2nd half, if you so wish. These types of markets often payout at much larger odds than simply picking the winner and can offer a god deal of value.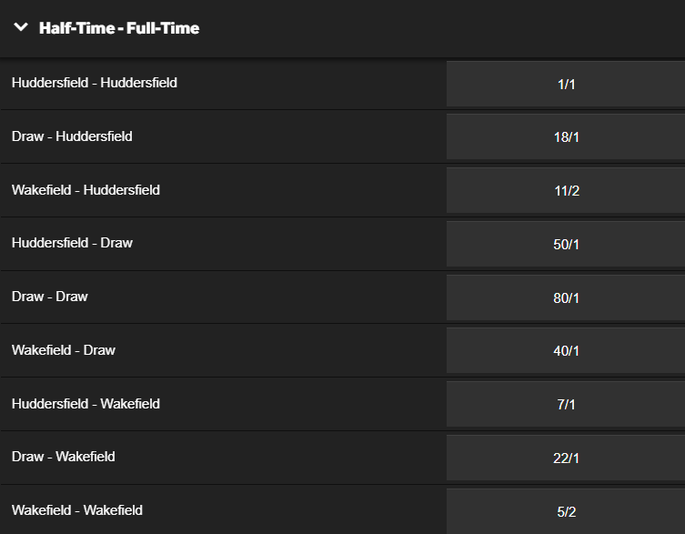 Strategy
As a basic strategy, it's important to do extensive research on aspects such as team form, head to heads, current league standing, importance of the game (does one team need to win more than the other) and also match conditions such as the weather and pitch, with the latter often overlooked for rugby.
Handicap Betting
The handicap market is one that is used a lot when it comes to betting on rugby. It's linked up to the total number of points scored for each team and then a theoretical result is made after the adjustments of each handicap bet have been placed.

Handicaps will be either adding or subtracting points from each team's score in order to create a new score. Depending on where you bet will depend on the handicap type that you are able to choose from. Some use whole numbers, such as 9,10,11 etc. whereas other use more of an Asian style, offering fractions, such as 9.5, 10.5, 11.5 etc.
There is a difference between the two as well. The whole number will mean that a tie can still be had from the handicap bet. For example, if you backed a team at -10 and they won 20-10, the adjusted score would then be 10-10, effectively a draw. If a draw is not offered in the betting the bet would be a push.
Strategy
The handicap market is best used when betting on short priced favourites. Due to their short price, they are expected to win the game easily, often by big margins. Applying a handicap to these teams offers much better odds than simply backing them to win at very short odds which may not offer the best value.
Winning Margin
The winning margin market takes on the points scored in the game and the difference between the winning and losing sides. There are a number of brackets of score lines that can be had for this, ranging anywhere from 1-5 points up to 36-40 points. Each bracket usually includes 5 points, but it is possible to get bigger margins with specialist bookmakers or even smaller margins if you wish.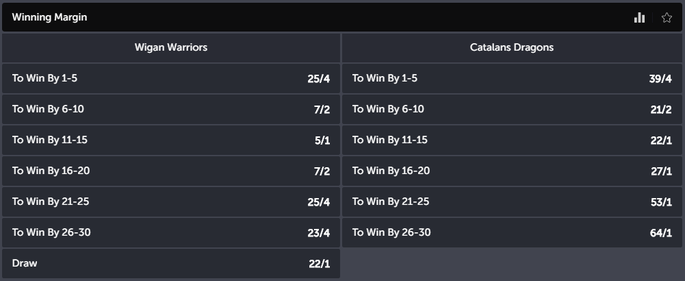 It's worth noting that you are able to choose between both teams for this bet and the sky is the limit really in terms of the number of points on offer. You're also going to be able to choose a tie as well, which is the same as saying no margin and offers the same result as the "tie" bet from the match winner's market.
The odds for this market are very competitive and there are often huge discrepancies between each bookmaker. We would highly recommend that you shop around for the best odds as we've seen bets anywhere from 30% difference, even between the higher profile bookmakers in the market.
Strategy
As you're essentially betting on a spread of points, we think that it's good to cover a number of bases with these bets. Given that the odds are high, taking two groups of margins of victories still allows for big winners, but also covers should games be a little tighter than you might have predicted.
We'd also suggest getting a feel of past results for both teams and even previous head to scores where possible. Teams that are tight and concede few points are usually best to bet on for this as they are less erratic. The flip side is that high scoring teams will result in bigger margins, which in turn means bigger odds, but are harder to predict.
Key Differences Between League and Union
There are two main codes when it comes to rugby, in the form of Rugby League and Rugby Union. It's important to understand that whilst they are both rugby, they are different games, with different rules and as a result, work differently when it comes to betting on the sports.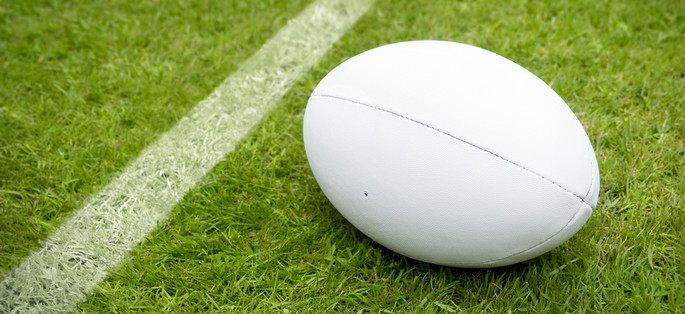 The biggest difference is the number players that take part in each match. For union teams consists of 15 starting players, whereas with League, they only include 13 players. Below are the other major differences between the two codes.
Lineouts
When playing rugby league there are no lineouts. So, when you play rugby union and the ball goes into touch (out of play) the game is reset by what is known as a lineout, where both teams compete to try and win the ball back. In league, they simply tap the ball for whoever's throw it is and pass directly to their own team, uncontested.
Rucks and Mauls
Rucks and mauls occur in rugby union when a player is tackled. A ruck is where the player lies on the ground and their teammates recycle the ball and then pass it out. A maul is where a player is on their feet with ball but have been tackled and can move the base around the field as needed. In league, when a player is tackled the opposition player must then release the player for them to get back up. They then roll the ball with their feet between their legs and the play continues.
Fifth Tackle
In rugby league there is a limit on the number of tackles that can be made with each phase of play. The limit is set to 6 and after these 6 phases with the ball, they must either turnover or kick the ball back to the opposition team for them to start their 6 phases. What usually happens is that depending on where they are positioned on the pitch, the team will kick the ball on the last tackle for either territory or a chance to score a try. In union there are no limits on the number of phases of play for each team.
Scoring
Another big difference comes in the form of points scoring. In league 4 points are awarded for a try and 2 points for a conversion. In union the points are 5 points for a try and 2 points for a conversion. A drop goal in rugby union is worth 3 compared to 2 in league and a penalty-goal is also worth 3 in union, but only 2 in league.
North/South Divide
Finally, what you will find in the UK is that the majority of rugby league teams are based in the north of the country, compared with rugby union being based in the south. There are obvious bucks to this trend, with the likes of Newcastle Falcons in rugby and the London Broncos in league.
Major Club Competitions
Super League
Gerard (cropped), Wikimedia Commons
The Super League is essentially rugby league's answer to the Premiership. The eleven best teams in England (plus one invited guest from France) duke it out for the chance to play in the Grand Final following a programme of round robin fixtures from February to July. The top eight teams enter the Super 8 phase, where they play each other once more, and then the top four here proceed to the Play Off series. The remaining two battle it out for the Super League trophy at a neutral venue in July.
Gallagher Premiership
Charlie, flickr
The Aviva Premiership is the flagship league for union teams based in England. The league has been running since 1987 and with it include 12 professional outfits. Winners and highly ranked teams of the league will qualify for European competitions such as the European Rugby champions Cup and the European Rugby Challenge Cup.
The format of the league means that each team plays each other twice in the league; once home and once away. The top four teams at the end of the season will take part in the play-offs, playing a semi-final and then final to decide who is the winner overall.
The TV rights for the league format are quite lucrative and BT Sport have recently acquired long-term rights to hose games worth around £150million. Channel 5 are also in as part of this deal who are able to show a handful of live matches, along with highlights shows throughout the week. Australian coverage is powered by BeIn Sports, whilst in the United States, that job falls to that of NBC Sports.
Pro14
Eoin Gardiner, flickr
The Pro14 league was first created in 2001 and was originally set up to include just Welsh and Scottish teams. As the league needed to grow, it then included top teams from Ireland as well and was renamed the Celtic League. Again, expansion continued from 10 to 12 teams, this time adding in 2 more teams from Italy, before finally adding in 2 teams from south Africa for the 2017/18 season, making it one of the most competitive professional leagues in the world.
Top 14
PierreSelim, Wikimedia Commons
The Top 14 is France's top-tier rugby union league. It's also the oldest league in operation, being formed back in 1892. The league is run by the French National Rugby League and includes 14 teams that compete each season.
The league has seen huge growth over the last decade or so and on the back of this attendances and sponsorships deals have continued to rise. It's widely considered that the Pro 14 is the richest league in the world these days, with the average salary in the being that of $156,000 compared to $123,000 in the Aviva Premiership. This has meant that the clubs are able to sign the biggest names in the world, with teams such as Toulon, Toulouse and Racing 92 being some of the biggest names in world rugby, let alone in France.
Super Rugby
Brianm91, Wikimedia Commons
Super Rugby is arguably one of the most exciting leagues in the world and includes teams from a range of countries within the Southern Hemisphere. Because of the size of the counties such as Australia, South Africa and New Zealand, having the catchment to form enough teams to make season-long leagues is tough. So, in 1996, originally named Super 12, the Super Rugby league was formed to combine the best from each of those countries.
The league has expanded over the years, going from 12 to now including 15 teams in total, from counties that include Australia, Argentina, Japan, New Zealand and South Africa. The format is pretty simple in that each team plays a round robin style, playing each other once, meaning 6/7 home and 6/7 away, depending on the draw. The top four then enter the play-offs where the semi-final is played, before the final, crowning the Super Rugby Champions for that year. The most successful team is that of the Crusaders, who are based out of Canterbury in New Zealand and have won the title 8 times in total.
European Rugby Champions Cup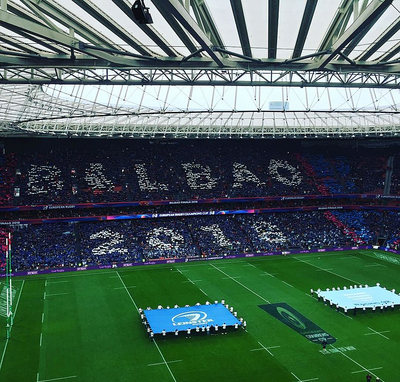 Montxohache, Wikimedia Commons
The Champions Cup is the pinnacle of club rugby for European teams and is often compared with that of the Champions League in football. The tournament has been running since 1995 and up until 2014 it was known as the Heineken Cup, before splitting with long time sponsors Heineken, and going with a more brandable name – The Champions Cup.
Qualification for the tournament is first made up of teams who nations play within the Six Nations tournament, so England, France, Italy, Ireland, Scotland and Wales. Each top tier domestic league in each nation will get a number of allocations for qualifying before teams then play in a group stage and then knockout stage as the tournament progresses.
TV licenses in the UK and Ireland for the tournament lie with BT Sport, whilst Channel 4 have 9 simulcast games as well. As you can imagine, as one of the showcase events in rugby, the world's media jump all over the chance to host games with many networks varying depending on where they are in the world. BeIn Sports control the coverage in France, DAZN in Germany, Sky Italia in Italy, SportTV in Portugal, Digi Sport in Romania and NBC Sports in the United States.
European Rugby Challenge Cup
AirstarInternational (crop), Wikimedia Commons
The Challenge Cup is the little brother of the Champions Cup and is regarded as the second-tier coemption for domestic teams. The makeup of teams includes those within the English Premiership, Top14 in France and the Pro14, along with 2 teams from the Continental Shield.
The tournament will see the 20 teams in total drawn into 5 pools of four teams. Each team will play each other twice with the top team automictically going through, along with the 3 best 2nd place finishes to make the final 8. They then play in a straight knockout through to the final before crowning the winner.
Coverage of the event is spread out, depending on where you are in the world. In the UK BT Sport has exclusive rights, with BeIn Sports and France Television in France, Digi Sport in Romania and ESPN3 in the United States.
Major International Tournaments
Six Nations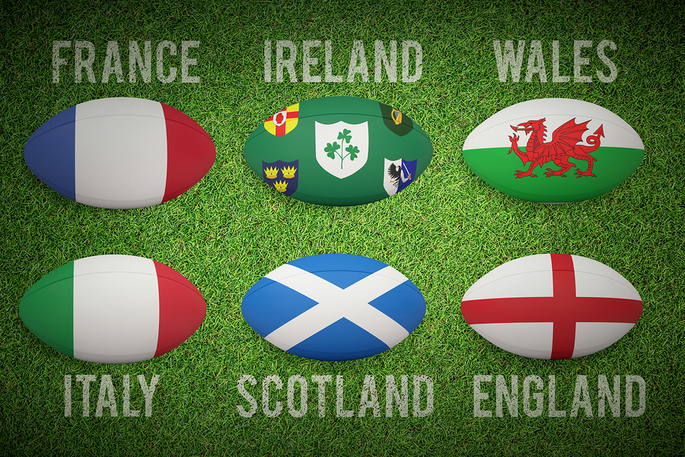 The Six Nations brings together six of Europe's finest international rugby sides – England, Wales, Ireland, Scotland, France and Italy – in a round robin competition every February-March. It's the successor to the Five Nations tournament, which ran for more than 50 years and featured all of the sides listed above bar Italy. England and Wales are the most decorated teams in the event's history with 26 wins each, with prizes including the Triple Crown, the Calcutta Cup and the Grand Slam up for grabs.
Rugby World Cup
Held every four years in the summer, the Rugby World Cup brings together the finest teams from around the globe to battle for the sport's most prestigious prize: the Webb Ellis Cup. The tournament was first introduced in 1987, and since then the Southern Hemisphere teams have dominated; with New Zealand (three), Australia (two) and South Africa (two) the most decorated. The Rugby World Cup has created some of the game's most iconic moments too, including Jonny Wilkinson's famous drop goal to hand England victory in the 2003 tournament, and Jonah Lomu's rampaging runs in 1995.
Types Of Rugby Betting Offer
So while we've listed the latest and greatest rugby offers on this page, below we also give details of some of the more commons types of promotion you will encounter when looking to place your rugby bets.
Money Back Offers – Money back offers come in many guises when it comes to rugby. For instance you might get your losing first tryscorer bet refunded if they score the last try of the match, or perhaps you might receive a refund of your stake if you back a team who loses by a single point. Whatever the specifics of the offer the principle is the same: you get a refund on your losing bet to get a second chance of making a net win.
Enhanced Odds Offers – Occasionally bookies will offer enhanced odds on particular selections, either on a particular result, just to be nice (and to steal a march on their rivals), or with a bonus that is based on a particular event happening. This might be paying out extra on first tryscorer bets if your selection scores more than one, or paying out a bonus if the team you back wins by more than a specified points margin. The rule of thumb here is that you get more for your money than if you simply win the bet, which, let's face it, is always going to be welcome!
Mobile Specific Offers – As more bookies attempt to encourage their customers to get involved in the mobile gambling revolution you will find more offers and bonuses which are only open to customers using their mobile or tablet to place their bets. There have only been a handful of such offers directly related to rugby, but we anticipate these will increase in frequency in the coming months and years.
Accumulator Bonuses – Placing accumulator bets (where your bet relies on a number of results / outcomes all coming in as you predict) can be a highly lucrative affair when they come in. And every so often bookies will make such bets even more successful by paying out a bonus on winning accas. Accumulators are not easy to win, but when you do they are great, and they become greater still if your bookie pays an extra percentage on top!
So rugby fans take note: before placing your rugby bets be sure to check this page to see if there's a promotion that will give you a chance of bigger net wins or a refund if you lose.