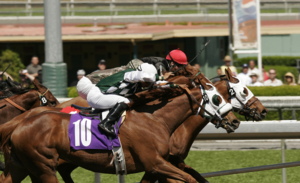 Horse racing is one of the biggest betting sports around and so it is no surprise to see the bookies offering loads in the way of free bets, bonuses and offers for the "sport of kings". In fact, after football, horse racing is the sport you're most likely to see an offer for.
Many offers are more or less permanent and offered on all or most races, whilst others will generally be offered for the biggest races and festivals of both the flat and National Hunt seasons, such as the Cheltenham Festival, the Grand National, Royal Ascot and the flat racing Classics.
Jump to: Latest Offers | Best Odds Guaranteed
Latest Horse Racing Betting Offers & Promotions
Stats Articles
Factors Affecting Horse Racing Bets & Offers
There are many areas to be aware of when placing a horse racing bet or claiming a horse racing offer. Two such areas are place terms and when they can change, and betting on the favourite. We look at both in more detail below.
Place Terms
In horse racing there are set terms that the majority of bookmakers follow in terms of how many places are paid for each race. This is will be based on the number of runners in the race and the type of race (handicap/non-handicap). Below we have outlined the general rules and payouts for place betting.
| Runners | Handicap Races | Non-Handicap Races |
| --- | --- | --- |
| Under 5 | Win Only | Win Only |
| 5 – 7 | 2 | 2 |
| 8 – 15 | 3 | 3 |
| 16 or more | 4 | 3 |
As with all bets, as a punter you are trying to get an edge over the bookmaker. You can do this with place betting by looking for bookies that pay a greater number of places. Generally, these will come in the form of an enhanced place promotion.
A common example of this is when the Grand National is run. The race includes up to 40 horses each year, in one of the biggest fields in horse racing. Using the combinations above, this means that, as a handicap race, it would traditionally pay out on the place market for the first 4 places. But, many bookmakers actually serve up promotions where the number of places that will be paid are greater than this, with as many as 8 places paid in previous years.
Whilst the Grand National is one of the biggest races of the year and commands massive coverage from the bookies, enhanced places can also be found in lesser races or even meetings than this.
What is the Benefit of Extra Places?
The obvious answer to this is it allows more margin for error for our bet to win. It's easier to predict that a horse will finish in the top 4 spots than in the top 3 spots, which is pretty obvious.
Let's run through a quick example of how they might differ.
We place a bet on a race that has 10 runners in total, which means it would be paying out on 3 places as per industry rules. This means that we have a 30% chance of that horse finishing in those places, assuming all horses are dead equal.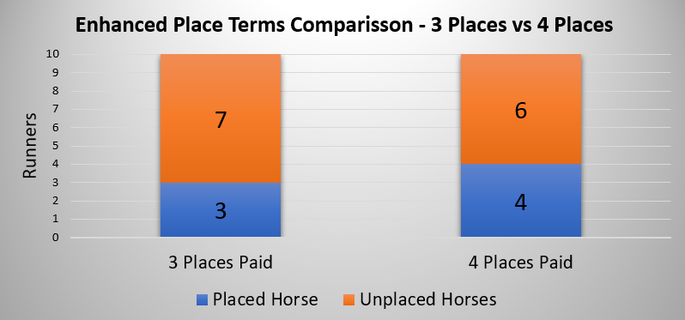 If we were to find a bookmaker that is offering the same odds on the place for the horse, but instead paying out for 4 places, this means we have a 4 in 10 chance of that horse placing or 40%. This is an increase of 10% overall.
It's pretty obvious how it benefits, but the reality is that a 10% increase in the likelihood of our bet coming in is massive in the industry. When you assume that both bookies are offering the same odds for the place bet, whatever these may be, the value increases again.
Place Only Betting Enhanced Terms
One of the more popular bets to utilise when betting on horse racing is that of the place betting market. This is essentially where you pick a horse to finish within a certain number of places for that race. It doesn't matter where they finish, just as long as they are in that bracket and then your bet will be settled.
It's worth noting that this market works differently to that of an each way bet. You don't get extra winnings if your selection wins and your bet isn't split into two, so it's basically a straight, single bet.
We do want to sound one word of caution though. You need to make sure that when it comes to extra places the rules are applied to place bets and not just each way bets. The majority of bookies will have the same number of places paid for each, but this isn't always the case.
Favourites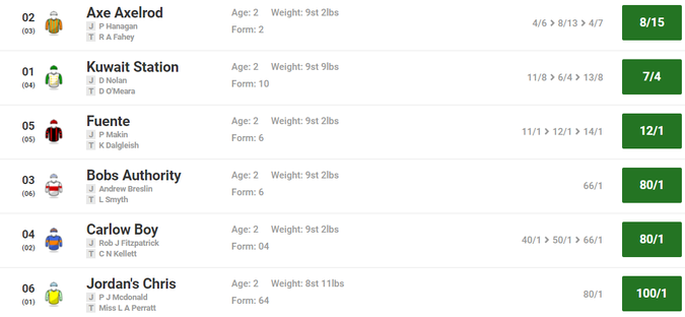 As the bookmaker assesses each race, they set odds on the chances of that horse winning. The horse with the shortest price will be deemed the favourite for that race. It's worth noting that there can be multiple horses as the lowest price (favourite), referred to as joint or co favourites. It's also worth noting that as the odds change in the lead up to the race, the favourite for that race can change as odds either shorten or lengthen, respectively.
A common myth and error that lots of recreational punters make is to back the favourite regardless of the race. Stats taken from races over the course of 5 years highlight the strike rate for a favourite to win the race is 31.69%. This actually isn't all that bad, but you need to factor in the odds with this as well.
You see, if you had wagered just £1 on each of those favourites you would have lost a staggering £1,996.08. So, whilst their strike rate is actually quite good, simply backing the favourite each time will lose you money in the long term.
Handicaps Versus Non Handicaps
Whilst this is an overall figure, the difference between handicap and non-handicap races is quite a margin. For handicap races this strike rate drops down considerably to that of 26.68%, with a £1 stake losing £1,270.70. For non-handicap races, the strike rate jumps considerably, to that of 39.48%, with £1 stakes "only" losing £725.09 across all those races.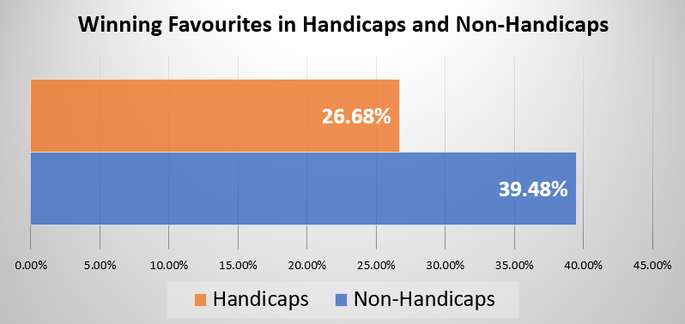 The key here is to take into account if a race is a handicap race or non-handicap race before simply betting on the favourite. As you can see the numbers for favourites in non-handicap race massively improve over that of handicap races.
How to Bet on Horse Racing
Below, we take a look at some of the most popular ways to be on horse racing and give our view on strategies to get the best value that you can from each.
Win Bets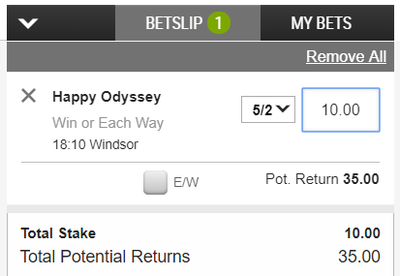 Betting to win is the easiest and most common bet to place with horse racing. All you need to do is select your horse and if it wins, you win! With each race you are going to be able to choose between a field of anything from 3 to 40 horses, although most races will have around 8-10 horses.
This market isn't always the easiest to predict, although you are going to get good value for money from it, should you pick a winner. As horse racing markets are limited, compared to say football, this is where a lot of punters start when betting on horse racing.
Strategy & Statistics
Picking winners for horse racing can be a relentless task. There are a number of variants that have huge effects on the outcome of the race. A good place to start is working out the recent form for the horse where possible. You aren't necessarily looking for horses that have won a considerable number of races, but instead, try to look for horses that have continued to improve over the same distance and ground that they are about to run in.
For total beginners, there are a number of free betting tools and companies that can help with selections. Companies such as the Racing Post and Timeform are two of the best when it comes to betting on races within the UK and Ireland. Even just going from which horse's people are tipping can be a good starting point.
In the UK, just 32% of favourites have won races in the last 5 years. If you were to bet just £1 on each of those favourites you would have lost £4,850 in the process, highlighting that the value is not necessarily within simply backing the favourite each time.
Each Way & Place Betting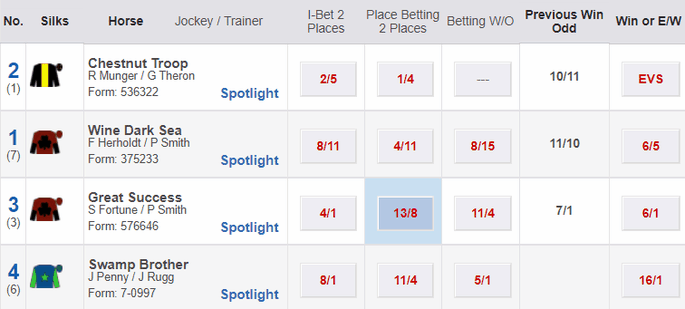 The place and each way are popular bet types for horse racing. It's key to highlight that whilst they may seem similar, they actually work quite differently.
The place market is where you bet on a horse to finish within a certain number of places for that race. The number of places that are paid will be determined by the number of horses in that race. For example, a race with 8 horses in might pay just two places.
For this bet to be successful you simply need your horse to finish within the highlighted number of places. Whether the horse wins the race or finishes in another position within the places, the payout will be exactly the same.
Each way betting is actually broken down into two bets; the first is for the horse to win and the second is for the horse to place. This means that there are potentially two payouts, should your selection win and just 1 payout should your selection fail to win, but finish within the highlighted number of places.
Each way betting will have certain criteria to the place bet as well. Most bookies will take a fraction of the odds, usually 1/5 or 1/4 of the original odds. The odds for the win will remain the same.
Example
For example, let's say you bet £10 each way on Horse A to win at odds of 10/1. The bookie is paying 1/5 odds for this race and paying top 3 places with 12 horses running in total. This would mean that your total stake for this race would be £20 (£10 on the win and £10 on the place).
The horse wins the race. If this happens, your bet will pay out both the win and the place bets. So, your returns would be £110 for the win , £10 x 10 plus £10 Stake. The place returns would be £35, £10 x 2 plus £10 stake, which is 1/5 of the starting odds of 10/1. This would result in a total return of £140 from your £20 stake.
If the horse failed to win, but finished either 2nd or 3rd, then you would still get a return of the place money, but not the win. If it finishes 4th or lower, then you lose your entire bet.
| | Horse Wins | Horse Placed | Horse Unplaced |
| --- | --- | --- | --- |
| Win Returns | £110.00 | £0.00 | £0.00 |
| Place Returns | £30.00 | £30.00 | £0.00 |
| Total Returns | £140.00 | £30.00 | £0.00 |
With each way betting there is a threshold where you can and can't make a net win from your place bet. This is at odds of 5/1 (6.00) for bets paying 1/5th odds and 4/1 (5.00) for bets paying 1/4th odds.
Strategy & Statistics
As a rule of thumb, many professional bettors tend to take the each way market on horses priced 5/1 or higher. This is because the bet will still break even if the horse finishes in the places.
A place from a 20/1 each way bet pays out the same as a win only bet from a 4/1 horse (if paid at 1/5 odds).
Forecasts

The forecast bet is another adaptation of the "to win" market. The tricky part comes in the fact that you need to choose the two horses to finish in both 1st and 2nd place in the correct order. If they finish in the right sports, but correct order, then your bet will lose.
Forecast betting is one that is tough to call but can turn out to be very lucrative if called right. The odds are hard to work out and are based off the starting price for each horse, but do combine to be reasonably high, even if you were betting on relatively short priced horses.
The alternative to this bet is the reverse forecast. This is where you need to choose two horses to finish in either 1st or 2nd place, basically in any order. It's much easier to call and whilst the odds aren't as high as the straight forecast, they can still offer to be quite lucrative. The odds for this bet are taken from the place market, as opposed to the win market with the reverse forecast.
Strategy
As mentioned, these bet types are hard to call, but can pay big. A good spot to be is where you are able to find two horses that are head and shoulders about the rest of the field. It's pretty rare to find favourites much lower than even money in horse racing (although certainly not impossible), but if you could find two short priced horses within a relatively large field, then this is always a good starting point.
Tricast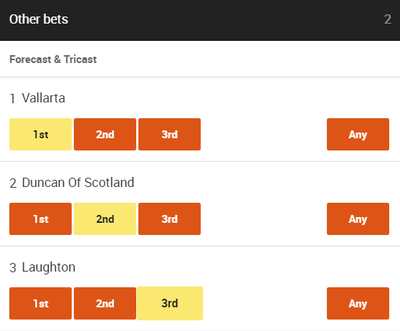 The tricast bet is another extension of forecast betting really. What you do for this is choose the selections from races with 8 or more horses that will finish in 1st, 2nd and 3rd. You need to make sure that all of your selections are in the right order for that bet to win.
With tricast bets you can also place what are known as combination tricast bets. This is where you choose three horses to finish in the top three in any order. But, these work a little differently as for this bet you are actually betting on 6 different bets, given the combinations that can take place for this bet. So, if your tricast stake would be £1, for a combination tricast bet with the same selections, your total stake would be that of £6.
Strategy
Tricasts can be difficult bets to land but if you find a race where you think that there are three horses that clearly stand out from the field it might be worth betting on them finishing in any order with a combination tricast. You could also add an outsider or two to finish behind a well fancied runner.
An alternative can be picking outsiders with long odds or perhaps favoured numbers at small stakes to for the chance of a large tricast payout.
Full cover betting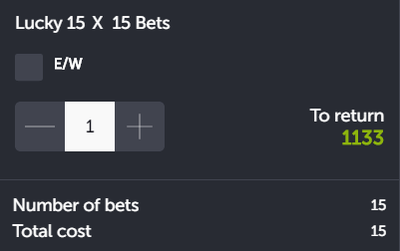 Full cover bets are a form of betting that allow you to win some massive bets within horse racing. In fact, these types of bets have been responsible for some of the biggest payouts in the sport.
The concept of the bet is that you choose a number of horses for your bet and then as you add more in, the range of bet types start to increase. For example, if you had 3 selections, you might then have 3 single bets, 3 double bets and 1 treble bets, covering all bases, hence the name!
It's worth noting that for this bet type you are betting per line, which means that your stake is the amount for each single bet type. If we use the quick example about, in total there are 7 different bet combinations, which means that if we were to bet £1 per line, our total bet would be £7.
Full cover bets have become popular due to the fact that you don't need all results to win to get a sizeable return on your investment, like you would with an accumulator bet. Compared to an accumulator bet the returns would be smaller, but it does allow for a greater margin of error should 1 or more of your selections fail to win.
Below is a list of full cover bet types:
| Bet Type | Selections | Bets | Breakdown of Bets |
| --- | --- | --- | --- |
| Patent | 3 | 7 | 1 treble, 3 doubles & 3 singles |
| Lucky 15 | 4 | 15 | 1 4-fold, 4 trebles, 6 doubles & 4 singles |
| Lucky 31 | 5 | 31 | 1 5-fold, 5 4-folds, 10 trebles, 10 doubles & 5 singles |
| Lucky 63 | 6 | 63 | 1 6-fold, 6 5-folds, 15 4-folds, 20 trebles, 15 doubles, 6 singles |
Strategy
Full cover bets work great with long priced horses that you might want to back. At odds of say 9/1 and higher, you only need a couple of winners to see a pretty big return. It also spreads the risk of betting on these types of bets and whilst wont pay as much an accumulator should they all win, give you a much better chance of picking up a decent return.
Totepool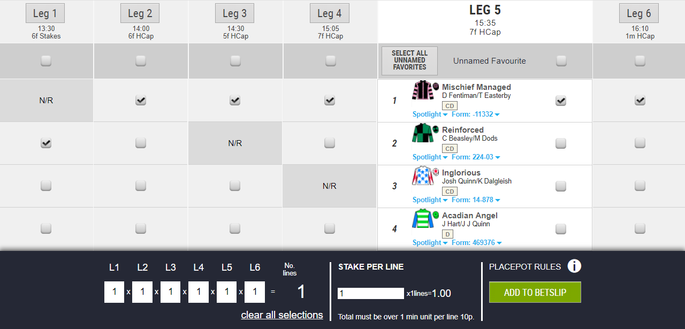 Totepool betting is one of the oldest forms of betting and was the original bet type for horse racing in the early 20th century. The concept works a little differently to that of traditional betting, where instead of betting against the bookmaker, you're actually betting into a pool and then paid a dividend if you win. A good way to consider it is by utilising the same concept as the National Lottery.
The thing with pool betting is that you don't know how much you will be paid until after the race has been run and the money has come in. It can sometimes work out higher than a bookmaker and other times work out less, which is part of the risk of this bet.
The total money that is put into the pot is then split up between each winner. The more bets that have come in a single horse means that the dividend will be less (shorter odds), whereas the less bets that's come in will result in a higher dividend (longer odds).
There's a number of different Totepool bet types that are currently on offer:
| Type | Description |
| --- | --- |
| Placepot | Simply pick a horse from each of the first 6 races of a meeting to be placed |
| Quadpot | Same as above, but instead just pick from 4 races (3rd – 6th race) from any meeting |
| Jackpot | Pick the winner from each of the first 6 races of the daily meeting |
| Scoop6 | Pick the winners of 6 races from televised Saturday races or major meetings such as Cheltenham. Also a place fund and a bonus fund the following week for the winners |
| Win & Place | The standard win and place bet, similar to that of each way betting |
| Exacta | The same as a forecast bet, pick the first 2 horses in the correct order |
| Trifecta | The same as a tricast bet, pick the first 3 horses in the correct order |
Major Horse Racing Festivals
The absolute pinnacle of the National Hunt racing, only the very best horses, jockeys and trainers descend on Cheltenham for this four-day meeting held in March. Beloved by punters and spectators alike, every day at the Cheltenham Festival features at least a single Grade One race. Champion Day boasts the Champion and the Mares Hurdles, Ladies Day the Queen Mother Champion Chase, St Patrick's Thursday has the World Hurdle and Ryanair Chase while the Friday is home to the legendary Gold Cup. This is truly not to be missed.
The most famous horse race on earth, the Grand National is beloved by both serious punters and armchair bettors; with millions of pounds staked on the jaunt each and every year. The festival takes place at Aintree in early April, with the Grand National itself always run on the Saturday afternoon and broadcast by Channel 4. This is the ultimate test for runner, rider and punter in the National Hunt calendar, with the 4m 3f track featuring infamous jumps including Becher's Brook, The Chair and the Canal Turn.
The Epsom Derby is undoubtedly the most prestigious and eagerly awaited race in the flat racing calendar, and it is this that forms the focal point of the Epsom Festival held at the famous course each June. But then there's the Investec Oaks as part of Ladies Day too, where the most glamorous 'fillies' and race goers enjoy an afternoon of first class racing. But it's Derby Day that really gets the juices flowing, with famous previous winners of the £1 million top prize including Shergar, Nijinsky and Galileo.
Royal Ascot can rightfully claim to be British horse racing's most prestigious meeting; this week-long festival bears witness to prize money in excess of £5.5 million! As the name suggests, the meeting has a Royal touch with the Queen herself a regular attendee, and with eight Group One races on show it's just as popular with punters too. Held in June each year, highlights include the Prince of Wales Stakes, the Diamond Jubilee Stakes and, of course, the Gold Cup.
The Newmarket Festival, or the QIPCO Guineas Festival as it has been rebranded for sponsorship reasons, plays host to two of the most anticipated races of the flat season: the 1000 and 2000 Guineas. Held in late April/early May, this is the annual curtain-raiser to the flat racing campaign, with a number of world-class performers making their bow here. The highlight is the 1000 Guineas renewal, a Group One favourite and the second leg of the 'classics' trail.
Typically held in July, Glorious Goodwood is another standout feature in the Flat season calendar. Spread across five days, the great and the good of horse racing are on show for the summer showpiece, with the Sussex Stakes on the Wednesday and the Nassau Stakes on the Saturday the jewels in the crown. Once again broadcast by Channel 4, Glorious Goodwood is a quintessentially English event that offers plenty to both guests on the course and punters waiting in the wings at home.
Every August thousands of race goers descend on York for the Ebor Festival, a meeting that is some 150 years old. The four-day event is headlined on the Saturday by the Ebor Handicap, with further Group Ones including the Juddmonte International and the Yorkshire Oaks for punters to sink their teeth into. Legendary runners including Frankel and Sergeant Cecil have graced the Ebor, so you might even be able to spot future Ascot champions if you're watching closely….
Billed as the 'world's oldest classic', the St Leger Festival first met in 1776; so there's plenty of history attached to this fine event! Held in September each year, the festival features a whole lot of fun – the Leger Legends Charity Race sees jockeys of yesteryear don their silks in aid of good causes – and plenty of serious racing too, with the St Leger Stakes making up the third leg of flat racing's 'Triple Crown'. The Doncaster Cup attracts plenty of quality performers – and punters – as well.
This three-day meeting held in November is a nice place-marker as the excitement builds towards Cheltenham Festival proper, with exciting young talents given a chance to prove their worth in the Paddy Power Gold Cup, the Shloer Steeplechase and more. The Saturday of the Cheltenham Open is widely regarded as the best day's National Hunt racing pre-Christmas, and so it presents a fantastic opportunity for punters to mark their cards with horses to watch and ones to avoid in the markets.
This two day meeting is the showpiece National Hunt event of the Christmas/New Year period. Held at Kempton Park on Boxing Day and December 27, the standout race is the King George VI Chase, which is considered to be a fine barometer of a horse's quality; a good performance here is likely to see them challenging for honours at Cheltenham. With a roll call of former winners that includes Desert Orchid, Best Mate and Kauto Star, it's fair to say that this is one not be missed.
Types of Horse Racing Offers
Here we take a look at some of the offers the bookies feature most regularly:
Best Odds Guaranteed – This is a permanent offer that most of the top bookies feature and means you never need to miss out if a price drifts and you took an early price. If a bookie offers BOG then always take the price when you place the bet and the bookie will pay out at the higher of either the starting price (SP) or the price you took.
Free Bets on Winners – Certain bookmakers offer free bets if you back a winner above specified odds in certain feature races. These are a great way of boosting your bank balance as they effectively offer limitless free bets (as long as you keep backing those winners!).
Price Boosts – Bookmakers often have price boosts for big races or daily happy hours where improved odds are given on a named horse. Look out for these as the bigger payouts soon add up.
No Runner No/Free Bet – Ante post fans who like to get their bets on early can do so on certain big races (usually Cheltenham feature races and the Grand National and certain others) where bookies offer No Runner No Bet. This means that if your horse doesn't run, rather than losing out you either get your money back with no strings attached or you get it back in the form of a free bet.
Lucky 15/31/63 Enhancements – For those that like these bets many bookmakers offer a nice little insurance policy if only one of your horses wins. Bookies will often pay at three, four or five times the odds on your one winner, meaning what would normally be a hefty loss isn't so bad or, depending on the odds, can even mean an overall win.
Enhanced Each Way Terms – On certain big races, most notably the National and others with large fields, many bookmakers pay each way beyond the normal four places, with some offering as many as eight places, but five or six being more common.
Money Back On Fallers – This is another one that is pulled out for the big races, though sometimes offered on all National Hunt races, in which certain bookies will refund your stake, often as a free bet, sometimes a straight refund, if your horse is a faller, unseats the rider or refuses. Similar offers are sometimes run if your horse finishes second to a named winner, loses by a narrow margin or some other such eventuality.
So with so many great horse racing betting offers available, don't look a gift horse in the mouth and make sure you check this page before placing your racing bets.