It is often said that Christmas is is a time for giving – the bookies have clearly taken this to heart as December is a literal bonaza of offers, free bets, casino spins and bonuses.
Unlike other seasonal events, most of the offers tend to be generic and whilst you could find the occasional enhanced odds offer or bonus for who will be christmas number one, the majority of offers are more general – dishing out goodies just for betting or play on the site around the christmas period.
The best thing about these kinds of offer is that they're normally available to all customers, not just new ones (any that are for new customers only will be clearly marked as such).
Betting Advent Calendars & Christmas Free Bets
£5 Million White Christmas Giveaway
Betfred will give away £1 million to five customers if it snows in London on Christmas Day in 2023. Your first entry to the draw is free and can be done by opting in to the promotion. Extra entries can be earned for every betslip of £1+ that is placed and settled before Christmas Day.
Opt-in required. First entry free. Max 100 entries per customer. Bets must be placed and settled between 00:00 on 10/11/23 and 23:59 on 24/12/23. Multiple bets totalling on a betslip totalling £1 or more will count as an entry. Snow must be lying at 09:00 on 25/12/23 at Heathrow Airport for winners to be drawn. You must be contactable within 3 days of draw or prize will pass to the next drawn customer. Prize will be paid within 7 days in cash. Max 1 winning prize per customer. T&Cs apply, 18+. #ad
What is a Betting Advent Calendar?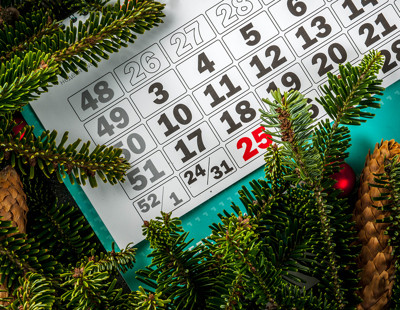 As mentioned above, the most common (and often lucrative) type of offer found at Christmas is the betting advent calendar. These are pretty much exactly how they sound with a different offer every day. Sometimes the calendars are combined with the bookies casino but you'll also find sites with separate calendars for sports and casino (for details of casino specific calendars see our casino page).
There's a huge variety in the types of offers you'll find ranging from deposit bonuses, free bets, free spins, competitions, extra loyalty points and much much more. Most sites don't tell you what is up for grabs until the day though, meaning that you need to check each site every day to make sure you don't miss anything.
Christmas Novelty Bets
If you're familiar with the betting industry it probably comes as little surprise to hear that there are a growing number of Christmas related betting market that you can access these days. Bookmakers are allowing you to bet on anything and everything, which is one of the main reasons as Christmas betting markets' popularity.
What we will say about these markets is that they are just a bit of fun and making a long term strategy to become successful at profiting from them isn't going to be viable long term. But, like every betting market there are things that you need to be aware of before placing your bet and there are also ways in which you can maximise your chances of winning.
Throughout this article we will be looking at different types of Christmas betting markets and how they work.
Christmas Number 1
As Christmas approaches, the Christmas number 1 is one of the most prestigious times of the year to be holding the top spot for any band. It's included some of the greats down the years such as The Beatles, Elvis Presley, Pink Floyd, Queen and Whitney Houston.
But, on the flip side of this it's also included some of the not so greats, such as Bob the Builder, Mr Blobby, West Life and Gary Jules, to name just a few. As you can see, the range in class is huge.
In more recent years, the number 1 slot has been made up winners from the hit TV show X-Factor, but as people start to tire of the show they have also started to take it upon themselves to make sure that these 'celebrities' don't make it to number.
One of the biggest social media movements came about in 2009 when fans wanted to stop the dominance of X Factor winners getting to number 1. They decided that they needed to go left field and managed to get Rage Against the Machine to number 1 with their hit song, Killing in the Name. Some bookies reported that they paid out on odds for that song to be number as long as 1000/1.
It's tough to really apply any solid strategy to this betting market. You need to be aware of which bands are potentially going to spring a surprise and also which bands of musicians will be releasing a single over Christmas. The power of social media in the charts is massive, so we would suggest that you have a dig to see if there are any potential left-field winners of the market. Whilst they likely won't be as long odds as Rage Against the Machine, there will be value to be had.
Also, it's worth noting that this market will be based on the UK's official chart and not one of the many download based charts that you hear these days. Radio 1 will be your best bet for getting hold of the official chart in the UK.
White Christmas
One of the more popular markets for Christmas betting is that of the white Christmas bet or as it's more commonly known these days, the snow on Christmas day bet. It's also a very contentious market to bet on as well, mainly because of what constitutes as 'snow'.
The market is broken down into cities or areas. So, you are going to be able to bet on if there will be snow in a certain city on December 25th from 00:00 to 23:59. All that needs to happen for this market to be 'yes' is that one snow flake has to fall in the city that you've chosen. It's worth noting that each area will have its own weather station or airport where this will be tracked. It has to snow in that exact area for this bet to be successful.
One thing that we will highlight on this market straight away is that you will it will close about 2 weeks before Christmas Day. Another point worth noting this that you can't bet a huge amount on this market. At the bookmakers we checked the maximum bet on the favourite of Aberdeen priced at 3/1 is just £33, so it's definitely targeted at more of a novelty betting market than anything else.
Finally, you can't include several bets from this market to form an accumulator. For example, you wouldn't be able to choose Belfast, Birmingham and Cardiff for it to snow, as they would all have an effect on each other, so would be prohibited by the bookie. This has actually occurred in the past where someone had placed an accumulator bet that there would be snow in 24 cities across the UK. It did snow and we set out for a payout of £7.1million, until the bookies pointed out that no accumulator bets were allowed and paid the guy just £31.78. Merry Christmas!
Christmas TV Ads
One of the more bizarre betting markets occurred in 2016 when bookies were running on odds on which Christmas TV add would get the most YouTube views in the lead up to Christmas. These ads have become a popular part of Christmas, with the likes of John Lewis, Marks and Spencer's, Aldi, House of Fraser and many others creating almost feature length ads.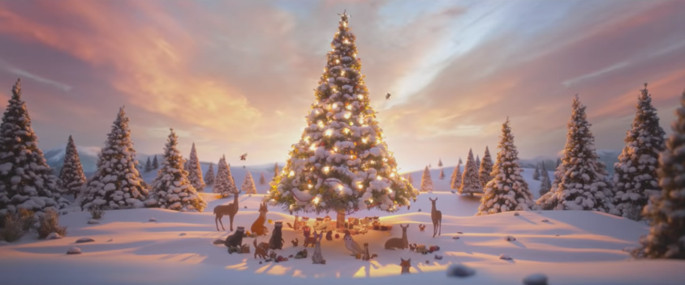 John Lewis Christmas Advert 2013, via
YouTube
To give you an idea of just how popular they have become, below we have listed the last few John Lewis ads in rank of how many total YouTube views they have got so far as of 2017 (you can see their christmas YouTube channel here).
2011 – The Long Wait – 8 million
2012 – The Journey – 6.7 million
2013 – The Bear and The Hare – 16 million
2014 – Monty the Penguin – 27 million
2015 – Man of the Moon – 29 million
2016 – Buster the Boxer – 26 million
2017 – Moz the Monster – 9.8 million
As you can see there are huge numbers on offer. From a betting perspective, it's been hard to really topple the John Lewis ad. To give you an idea of how popular it's been, the famous Coca Cola ad which is over 20 years old only has 2.7 million views.