The first goalscorer market is one of the most popular when it comes to betting on football. Often the lure of some fairly large odds will be enough for a lot of punters to try their luck at these types of bets. But, with that many betting sites are able to tie in a very popular promotion where they can offer double and even triple the odds on bets should that player go on to score 2 or even 3 goals. Other offers may give you free bets in a certain player or team scores the opening goal.
Who Has Offers on First Goalscorers?
The current offers on first goalscorer bets will be shown here. One of the most popular, regular offers is Betfred's Double Delight Hat-Trick Heaven offers but others may become available. Be aware these will be available on selected games.
First Goalscorer Double Delight/Hat-Trick Heaven
On a selection of club and international matches, Betfred offer double odds on the first goalscorer if they score two goals in that game, and treble odds if they score three or more goals. Where the pre-match offer applies, bets will need to be placed before kick off. Where the in-play promotion applies, the offer will be settled on the next goalscorer, and their subsequent goals.
See Betfred website for a full list of applicable matches. Own goals do not count, 90 minutes only. In-play offer refers to goals scored after bet placement. T&Cs apply, 18+. #ad
What is a First Goalscorer Bet?
If you bet on the standard first goalscorer market, which specific offers may apply to, you are betting on the first player to score a goal in a particular football match. Whilst this may sound fairly straight forward, there are markets on first players to score a goal for a particular team, or in a particular half, but these are not the markets we are referring to.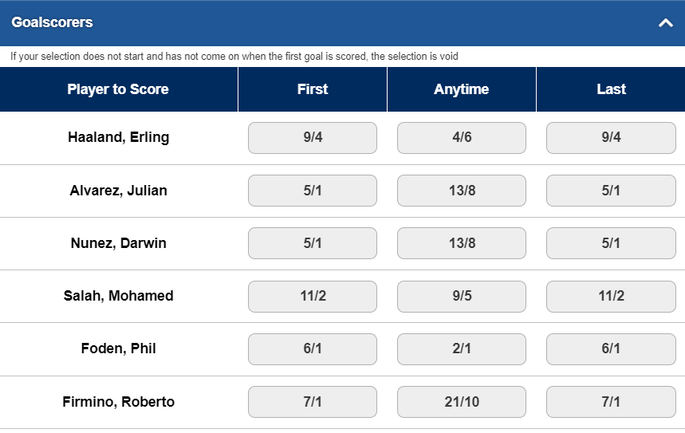 If we look at the example above, we are concentrating on bets in the 'First' column. Again, there are markets for last goalscorer and anytime goalscorer shown but we will only be looking at the first goalscorer. Here we can see Erling Haaland is the favourite to get the first goal in this game at 9/4, followed by Julian Alvarez and Darwin Nunez at 5/1 and Mohamed Salah at 11/2.
90 Minutes
As with most football market, the betting applies to 90 minutes of play. By this we mean the standard 45 minutes each half plus any additional injury time. Goals scored in extra time and penalties in cup competitions won't count.
Own Goals
A common rule for first goalscorers is that own goals don't count. If the first goal in a game is an own goal, i.e. a player outing the ball in their own net, the first goalscorer will be settled on who gets the next goal, assuming it isn't another own goal.
Non-Runners/Void Bets
If you've backed a first goalscorer and they don't play any part in a match, your player will be classed as a non-runner, your bet will be voided and your stake returned. Where it gets slightly more complicated is if your player starts the game on the substitutes bench.
If the first goal is scored before your player gets on the pitch, your bet will be void. If your player come on to the pitch before the first goal, or the first goal that isn't an own goal, your bet will stand. Unfortunately, even if they only play for a few minutes or even seconds, they will be classed as having the opportunity to score a goal.
How Do Double and Treble Odds Offers on First Goalscorer Bets Work?
The process of the bet is actually very simple. You will start by placing a single bet on the first goalscorer market of a match that the offer applies to. Most Premier League games will be covered as well a range of others.
Next, you need your bet to be successful to go on and be eligible to claim the promotion. If your selection fails to score the first goal, or first goal that isn't an own goal, then you won't be eligible to claim this offer.
If your selection scores first, and is therefore a winner in the first goalscorer market and they then score a second goal, you could get double the odds of that player to score first. You will get triple the odds should they grab a third. It's worth noting at this point that the player will not need to score the second and third goal of the match to count, then can score these at any point in the game after the first. For example, your player scores first and then grabs the fourth goal of the game, their second, then your bet would be eligible for this promotion.
If your player was 5/1 to score first and they score the first goal and then one other, their price would then become 10/1 (double). If they scored the first goal, then scored another two or more, the bet would be paid out at 15/1 (treble).
Double & Treble Odds Examples
| Player | 1st Goal | Double Odds | Treble Odds |
| --- | --- | --- | --- |
| Erling Haaland | 9/4 | 9/2 | 27/4 |
| Julian Alvarez | 5/1 | 10/1 | 15/1 |
| Darwin Nunez | 5/1 | 10/1 | 15/1 |
| Mohamed Salah | 11/2 | 11/1 | 33/2 |
| Phil Foden | 6/1 | 12/1 | 18/1 |
| Roberto Firmino | 7/1 | 14/1 | 21/1 |
Pre-Match Or In-Play
There are almost as many markets available on matches when they become live as before they kick off and this is true for double and treble odds offers on first scorers. Certain matches will have the offer for bets placed pre-match, some will have the offer when the game kicks-off and becomes in-play, and some will have the offer on both pre-match and in-play or certain games.
Bets placed pre-match will work as you would imagine, your player potentially has the from the start of the game to get the first goal and potentially score again.
For bets placed in-play, even if a goal has already been scored you can qualify for the double and treble odds offer, though this time they key goal is the next goal. If your player scores the next goal (again own-goals don't count) and then goes on to score again, you could get double odds. If they score a third goal or more after placing your bet, you could get treble your odds.
They key point is that your bet needs to win in the first instance. So, for a pre-match bet, your player must score the first goal. For an in-play bet, your player must score the next goal. This may still be the first goal but it could be the second, the third, or more.
Common Rules
Two of the key rules for this offer are that it normally applies to 90 minutes (plus injury time) and that own goals do not count.
Most bookmakers will pay out on this promotion in real cash, rather than free bets, which makes it even more lucrative. Others may offer a free bet alternative so be sure to check your terms and conditions.
Another point that you need to be aware of is that the bookmaker may limit the amount that you can win. Bets on the first goalscorer will have a maximum payout which varies form bookmaker to bookmaker but where there is an offer applied, this amount may be reduced.
Something you need to be aware that the bookmaker will multiply the odds for the bet and not the return payout. These are actually very different as you are not multiplying your stake, just the returns. As an example a £10 bet at 10/1 which qualifies for double odds would return £210, £10 at 20/1. Double the returns would give a payment of £220, £110 x 2, which is not correct.
Examples of Double and Triple Odds on First Goalscorers
We know what a first goalscorer bet is and when a double and triple odds offer on this bet might apply, so now we'll look at some recent examples of when these bets would have come up. We have examples of double odds, triple odds and from an in-play bet.
Double Odds
For an example of a first goalscorer that would have qualified for a double odds offer, we've taken the Fulham v Liverpool game on Saturday 6th August 2022 at Craven Cottage.
Fulham v Liverpool Goalscorers (06/08/22)
| Goal No | Player | Time | Team |
| --- | --- | --- | --- |
| 1 | Aleksander Mitrovic | 32′ | Fulham |
| 2 | Darwin Nunez | 64′ | Liverpool |
| 3 | Aleksander Mitrovic | 72′ | Fulham |
| 4 | Mohamed Salah | 80′ | Liverpool |
We can see that the first goalscorer was Fulham's Aleksander Mitrovic who netted in the 32nd minute. Had you back him for the first goalscorer, Mitrovic would have been a winning bet. However, we can see that he scored again in the 72nd minute so would have qualified for double odds. You could have benefitted from this on a pre-match offer or an in-play offer if that in-play bet was placed before before the first goal.
Treble Odds
For a treble odds offer, we need to find a player who has scored a hat-trick. For this, we've taken Brentford versus Leeds United on Saturday 3rd September at the Gtech Community Stadium.
Brentford v Leeds United Goalscorers (03/09/22)
| Goal No | Player | Time | Team |
| --- | --- | --- | --- |
| 1 | Ivan Toney | 30′ | Brentford |
| 2 | Ivan Toney | 43′ | Brentford |
| 3 | Luis Sinisterra | 45 + 1′ | Leeds United |
| 4 | Ivan Toney | 58′ | Brentford |
| 5 | Marc Roca | 79′ | Leeds United |
| 6 | Bryan Mbeumo | 80′ | Brentford |
| 7 | Yoane Wissa | 90 + 1′ | Brentford |
Ivan Toney was the first goalscorer in this match, putting the home side 1-0 after half an hour. Toney scored again before half time, just before Leeds got a goal back before the break. Toney secured his hattrick after 58 minutes, meaning had you backed him pre-match or, in-play before the first goal, you could have got treble the odds on Toney as first scorer.
In-Play Only Treble Odds
For an example of a treble odds offer that would have only qualified for an in-play bet, we've taken the Tottenham Hotspur versus Leicester City game on Saturday 17th September at the Tottenham Hotspur Stadium.
Tottenham v Leicester Goalscorers (17/09/22)
| Goal No | Player | Time | Team |
| --- | --- | --- | --- |
| 1 | Youri Tielemans | 6′ | Leicester |
| 2 | Harry Kane | 8′ | Tottenham |
| 3 | Eric Dier | 21′ | Tottenham |
| 4 | James Maddison | 41′ | Leicester |
| 5 | Rodrigo Bentancur | 47′ | Tottenham |
| 6 | Son Heung-min | 73′ | Tottenham |
| 7 | Son Heung-min | 84′ | Tottenham |
| 8 | Son Heung-min | 86′ | Tottenham |
The first goalscorer in this game was Leicester's Youri Tielemans who put the visitors ahead from the penalty spot after just 6 minutes. The game was level at 2-2 by half time, with Tottenham's Rodrigo Bentancur putting the hosts ahead just after half time.
The Tottenham manager Antonio Conte decides to make a change in his attacking lineup as the hour mark approaches and brings on Son Heung-min for Richarlison. You may have at this point decided that the South Korean was going to score the next goal in-play. Son scored after 73′ minutes, scored a second after 84 minutes and completed his 13-minute hat-trick off the bench after 86 minutes.
Had you backed Son for the next goal when he was substituted on, you could have got treble the odds for your bet. Had you backed Son for the first goalscorer pre-match, you would have had your stake returned as he was on the bench the first goal.