With 10.5 million online punters in Britain alone and an expanding selection of bookies competing for their custom, free bets and other sign-up offers are a great way for bookies to show new customers what makes them special. They can also be great for punters, increasing your chances of winning and sometimes giving you a free bet worth five times the value of your initial wager, or sometimes even more.
Of course, it is always important to read the terms and conditions when taking part in a free bet offer or promotion of any kind. You must pay particularly close attention to the deposit methods which are accepted by the bookmaker in terms of being eligible for any offer you are seeking to claim. E-wallets, of which there are many, are popular with many online shoppers, are not always accepted as a source of funds for free bet offers. Additionally, credit cards and some other deposit methods like certain pre-paid cards are not universally accepted. There are various regulatory and business reasons for these restrictions which we investigate below.
Credit Cards a No-Go in Britain & Ireland
The Gambling Commission oversees the regulation of the gambling industry in Britain. Research carried out by the Gambling Commission found that 22% of punters who deposit funds to their betting accounts with credit cards are problem gamblers. Losing your own money is bad enough if it is cash you cannot afford to lose but clearly funding bets with debt is even worse. That, coupled with the fact that the interest repayments on credit cards can make them even more problematic, prompted the Gambling Commission to lobby the UK Government to change the law to stop bookmakers accepting credit card deposits.
As of 14 April 2020, UK bookmakers do not allow customers to add funds to their betting accounts via credit cards. That also applies to e-wallets and payment solutions, such as PayPal and PaySafe Card, where a credit card is the original source of funds. There is no such law in the Republic of Ireland but bookmakers who operate on both sides of the of Irish Sea tend to apply the credit card ban voluntarily.
Regulatory Considerations
Bookmakers are required by law to go to great lengths to ensure that their products and services are not used to launder money. To that end, customers must prove their identity when opening a new betting account.
Proving Your Identity
The forms of acceptable identification can vary from bookmaker to bookmaker but generally you are required to send scans or photos of official documentation such as a passport, driving licence, national ID card and/or proof of address via utility bills or other methods.
It is far easier to open a fake e-wallet account than it is to open a fake bank account and so by restricting free bets to debit card users only bookmakers make it harder for both bonus baggers and potential launderers.
'Closed Loop' System
Proving identity is only one part of the anti-money laundering methods employed by bookmakers. Another key is the so called 'closed loop' system in which funds must be withdrawn to the same source from which they were deposited.
In practice, this means that online gamblers in Britain cannot change where their funds are withdrawn to until their withdrawals either match or exceed deposits to a certain account. As well as a defence against money laundering, this also helps improve customer security because if an account is hacked it is difficult for the criminal to remove funds from the bookie account.
To keep this process safe from overcomplication, most bookmakers do not allow customers to make their first qualifying deposit for welcome bonuses and free bet offers via e-wallets, as the source of funds for e-wallets can be more opaque than a debit card which is linked to a single bank account.
Although bookmakers do support multiple deposit and withdrawal methods, including e-wallets like Skrill and Neteller, they can often only be used after punters have taken advantage of the free bets available when opening a new account.
How to Separate Your Betting Account from Your Main Account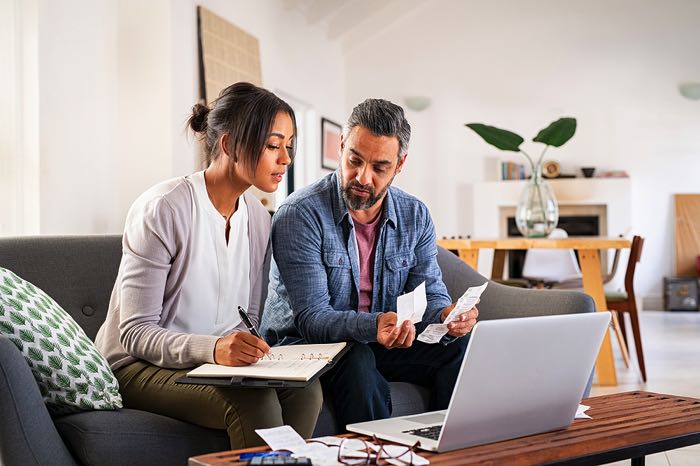 For most people, betting is a form of entertainment. It adds a bit of interest and excitement to whatever sport you are interested in. Most online punters also bet with small stakes and well within their means. Others take their betting more seriously and like to keep a close eye on their longer term net win and loss via the account section of the bookmakers, a spreadsheet or dedicated online tools.
Whether you view yourself as more of a casual punter or somebody who likes to dig deep into the form in the search for betting value, it can be advantageous to keep your betting activity separate from the rest of your financial life.
Separating Betting
Separating betting is a very good way to make sure that you continue to bet within your means. The modern day equivalent of going to a day at the horse racing with your staking cash in one pocket and putting winnings in another is having a dedicated online account for your betting and funding it with a set amount each week, month or year.
In addition to an extra layer of control and safety, there are other reasons you may wish to keep your betting funds in a separate account. Banks have been known to flag repeated transactions from bookmakers in the accounts of people who are applying for a mortgage.
Whilst gambling does not directly affect your credit rating, it can alarm lenders, be they of mortgages or loans, especially if you are incurring losses which could make you fall foul of affordability criteria that have become increasingly strict since the 2008 financial crisis. Some people like to have different bank accounts for household bills or other expenses. This makes sure that any gambling transactions can easily be kept separate and there is no need for any potential lender to even be aware of them. It also helps people to make sure that their financial responsibilities are met each month. In this context, betting money may sit in an account used for other entertainment or luxuries.
Monzo & Revolut
Setting up bank accounts for a particular purpose is an increasingly quick and easy process. There is no longer any need to fill in complicated forms with a bank manager and wait days for approval. Many bank accounts can be opened quickly and simply online. Some banks which are based online like Monzo and Revolut will allow for multiple accounts or pre-paid payment cards to exist within the same main account.
E-Wallets
Another popular option is funding your accounts via e-wallets. For reasons previously mentioned, this is not always an option when opening an account with a bookmaker and looking to claim a free bet, but once you have provided proof of identity and passed all the regulatory checks, bookmakers will generally allow punters to benefit from the speed and convenience of e-wallets.
Be aware though, bookmakers can sometimes impose limits or be extra careful with ongoing checks for customers who don't use what is seen as their preferred method of funding accounts with a debit card.