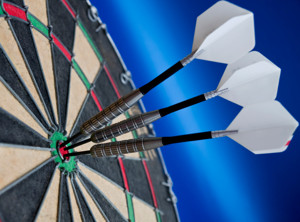 Dart's may not be the most glamorous sport in the world, but with an increasingly young following the bookies would be foolish to overlook its potential. It's also one of the sports best suited for in-play betting.
You tend to find more promotions around the bigger tournaments, although there is usually a strong set of reliably consistent offerings for the Premier League Darts. The same bookies tend to offer the same (or very similar) promotions each year, so sign up with the below and you'll know where to go.
Jump to: Latest Offers
Latest Darts Offers & Promotions
New and existing customers can get an odds boost every day to increase the odds from a betting selection, including darts. There will be a minimum of one odds boost available per customer per day with a maximum boosted stake of £50. Select 'Boost' from your betting slip to take advantage.
18+, T&Cs apply. Customers that open a new account with PayPal, Moneybookers, Paysafe, Neteller or Skrill will not receive these odds boosts. Enhanced odds markets and complex multiples are excluded. #ad
Bet In-Play, Get a Free £10 Bet Weekly
Place five or more in-play bets of £10+ in a week on darts (Monday to Sunday) and you can get a free £10 bet to use in-play the following Monday. Bets must be at odds of evens or greater and settled within the same week.
Opt-in required. UK customers only. Football, tennis, cricket and basketball bets are also included. Bets must be placed using real money and will not count if they are cashed out or void. Bets must be placed and settled between 00:01 Monday and 23:59 Sunday. Free bets will be credited by 16:00 the following Monday and will be valid for 7 days. T&Cs apply, 18+. #ad
How to Bet on Darts
Match Winner
The match winner market is the most popular when it comes to betting on darts. The concept is simple in that you choose the player you think is going to win that match, if they do, then your bet wins.

The majority of games that are played in darts are via that of knockout tournaments, where players are playing single games to progress to the next stage. But, there are tournaments such as the Premier League where a draw might occur.
So, for the knockout matches you will simply be betting on the player to advance to the next round. This is actually quite an important term as it means that should their opponent withdraw prior or during the match, the bet still stands as the player advances to the next round.
For the league format you are going to be able to bet on either player to win as well as the draw. The draw bet is one that has become quite popular these days, especially given how strong the Premier League is and the short format that players go head to head over.
Strategy
As there are two main tours in darts – PDC and BDO – don't just limit yourself to betting on one tour. The majority of markets and events are covered via that of the PDC, but it's commonly thought that the BDO offers more value, especially for pre-tournament bets, as the corporation is much more unpredictable.
Most 180's
A 180 is often referred to as a maximum in darts and is the highest 3-dart score that can be achieved. Whilst they are more common today than they were, a 180 is still thought to be fairly rare and some matches might not have a huge number.
When betting on this market you are betting on the player to score more 180's than their opponents. It's as simple as that really. After the game the result of the match is totally irrelevant and all that is needed is the data for the most 180's scored.
Total Match 180's
An extension of this market sees some bookies offer an over/under line on the total 180's scored in the match, either for each player or as a combined score. This works in a similar way to betting on the over/under total goals in a football match and is one of the most underrated markets in darts.

Bookmakers lines will vary, but it will always be signified by a fraction. So, it might be over 10.5 180's, which essentially means 11 or more, this way no draws or pushed need to occur.
Strategy & Statistics
Whenever you are betting on these types of markets with darts, form is often irrelevant and instead you want to be looking at playing styles for each type of player. You're going to be able to get a huge range of stats online about how many 180's each player generally scores.
A good example of having to do your homework on a market like this is with a player like Phil Taylor. Now, Taylor is regarded as the greatest of all time and has won everything, beating everyone. So, you'd think backing him for most 180's would be automatic. But, Taylor would often switch from the treble 20 and move to the 19's, mainly because of how his darts entered the board, making it tough to get three in the same bed.
Dave Chisnell is still without a major darts win in the PDC, but has the third highest number of 180's from 2016 onwards.
Handicap Betting

Handicap betting has been a market that has crept into darts more and more over the last couple years. The concept is often applied to matches that are played over a certain number of legs, rather than best of "x" sets, mainly down to the fact that there are more legs than sets, meaning a bigger range of handicaps to choose from.
When a handicap is applied, it's a theoretical advantage or disadvantage applied to one of the players. If we take leg betting as an example, this would mean that one player either gets legs added or removed from the final score to determine the winner of the handicap market.
A bet might include something like, Phil Taylor to win -1.5 legs. This would mean that 1.5 legs are removed from his score at the end of the game or, in layman's terms, he needs to win by 2 or more legs for the bet to be successful.
When you are placing a handicap on a game that is being run over a certain number of sets, you need to make sure what the rules are for that bet. Some bookies will take the cumulative number of legs from each set and add them together at the end. Others may run the handicap on the number of sets, so make sure you check what's what first.
Strategy
The handicap section is used to try and even out games a little more and in turn, you want to be looking to squeeze a little more value for short priced favourites. It's similar to that of football, but you really want to be looking at players who are going to win the match and win it comfortably. Make sure you check things like current form, previous head to heads and also players schedules as fatigue, believe it not, is a big factor these days given the number tournaments are on offer around the world.
Nine Dart Finish
The nine darter is the wholly grail when it comes to darts. There have only ever been a few (in comparison to the number of events that have been played) or so televised 9 dart finishes ever recorded and whilst it's now more common than ever, it's still very rare.
Just so you know, a 9-dart finish is the least amount of darts possible to win a leg. It consists of 180, 180, 141 checkout and whilst there are a couple of other variations which include treble 19 instead of treble 20, altering the final checkout number, it's still super rare.
Betting on this market is as simple as it gets really, you simply select if there will be one or not, rarely having to select a player, simply a match or even a tournament for Antepost betting. Markets can get a little more niche where you select a single player to score. Pre-tournament bets for a 9-darter at any point is often around 5/1 or so, but single player bets can be as much as 50/1 or even higher for rank outsiders.
Strategy
For this you definitely want to be looking at longer format matches, such as the World Championships. It's these where players are able to get into more of a rhythm and obviously the more legs they play, the more chance they have of hitting one.
Checkout Betting
Another popular betting market comes in the form of checkouts. A checkout means the final score to win the leg. So, if a player scores 156 as his final score in a leg, 156 would be that players checkout.
There are a number of variations to choose from with these bet types in mind. The most common is that of the match checkout. The bookmaker will set a line, usually around the 130.5 mark and then it's up to the punter to choose over or under that line. You will be able to choose different lines, which will affect the odds accordingly, lengthening as you make the number higher and shortening as you make it lower.
You're also going to be able to choose between different players and their highest checkout. Again, a line will be set, and you simply choose the over or under.
170 Checkout?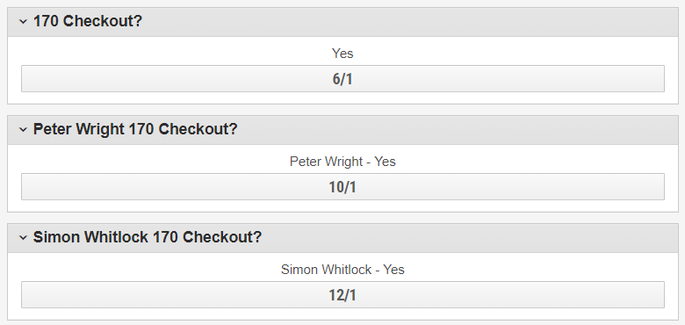 The final variation is simply choosing if there will be a 170-checkout scored in the match. 170 is the highest checkout that can be finished for any leg. This includes 2 x 180 scores, followed by a 170 score, making up with 2 trebles 20's and then the bullseye to finish.
Strategy
A good place to start is by looking at both players average checkout score and how often the beat the line that the bookmaker has set. This data is freely available online, which will enable you to choose better lines for the over/under bets and gain more value.
Useful Information
Why Are There Two World Championships?
If you're new to darts, then you are probably wondering why there are in fact two World Championships that are played for each year. Well, it's actually a very good question and simply put, there actually two organisations for darts in the UK, coming in the form of the BDO (British Darts Organisation) and the PDC (Professional Darts Corporation).

The Birth of Professional Darts
The BDO is widely thought of as the founding member of darts and were the only professional organisation from 1973 through to 1993. Throughout that time they had been able to shift darts from a game that was predominantly played in working men's clubs and pubs throughout the country, to one that was broadcasted to millions on terrestrial TV.
The BDO were able to first able to air tournaments thanks to a deal struck with ITV in 1973, with the likes of the World Master's, British Matchplay and the World Matchplay, to name just a few. The first World Championship wasn't actually played until 1978 and was picked up by the BBC. It didn't take long for the event to be the pinnacle of the game at the time, with a mass TV audience tuning in every year to watch the best players in the world.
Decline in Coverage
But, by 1988 the BBC had dropped many of the tournaments shown on TV, mainly down to the poor image that darts had, with players smoking and drinking on stage whilst playing games. In turn, the sponsors decided they didn't need to be linked to the sport, so the money started to dry out.
Throughout the good times of the BDO the money was rolling in. But, the players were becoming increasingly frustrated that they had no voice within the organisation and that they were dancing to the tune of the BDO. They were also banned from wearing personal sponsorship signs within these tournaments, instead having to wear that of the BDO's official sponsors instead, for free.
Breakaway Organisation Formed
In 1992 the World Darts Council (WDC) were formed, which included 16 of the top ranked players in the world who decided that if things didn't change, they would remove themselves from the 1994 World Championships. Things failed to change, and the 1993 running was the last event that all players were formed under one organisation.
They eventually dropped the name of the WDC in 1997 after failing to become a world governing body and instead named itself the PDC (Professional Darts Corporation). The PDC is now the much more lucrative event out of the two World Championships, with a prize fund of £2,500,000 compared to that of the BDO's of just £339,000.
What Is a Checkout?

A common phrase is darts is "scoring for show, doubles for dough", essentially meaning that you can score all the 180's you like, but if you can't hit a double then you aren't going to get very far in the game.
Players are so skilled these days that they are able to manipulate what scores they need to hit in order to best leave them their favourite checkout from hundreds of points out and way before any mere mortal would be looking at.
If possible, players will be looking to leave themselves on an even number finish. The likes of D20, D18 and D16 are amongst the most popular. This is because that if you fail to hit your double and hit the single number instead, then you are going to have a dart at a double with your next shot. For example, if you're going for D20 and hit S20, then you simply switch to D10. But, if you go for D19 and hit single 19, then you are going to be left with 19 to score, so will need 1 extra dart to clear the single and get back on a double.
D20 is a popular checkout as it means players can easily switch down to D10 and if needed back up to D5, which is right next to D20 and requires a similar shot. D16 works very much the same way, with D8 the number next up on the board, meaning very little adjustment needed.
Below we have listed some of the more common out-shots in darts along with a player preferred method:
| Score | Method |
| --- | --- |
| 170 | T20 + T20 + Bull |
| 167 | T20 + T19 + Bull |
| 164 | T20 + T18 + Bull |
| 156 | T20 + T20 + D18 |
| 152 | T20 + T20 + D16 |
| 140 | T20 + T20 + D10 |
| 125 | 25 + T20 + D20 |
| 120 | T20 + S20 + D20 |
| 116 | T20 + 16 + D20 |
| 100 | T20 + D20 |
Televised Matches
The increase in interest of darts has largely been down to the affiliation the sport has had with broadcasting giants BskyB, or more specifically, Sky Sports. The deal that was set up with Sky Sports when the PDC launched in 1992 was one of the platforms that allowed them to flourish as is the main reason why there is as much money in the sport today than there has ever been.
The coverage, in true Sky Sports style, seems to get better every year, with former players and pundits offering professional insights and a real party atmosphere created at pretty much all events. Unlike the BDO, the PDC almost encourages singing and dancing whilst the games are being played, although they won't tolerate any abuse towards the players.
Outside of Sky Sports, there are a few events that are shown on terrestrial TV. The Grand Slam of Darts is one that ITV have been sponsors and hosts of since that started in 2007. Aside from that, the BBC have had off-and-on coverage of the BDO's World Championships in recent times, after being long-time host broadcaster since the early seventies.
Major Darts Tournaments
A little myth-buster for you now: there's no official majors in darts.
That's right, as set by the PDC there are no official majors in darts, even though many people talk about within the sport and refer to tournaments as majors. It's not like golf or tennis where you have 4 outlined events that are the pinnacle of the sport. As yet, darts still have failed to officially name any event as a "major".
But, there are tournaments that are classed as ranking events, which many people believe to be the unofficial "majors" in darts. These are actually linked to televised tournaments, of which all of these are.
Below is a table of when these major tournaments are played, followed by each in more detail
| Tournament | First Played | Month(s) | Organisation |
| --- | --- | --- | --- |
| PDC World Championship | 1994 | December to January | PDC |
| BDO World Championship | 1978 | January | BDO |
| The Masters | 2013 | January | PDC |
| Premier League Darts | 2005 | February to May | PDC |
| UK Open | 2003 | March | PDC |
| World Matchplay | 1994 | July | PDC |
| World Grand Prix | 1998 | October | PDC |
| Grand Slam | 2007 | November | PDC & BDO |
PDC World Championship
The highlight of the darting calendar and the most prestigious prize in the sport is that of the World Championship, the 32 best players in the world battle it out for the crown of world champion. With a prize fund of £2,500,000 it's also the richest event in darts.
It's played at the Alexandra Palace in London after moving from the Circus Tavern in Purfleet due it's increasing success and the need to sell more tickets. The preliminary and first round matches take place in the week before Christmas each year, with the remainder of the tournament occurring from December 27 onwards, culminating in a final usually somewhere between the 1st and 3rd of January.
Phil Taylor is the most successful player to have played in the event, with 14 wins to his name, to add to his two BDO world titles. To put that into perspective, the next best is that of 2 wins a piece for Michael van Gerwen, John Part, Adrian Lewis and Gary Anderson, a record that will surely never be beaten.
BDO World Championship
While the PDC World Championship takes the glitz, the glamour, the Sky Sports sponsorship and the world's best players, the BDO World Championship continues to do its thing. Held every January from the famous Lakeside Country Club in Essex, this is a tournament for the world's best BDO players. Many of the world's greats – including Phil Taylor, Gary Anderson and Michael Van Gerwen – started their careers in the BDO, so it is always a fascinating even to watch; even if the quality, sometimes, is lacking.
World Masters
Formerly the second of the ranking events held in October but moved to January as of 2016, the World Masters features the top 16 players as listed in the Order of Merit. The MK Arena is the home for one of the most prestigious prizes on the circuit; despite only being introduced to the tour in 2013. The winner, and previous champions have included Michael Van Gerwen, Phil Taylor and James Wade, takes home a cheque for a cool £60,000.
Premier League Darts
Designed to fill the gap in the early months of the PDC calendar (and make them some money), Premier League Darts is a rolling event that takes place in arenas across the UK and Ireland between February and May. It is made up of the top six players in the Order of Merit, two invited guests of the PDC and two 'wildcards' of Sky Sports' choosing. The ten players are reduced to eight after a round robin tournament, and they become four after another round of fixtures. The semi-finals and final then take place at the O2 Arena in London.
UK Open
Next up is the UK Open, which is often referred to as the FA Cup of darts. The UK Open is played at the Reebok Stadium in Bolton and has a huge field of 168 players in total, played over three days. The tournament is a crowd favourite as all players are placed randomly into the draw for each round, with no seeds or protection for higher ranked players.
World Matchplay
The World Matchplay is the standout tournament in an otherwise quiet PDC Darts summer. Taking place in July at Blackpool's Winter Gardens, the World Matchplay is one of the most popular events on the circuit, often selling out the 2,000-capacity main hall.
The event consists of 16 of the leading players in the world according to the Order of Merit, joined by 16 qualifiers, taking to the oche in a straight knockout format. The Matchplay is different to most events as players are playing the best of so many legs, instead of sets that you usually find. It's often a place for upsets as a result of the format and has a huge following based on the location and standard of darts on offer. The final, which is always played on a Sunday evening, is the best-of-35 legs.
The most decorated champion in the history of the event is, surprise surprise, Phil Taylor, who has won an incredible 16 stagings of the event. This record has led to the trophy being renamed after the man himself following his retirement after the 2018 World Championships.
World Grand Prix
The World Grand Prix has been played since 1998 and kicks off the busy winter calendar on the PDC Tour from October. It is one of the few flagship events that takes place in Ireland at the City West Hotel in Dublin.
One of the most unique tournaments on the circuit, the World Grand Prix offers an unusual challenge for players in that they must start each leg with a double before they can begin scoring. The format is one that can catch players out and there have been legs where they've failed to get off at all. That curious rule has perhaps been the cause for six different winners and 14 different runners up in the event's 17 year history.
It's a short format, but because of the setting and the Irish crowd, it is one of the loudest and most boisterous stops on the tour.
Grand Slam of Darts
Finally, the Grand Slam of Darts, one of the most beloved tournaments in the sport is an event that has a USP like no other. It is held at Wolverhamptons Civic Hall every November.
It's the only one of the televised events that includes players from both the PDC and the BDO. It's the PDC who hosts the event and players are invited to attend from the BDO if they wish. Given the prize money of £450,000 that's on offer, it actually makes it the richest event for BDO players to enter, some £100,000+ more than that of their World Championships.
The PDC have 24 of their top stars joined by eight from the rival BDO organisation. These are then split into groups of four, where a round robin competition takes place to determine the top two in each group. The resulting 16 players then compete in a traditional knockout format. Although dominated by the PDC, the BDO does boast a former winner in Scott Waites.
Common Darts Promotions
There isn't a huge amount of variation in the offers, and they usually tend to fall into one of the following categories:
Acca Insurance – Same concept as the accumulator offers found in other sports. Place an acca and if one leg leg loses, you'll get a free bet. Minimum usually apply to the number of legs needed to qualify, as well as sometimes being limited to specific bet types.
Money Back If A Certain Player Wins – As the name suggests, money back (as a free bet, naturally) if a named player wins. This is more commonly found in tournament outright markets rather than specific matches, but the latter does crop up from time to time.
Checkout Money Back – A fairly vague category, but one that you're going to find more often that not on match betting. Here you'll get money back if the final checkout is within a set limit.