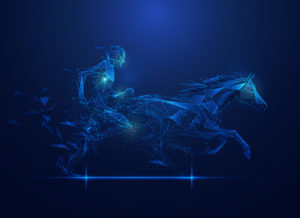 From time to time there might be a need to look away from live sports and try to find something else to have a flutter on. One of the first ports of call is virtual sports, which have become more and more popular as the technology behind it has improved. It is essentially a computerised version of the sports that you love that you're able to bet on.
Rather than have an outcome that is dictated by a combination of skill and fortune, as is the case in real life, virtual sports are decided by a Random Number Generator algorithm. This is the same thing that is used in the likes of online slot machines or blackjack games, for example, and is entirely fair and monitored.
Here we'll explain all about it in more detail and highlight what offers are available on virtual sport and racing markets.
Jump to: Latest Offers
Latest Virtual Betting Offers & Promotions
Stake £250+ on Virtual Sports, Get 5% Back in Free Bets
Stake £250 or more on virtual sports in a week (Mon-Sun) and you could get 5% of your stake back in free bets up to £100 in value.
Promotion runs 00:00 Monday to 23:59 Sunday. Minimum weekly stake £250. Maximum £100 weekly free bets. 'Rush' On-Demand Sports, Go Sports, or World Cup Games excluded. Free bets credited by 18:00 the following Monday, valid for 7 days. Free bet stakes are ineligible. 18+, T&Cs apply. #ad
Bet £10 on Virtuals, Get 5 Casino Spins
Bet £10 or more on any QuinnVirtuals market and you can get 5 casino spins to use on the Smoking Hot Fruit Snacks slots game. You can qualify for each £10 bet placed up to a maximum 100 spins in any 24 hour period.
Free spins credited by 4pm the following day. Free spin value £0.10 per spin. Max winnings from free spins £500. Free spins will be valid for 1 day following activation. Winnings from free spins will be paid into cash balance. T&Cs apply, 18+. #ad
Boosted Odds on Virtual Sports
New and existing customers can get an odds boost every day to increase the odds from a betting selection, including from Virtual Sports markets. There will be a minimum of one odds boost available per customer per day with a maximum boosted stake of £50. Select 'Boost' from your betting slip to take advantage.
UK & Ire only. Customers that open a new account with PayPal, Moneybookers, Paysafe, Neteller or Skrill will not receive these odds boosts. Enhanced odds markets and complex multiples are excluded. 18+, T&Cs apply. #ad
How Does it Work?
If you've ever played any of the games available at an online casino then you've already enjoyed an experience of Random Number Generators. The RNG will decide the outcome of the game and it's impossible for it to be influenced by external forces. That means that the bookmakers can't sway the outcome of the match for their benefit.
John Burgeson created what is widely accepted as being the first virtual sport on an IBM back in 1961, so it's fair to say that it's come a long way since then. Nowadays you can watch the virtual sport play out on your computer, complete with console style graphics. There tend to be two types of sports: racing sports and actual games.
The outcome of the event is random, but not entirely so. There are algorithms at play that mean that a weighing is given to the competitors. The algorithms are based on stats, prior events and odds, so it's not as if it's just a toss of a coin. That being said, competitors with longer odds tend to win more commonly than they'd be likely to in real life.
What You Can Bet On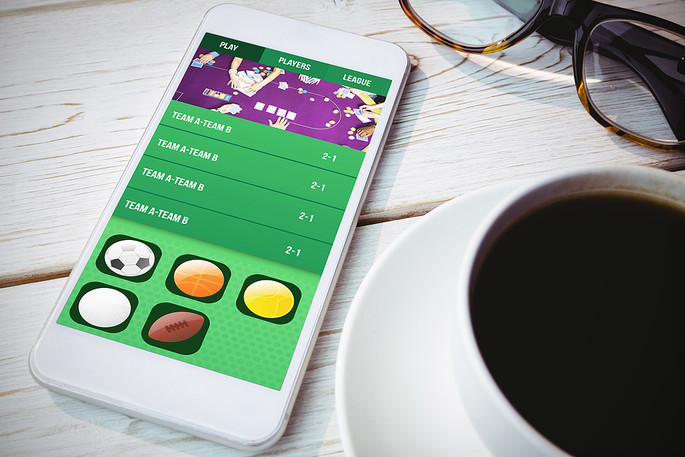 In order to better understand how virtual sports works, it's worth having a look at the ones that you can actually bet on. Here's a list of the racing type sports that have virtual counterparts:
Horse Racing
Greyhounds
Speedway
Cycling
Motor Racing
Trotting
As you can see, all of them involve competitors racing against one another. The computer will generate competitors that have different skill levels and ability, allowing the RNG to then generate the outcome of the race based on a number of different factors.
There are also a number of team sports that exist in the virtual world. They are as follows:
Football
Tennis
Darts
American Football
Cricket
Super League
Both lists are not exhaustive, given that more sports are being added all of the time as the technology develops. Whichever sport you'd declare to be your favourite is the one to have a look at as your knowledge of it will allow you to get to grips with how it works and how the betting is organised in a much quicker manner.
The team sports are obviously the ones with the most variables for you to consider. The computer algorithm will take the likes of individual player performances into account before deciding upon the outcome of the event, for example. Using the previous results as a good benchmark will help you, though it's not foolproof.
Advantages & Disadvantages Of Virtual Betting
As with anything that you might want to bet on, there are advantages and disadvantages to betting on virtual sports. One of the key ones is that virtual sports can't be affected by things such as the weather or world events. As a result, they can take place almost irrespective of what is going on in the world, allowing you to bet whenever you feel like it.
Because the events aren't real, they can take place on a much more regular basis than live sports. Events can happen as regularly as a sportsbook wants them to, usually lasting for around three minutes. This allows people to bet whenever they want and the fact that it's quite easy to do means that pretty much anyone can do it. Betting is available twenty-four seven.
Sometimes blessings can also be curses, of course, with the fact that events are so readily available in a multitude of virtual sports meaning that good self-discipline is very important. The virtual nature of the events also means that those that wish to can't analyse them in the same way that they might do with real life sports.
Where to Start
Virtual betting allows punters to have a flutter on a sport that they enjoy without fear of it being called off because of the weather or the result of the event being influenced by outside forces. There are plenty of different sports options available, meaning that there'll be something for everyone if you're willing to shop around to different bookmakers.
The best place to start is by selecting the sport that you like the most and seeing what betting on it is like in the virtual world as compared to the normal one. When it comes to betting on racing events, you'll find loads of different options that all work in much the same way as horse racing. Just always remember that the result is down the RNG.
Virtual Horse Racing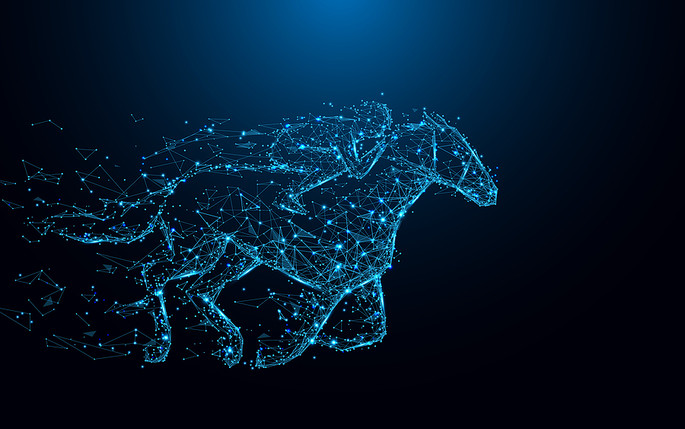 One of the most popular sports to bet on is unquestionably horse racing. It is also one of the easiest ones to replicate in a virtual fashion. Anyone who went to arcades and fairs when they were younger will remember the fake horse games that used to take place there, for example, offering a prize for the horse that won out of all of the ones on offer.
It exists as an option to bet on to give people a chance to place a wager on horse racing whenever they feel like, which can come in handy when there's no actual racing to look for. The virtual horse races are usually characterised by a large number of runners, which tends to mean that the odds are often quite favourable.
Virtual horse racing is supposed to mimic the real thing as much as possible. That means that you'll be able to see the odds before the race begins, the races will be 'streamed' and there's even live commentary. As with the real world, a 4/1 favourite is more likely to win than a horse rated as a 30/1 outsider, but the latter can still win sometimes.
The key thing to remember is that the outcome of a virtual race is decided by a Random Number Generator and an algorithm. This means that, in many ways, it's no different to if you were playing something like roulette or a slot machines in computerised formats. Looking at previous results and the like can help, but it won't offer a definitive system.
The Return To Player figure is set by the bookmaker, saying how much they'd like to win over the long run. If their RTP is 95%, for example, then that means that the bookie will win 5% of all bets over a prolonged period of time. That gives them a clear margin and allows for a bettor's chance of winning over the short-term. As always, only bet what you can afford to lose.
The Bets You Can Place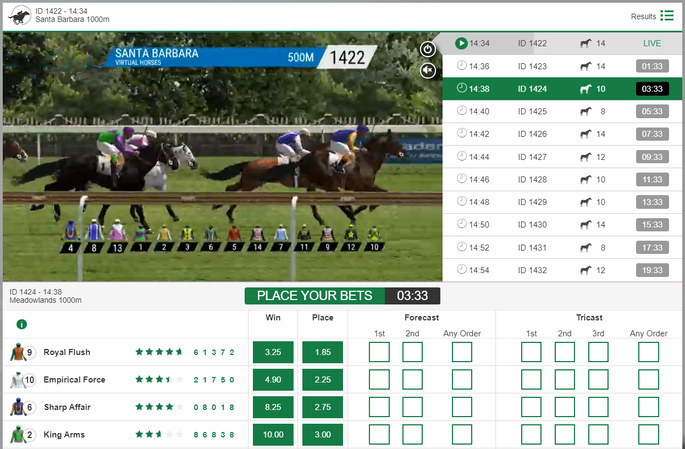 Different bookmakers will have their own bet types that punters will be able to place on the virtual horses. In the majority of cases, though, you'll be able to place the same sorts of bets that you could place on a normal horse race. That means that each of the following is available:
Win – Will the horse win the race
Each-Way – Will the horse either win the race or finish in the places
Forecast – Can you predict the finishing order of the first two horses
Tricast – Can you successfully predict the finishing order of the first three horses
Because the odds on virtual races are usually quite generous, you can find good value in Forecast and Tricast wagers. The payout will normally be quite large even for low stakes, meaning that you can bet more regularly without a huge investment of your money. The chance of successfully predicting a Forecast or Tricast bet doesn't improve just because it's virtual, however!
Previous Results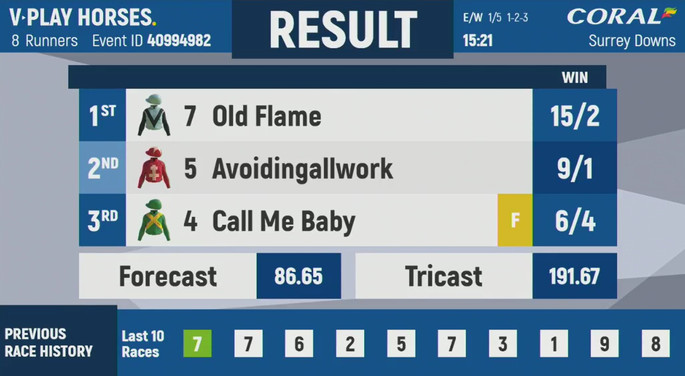 Just as it's possible to go back in time and see a real life horse's previous results, so too are you able to look at how a virtual horse has done in virtual races that it has taken part in. The results often go back as far as three months, so there'll be plenty of information for you to look at and try to get to grips with before placing your bet.
Perhaps the toughest thing to get your head around when it comes to virtual horse races is the fact that previous form isn't really an indicator of how well a horse is or isn't likely to do. The Random Number Generator factor is one of the key ones in terms of predicting what will happen. That said, form is one of the things that the algorithm will take into account.
Virtual Grand National
The Grand National is one of the most-loved horse races in the world. Known as The World's Greatest Steeplechases, it is a Grade 3 event that asks jockeys to take their charges around the gruelling Aintree course. The Virtual Grand National does the same thing, with the major difference being that the race is condensed into three and a half minutes.
It offers punters a realistic racing experience, complete with riders being unseated and horses falling. It is officially licensed by the Jockey Club and was created by Inspired. Aintree Racecourse is realised in remarkable quality, complete with the jumps and a typical field of forty horses that take the course on and give you something to bet on.
Virtual Football Betting
Just as with the horse racing, different bookmakers will approach the world of virtual football betting in their own way. The actual game play that you'll watch is similar in style to FIFA or Pro Evolution Soccer style games. People used to playing them will no doubt feel right at home watching a virtual football match.
Imagine a Match Of The Day version of a video game and you'll have a good idea of what watching a virtual football match is like. The outcome of the match is still decided by algorithms and Random Number Generators, with the weighting for each result based on a number of factors such as form and the ability of each team.
It's worth noting that real-life football has no bearing whatsoever on virtual football. Liverpool might be the best team in the real world when you're looking to engage in a real football bet, but they won't be in a virtual sense. Not that it matters, because you won't be able to bet on real teams in virtual matches anyway because of licensing issues.
The Bets You Can Place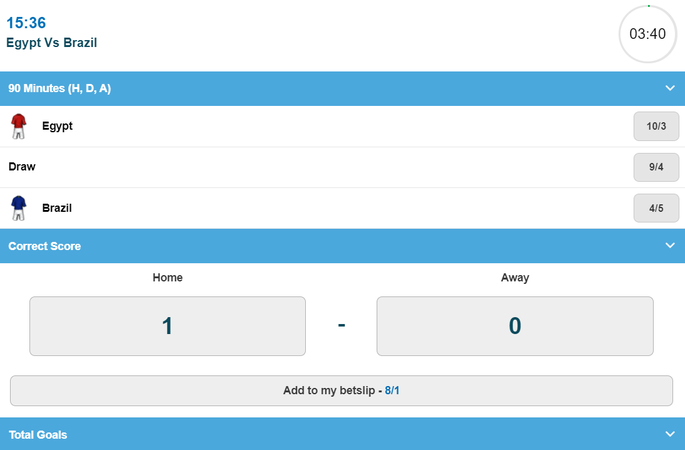 Though there are a good number of bets you can place on virtual football matches, it is worth bearing in mind that they are limited compared to real life football. Because of the truncated nature of the games, you're not going to be able to bet on things like number of throw-ins or the first goal kick like you would be able to if watching a real football game.
The majority of bookmakers will offer the following markets on virtual football:
Match Odds (Home / Draw / Away)
Total Number Of Goals
Correct Score
Whilst the betting odds offered aren't numerous, they cover all of the basic outcomes that you'll be able to see happen in such a limited time period. Some bookies will offer bets on the likes of Half-Time Result and Half-Time Score, but not all of them do so we've decided not to talk about them here.
Other Virtual Sports Betting
Whilst the basic tenet of virtual sports betting remains the same regardless of the sport, there are things that you can do in some sports that you can't do in others. You can't bet on a draw in horse racing or tennis, for example. You can place Match Odds bets on the likes of cricket, however.
Regardless of the bet type you opt for, the outcome of the match will still be decided according to a Random Number Generator and the associated computer algorithm. It means that the likes of odds and form will be taken into account. Here's a look at a few different sports and the sort of bets you can place on them:
American Football
As with real-life American football, the main bets in the virtual version of the sport can be placed on the Over / Under. The Spread, Total and Money Line are all options, as are the Winning Margin and the Total Points.
There are then variations on the same theme, with the likes of Spread & Totals or Result & Total being options for you to bet on. As with betting in the real world, the less likely the outcome and the more difficult it is to predict, the higher the odds will be.
Tennis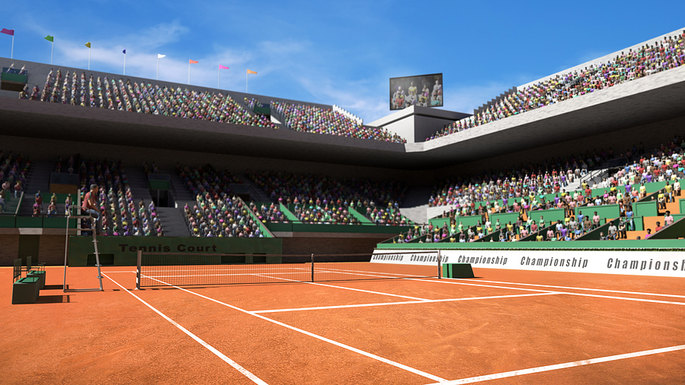 Tennis is a popular sport to bet on in the world of virtual games. You can bet on things such as which player will win the match, the Total Points and the Correct Score within a game. The betting options on tennis are less than in some other sports.
Cricket
When it comes to virtual cricket, there are a number of different betting markets. Here's a look at some of them:
Match Betting
Total Number Of 4s
Total Match Boundaries
Both Teams To Hit A 4 or 6 – Yes / No
Team Total Boundaries
Team Total Wickets Lost
1st Method Of Dismissal
Runs Off First Delivery – Over / Under
Darts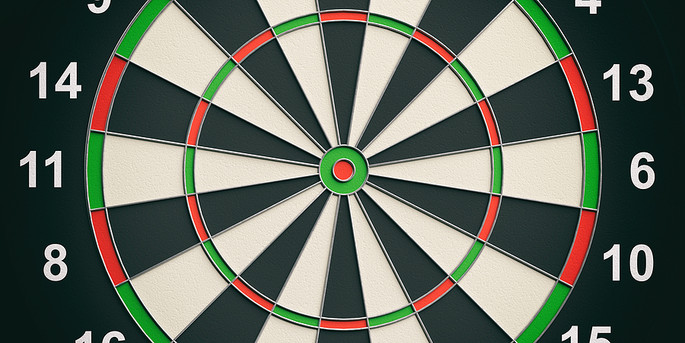 Betting on virtual darts is not dissimilar to betting on real life darts, if for no other reason than real life darts matches can also be over relatively quickly. You can bet on the Match Winner, the Checkout Markets, the Over / Under on a player's first 3 darts and so on.
Virtual darts also lets you have a go at betting on the Match Events that are likely, such as whether there will be a 180 or whether the winner will manage a 9-dart finish. You can even opt for a Wincast, betting on who the winner will be and whether they'll hit a certain dart amount.