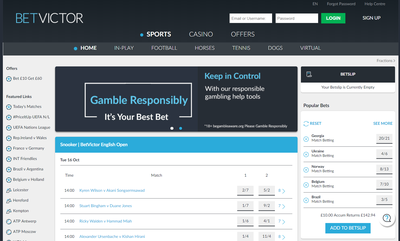 BetVictor is one of the oldest and most respected bookmakers in the industry. After its foundation in 1946 the company has gone of the reach a massive worldwide audience with numbers totaling more than half a million customers in over 160 countries around the world. Turnover figures have hit £1billion for the first time in 2011 cementing its place near the top of the pile.
The success of BetVictor has come through a wide variety of innovations in the industry. Whilst once very much a brick and mortar company, they have since gone on to invest a huge amount of resources into the promotion of their online and mobile business.
Sign Up Offers
Bet £10, Get £30
BetVictor are beefing up their welcome bonus, offering a total of £40 in bonuses when you deposit and bet £10 at odds of even or more! The bonus is split into six parts each worth £5. See site for full details.
T&C's: 18+ New customers only. Opt in, bet £10 at odds 2.00+ within 7 days, no cashout. Get 6x £5 Free Bets, set events at odds 2.00+. 7 day bonus expiry. Debit Card / Apple Pay payments only. Click for T&Cs. Please Gamble Responsibly. #ad
Other Offers
Best Odds Guaranteed (BOG) on Horse Racing
An age-old conundrum when betting on horses was always the should you/shouldn't decision on taking a horse's price. Fret not here, with best odds guaranteed on UK and Irish horse meetings for bets placed on the day of the race.
18+, T&Cs apply. Begambleaware.org
#ad
Features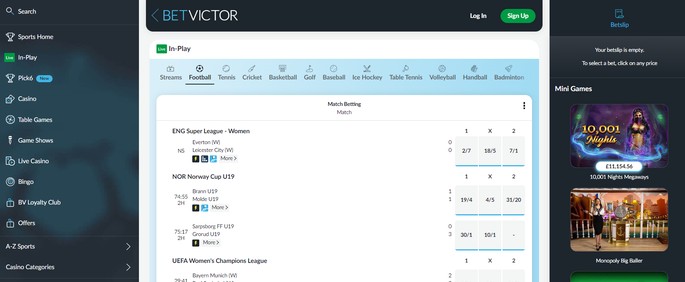 BetVictor was one of the first online bookmakers to offer a series of money back specials and promotions for their users. Depending on the sport or market would allow punters to place a bet before getting their stake back if a certain event had occurred. Since then many companies now adopt this same strategy with great success.
The mobile betting industry is something that BetVictor were keen to infiltrate and have done so with one of the best running betting apps on the market. The app is very much a slimmer version of their already massive betting site, and many features on the app were originally found from their website.
An area which is sometimes often overlooked with betting sites these days is simply providing the best odds for their customers. BetVictor has made this a priority and very much something they have continued to achieve over the many years of success the company has had. Offering the best odds on sports such as football and horse racing has been the backbone to this success and is one of the reason as to why the company has grown into the betting powerhouse you see today.

Banking
Payment Methods
There is a wide range of payment options available, all with relatively low deposit and withdrawal limits. Along with all major debit cards you can also use PayPal, Revolut, Entropay and the cash voucher system PaySafeCard. You also use direct bank transfers, BACS and Fast Bank Transfers.
Fast Facts
Minimum Deposit – For UK debit cards, Revolut, Entropay and PaySafeCard, the minimum deposit is £5. If you use PayPal the minimum is £10.
Minimum Withdrawal – For most payment methods, the minimum withdrawal is £10.
Withdrawal Time – If you have made a withdrawal using a debit card you can expect to see your funds within 3-6 working days. For eWallets like PayPal it is 1-3 days. BACS transfers will take 3-5 working days.
Fees – No charges will be applied by BetVictor. Telegraphic/international bank transfers may incur a bank charge.
Bonus Exclusions – Deposits made through certain methods are excluded from the welcome bonus.
Transaction Name On your statement, transactions should show as BV Ltd with the exception of BACS/Telegraphic transfers which show as BetVictor Ltd.
Licence & Contact
Customer Support
Company Information
Licence Details – UK Gambling Commission 39576
Company Name – BV Gaming Limited
Registered Company Address – Suite 2.01, World Trade Center, Bayside Road, GIBRALTAR, GX11 1AA, Gibraltar
About BetVictor
From adverts starring Victor Chandler Jr himself through to changing the way in which the government taxes betting companies, it is fair to say that BetVictor have long been at the forefront of gambling in the UK. They used to have a large number of high street shops, but sold them all in order to concentre solely on the company's online offering. No surprise when you consider that they operate in more than 160 countries around the world, meaning that there is a necessity to keep things running as efficiently as possible.
Founded in the 1930s, BetVictor was one of the first betting companies to embrace the idea of operating online. Though not the first to do so, there is an argument that the company helped to push the technology on to a new level. At the same time, BetVictor also realised the growing popularity of poker and launched its own poker tournament, using it is a way of getting some solid advertising all for the price of the prize pot. Sometimes self-styled as the 'gentleman bookmaker', the company has had numerous names over the years but is now known as BetVictor.
William Chandler & Sons
In order to get a sense of where the modern day company of BetVictor came from, we have to head back to the 1900s. William Chandler had long been working in the world of gambling by that point, earning a reputation thanks to his work as a bookmaker on the greyhound tracks of London. He became the main bookmaker at White City Greyhound Stadium, saving up enough money to buy Walthamstow Greyhound Stadium, which he managed to do in 1931.
In the years that followed, Chandler worked to develop the stadium to become one of the best in the country, doing so alongside the improvement of his bookmaking business. That was in spite of the fact that gambling was still illegal anywhere other than at a track at the time. Over the following decade or so, Chandler continued to lay the foundations for a new bookmaking business. He offered punters odds for the on-track events and others, ensuring that his family were there with him in order to teach them the ins and outs of the industry.
Chandler died in 1946, with his five sons taking on the responsibility of keeping the family business going. Ronnie trained the greyhounds that would run in the stadium, whilst Charles and Percy took on the running the venue itself. The betting side of the business was split between Victor and Jack, with Victor becoming the most prominent of the two. He is widely credited as being the man who improved the betting side of the business to such an extent that it actually became the priotiy.
Gambling Becomes Legit
In the entire history of betting in the United Kingdom, perhaps no shift was as seismic as the decision of Harold Macmillan's government to legalise gambling. The Prime Minister and his cabinet decided that they could no longer pretend that people weren't placing bets illegally, so it made much more sense to legalise the practice and earn money from taxing the profits. Legislation made its way through parliament that would see betting shops become legal on Britain's high streets, which was made into law and came into effect in 1961, at which point such shops began to open.
The work that Victor Chandler had done meant that the company was well-placed to take advantage of these new laws, opening up a chain of betting shops with the Chandler name on them as soon as he was able to. Over the following decade, the new business operated legitimately and successfully on the high streets of the UK. It became a crucial part of the business, even though Victor was doing it mostly on his own. His son, Victor Chandler Junior, had moved to Spain in order to work in the hospitality business, where he enjoyed success of his own.
When Victor Chandler Senior died unexpected in 1975, Victor Chandler Junior returned from Spain not only to look after his mum and two sisters, but also so that he could take control of the family business. In his 20s at the time, Chandler had a big enough task on his hands without being told the news that the company was insolvent. This was largely thanks to the fact that the shops that they had opened had turned from being successful enterprises into ones that were losing money, putting Chandler in a difficult position.
The Modern Business Is Formed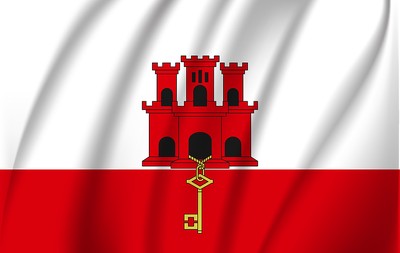 Rather than pouring money that he didn't really have into improving the bricks and mortar betting shops that were up and down the country, Victor Chandler Junior decided to think outside the box. He sold a number of the betting shops and used the money from the sales to set up a credit business for high rollers. This worked well, with the gamble paying off at Royal Ascot in 1977 when a large profit was made. And so it was that he had been able to save the business, which continued to operate in much the same way for the following 20 years or so.
The next biggest shift in the world of betting came in 1998. Chandler's vision had long seen the business making profitable decisions, so he knew he needed to act when he noticed that Irish competitors were making more money than he was. This was on account of the fact that they didn't need to pay the same level of tax, even though they were taking bets from British punters. It was with this in mind that Chandler decided to move his business to Gibraltar in 1998, with the company growing exponentially as a result.
Soon, other businesses began to follow suit and move their headquarters to the likes of Gibraltar and Malta. This forced the hand of the British government, with the then-Chancellor of the Exchequer abolishing the betting duty, which was paid by the punters, in 2001, replacing it with a tax on company profits, hoping that it would be a move that would entice companies back to the UK. Regardless of the success or otherwise of that policy, Victor Chandler Junior's decision to take his company abroad was a move that changed the face of gambling in Britain in a way that is still seen today.
Moving Online
One of the biggest non-tax-based consequences of the move to Gibraltar was that Chandler's company now had to find new ways that it could grow and develop as a remote operator. Thankfully for him, the internet had been becoming a more and more popular way of connecting gambling sites with bettors, as evidenced by the launch of the likes of Betfair in 2000. Chandler was one of the first people working in the betting industry to really realise the impact that the internet was going to have, launching a website before most other bookmakers.
In the early move to gain customers, Chandler's decision to go early online positioned his business well. Alongside this, he also realised that poker was gaining in popularity, leading to him launching a poker tournament, called the Victor Chandler Cup, in 2004. This allowed the company to advertise its wares at the same time as working with poker players, thanks in no small part to the fact that it was broadcast on Sky Sports. The £250,000 prize fund proved extremely popular, attracting poker players from around the world.
BetVictor is Born

One of Victor Chandler Junior's biggest realisations was that he himself was part of the draw. He was thought of by many as being a 'gentleman bookmaker', trustworthy thanks to his own involvement in operations. As a result, he made the decision to re-name the company after himself, shifting from Victor Chandler to VC Bet in 2004. This laster four years before changing back to Victor Chandler, but the desire to become something different was still there. Chandler himself began appearing in TV adverts for the company, regularly featuring alongside comedians like Paul Kaye and Paddy McGuinness.
In 2012, that desire to re-brand finally came to fruition when the company was re-named as BetVictor. It was seen as a good combination of modern-feeling alongside using Victor Chandler Junior's profile in order to take advantage of the publicity that he had been able to gain over the years. Having been scaling back his day-to-day involvement with the company, Chandler was doing the groundwork to remove himself from the business that had been started by his grandfather nearly eight decades earlier. In 2014, it was confirmed that the Chandler family's ownership of the company was over.
A New Era for BV
Victor Chandler reached a deal with his long-term friend Michael Tabor to take over the company. Tabor had become a major shareholder in the parent company, Victor Chandler International, a few years before, so it was quite a natural progression which saw him take overall control in May of 2014. The company also began to go in a different direction, promoting itself as the home for football bettors after independent analysis showed that they offered the best odds on the sport compared to various bookmakers, across Europe's top leagues.
Tabor also invested heavily on in-house developments, creating new products that proved to be popular with punters. On top of that, the company began to be involved with different sponsorship deals. This included both horse racing and football, with BetVictor becoming the authorised betting partner of British Racing in 2016. They sponsored the November Meeting at Cheltenham, as well as signing a deal to become Liverpool Football Club's official betting partner, which resulted in the company's name being branded around Anfield for Premier League matches, which was a major coup for the betting site.
Another big decision of Tabor's came about in 2015. Though the company no longer had any high street shops, they did have a number of lucrative bookmaker stalls located around Britain's racecourses. Rather than move to improve their standing in this area, Tabor and his team decided to abandon them altogether. The decision was taken to sell these stalls to Star Sports for an undisclosed fee. Star Sports already had a presence in the South of England, so it was a deal that made sense for both parties, with BetVictor able to concentrate on the online side of the business.