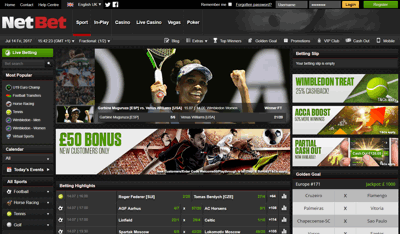 NetBet are one of the fastest up and coming sportsbooks in the betting industry, and for good reason. They have consistently shown over the few short years that they have been in operation that they can compete with some of the bigger players in the market. Now, we aren't saying that they are up there with the likes of bet365 and BetVictor just yet, but from the parts that we've seen, they are definitely moving in the right direction.
The company have been keen to promote their brand initially in UK, giving them a good solid base. It's probably fair to say these days that they are much more multi-cultural and have integrated into some betting markets across Europe. This expansion just goes to show the ambition that the company are willing to give to online betting, and long may that continue.
Other Offers
A cash bonus of up to 50% is applied on top of your winnings on accumulators containing three or more pre-match selections at NetBet. A winning treble will net you a 3% boost to your your winnings, increasing with each additional leg to the maximum of a 50% bonus for acca's with 13 selections or more. We all know how hard it is to land even the simplest of acca's so NetBet reward the increased difficulty with increased reward.
Football, tennis, American football, basketball, ice hockey and baseball are all covered. Most top leagues are included but check the T&C's for the full list. There is a minimum odds per leg stipulation but at 1/5 (1.20) we don't think that they're being too strict. You won't need to opt-in, your additional winnings will simply be credited at the same time as your bet is settled.
UK customers only. Additional winnings applied on bet settlement. Where there are void or cancelled selections, boost will apply to remaining winning legs. Football bets must be placed on selected leagues and competitions.
#ad
Football predictor games are becoming more and more popular and NetBet have their own version called Golden Goal. Where they differ slightly from other sites is that they can have more than one grid of games to choose from. You need to correctly pick the result (home-draw-away) of each match to win your share of a jackpot amount shown. A straight line will cost £1 but you can perm more than one outcome per game. This increases the number of lines and thus also the cost.
The large grids consist of 10 or 11 matches and the smaller grids, known as mini grids, consist of 5 or 6 matches. The concept is exactly the same for both but the smaller grids have a reduced jackpot size. For both there is the option of having random selections chosen as a lucky (hopefully) dip.
The amount of winnings depends on the number of teams in the grid and how many teams the top prediction gets correct. For the 10 and 11 team grids, getting all results correct will get a share of 50% of the total pool that week plus the jackpot amount. If the most successful entrant(s) have only 8 or more but not all correct, a reduced percentage of the pool is won but the jackpot is not.
Features
Some would argue that this isn't really a feature, and to a certain extent it isn't, but one of the biggest areas that we have been most impressed with is the speed in which NetBet have been keen to grow. The company have only recently started to really push their sportsbook and already it's getting some serious heads turning in the gambling industry. We mentioned earlier that the site isn't as big as a bet365, but it has all the hallmarks of when they first sprung onto the scene way back in 2001.
Again, maybe not the most flattering feature you can be recommended by, but NetBet really do the basics of sports betting well. A lot of companies these days tend to get lost off in what's important to the majority of bettors, and that's providing a good range of markets at a competitive price. NetBet have obviously seen this as one of their unique selling points, and as a result they have thrived, leaving other more 'gimmicky' sportsbooks in their dust.
Finally, we loved their interaction with social media. Granted, most of the bigger bookmakers do have healthy social media followings, but the inclusion of Instagram along with Facebook and Twitter were nice touches. Also, they are actually active on these sites as well, making it even more impressive!

Banking
Payment Methods
There's a varied number of payment methods available. Debit cards, PayPal, Neteller, Skrill, Paysafecard, and Webmoney are all accepted. NetBet also accept Bitcoin payments, the first online bookmaker to do so. For a full list of the payment methods if these aren't available to you, visit the NetBet website.
Fast Facts
Minimum Deposit – The minimum deposit is a standard £10 across all payment methods.
Minimum Withdrawal – As with deposits, this is also £10.
Withdrawal Time – Payments to Mastercard and Visa cards will take between 4 and 8 days, bank transfers 4 to 12 days and all other methods 2 to 4 days. This is slightly slower than the normal.
Fees – All deposits and withdrawals are fee free.
Bonus Exclusions – Deposits via Neteller and Skrill are not eligible for the welcome offer.
Licence & Contact
Customer Support
Live Chat – Via the website (09:00 to 23:00)
Email – This is also completed via the NetBet website.
Telephone – 0203 608 6024 (12:00 to 20:00)
Company Information
Licence Details – UK Gambling Commission 39170
Company Name – Netbet Enterprises Limited
Registered Company Address – 209 Marina Street, PIETA, Malta, PTA 9041