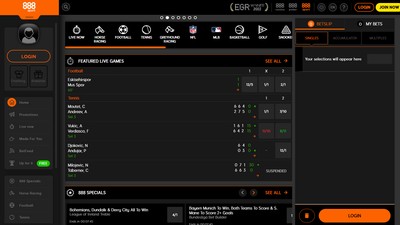 888 are quickly growing into one of the stalwarts of the betting industry. They are no longer viewed as an upcoming brand and these days are much more established. They've done this by offering their punters a comprehensive and well-designed sports book, whilst also paying a lot of attention to the promotions that they offer.
The company have worked hard over the last few years to provide their customers with a range of promotions. As we all know, promotions are the number one reason why most punters decide to enter a sportsbook in the first place. What 888 sport have done is address this issue by offering competitive, easy to obtain and most importantly, lucrative promotions to not only new customers, but also existing customers.

Features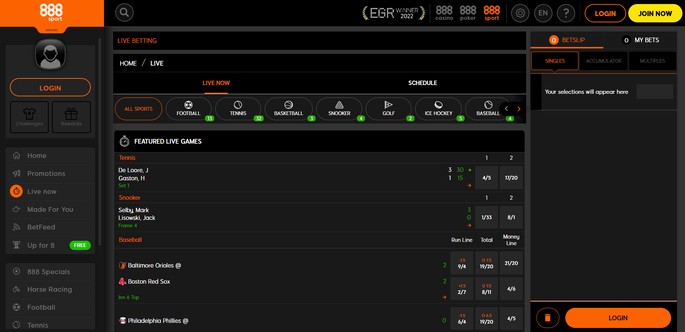 One of the best features on the site at the minute is the inclusion of their live streaming channel. The channel can be viewed completely free of charge, all 888 sport ask of you is that you've either placed a bet within the last 24 hours or you have a funded account. You are able to access the stream from both desktop and mobile devices, meaning you can watch a number of games whilst on the go. The streams will vary in terms of sports, but some of the more popular include football (soccer), ice hockey, basketball and tennis.
The site has also recently introduced a new horse racing iCard. The iCard essentially allows you to access a plethora of information from dozens of races around the world. You can check form, horse information, a virtual predictor for the race and even view it via a Racing UK stream.
The final point we want to make about 888 sport is just how at ease they are with expansion. We know that all betting companies are always looking to expand, but for some it feels like it's easier to stand still than to move forward. 888 seem to buck this trend and they aren't afraid to change up their site, whether it is in terms of designs or markets, and also to move forward with interesting new sports such as e-sports, trotting and surfing.

Banking
Payment Methods
Good spread of UK and international payment methods, including being one of the few online bookmakers to accept ApplePay. They also include PayPal, Skrill, Neteller, Paysafecard and all of the usual suspects. Also making an appearance are WebMoney, Instadebit and Astropay.
Fast Facts
Minimum Deposit – The minimum deposits are slightly higher than with other bookies and stands at £10 pretty much across the board, except for ApplePay which has a minimum of £20 and Bank Transfers which have a minimum of £100.
Minimum Withdrawal – For most methods the minimum withdrawal is actually quite low – just £3. For bank transfers it's £10.
Withdrawal Time – A tad slower than some of their competitiors, 888 process withdrawals to ewallets within 1-2 days. For Debit Card withdrawals you're looking at a 2-5 day timeframe, which is pretty standard.
Fees – 888 do not charge any fees for depositing into your account.
Bonus Exclusions – Neteller and Skrill are both excluded from the welcome bonus.
Transaction Name – Deposits will show on your Debit Card as Cassava Ltd or Cassava, the name of the subsidiary that operates 888 UK Limited. Although in a slightly confusing turn of events, Cassava Enterprises is then owned by 888 Holdings PLC, but transactions will show up as Cassava.
Licence & Contact
Customer Support
Email – via webform
Telephone – 0800 096 4780
Company Information
About 888sport
888 was established in 1997, the brainchild of Israeli businessmen Avi and Aaron Shaked, who worked with Shay and Ron Ben-Yitzhak to create Virtual Holdings Limited. Casino-on-Net was the first site that they launched, offering exactly that to those that chose to use it. With an administrative centre in Antigua, the quartet were inspired by the local surroundings to launch Reef Club Casino and Pacific Poker in the years that followed. The brand continued to grow year-on-year and in 2003 the administration part of it was moved to Gibraltar, listing on the London Stock Exchange two years later.
After re-branding the company to 888, the two sets of brothers made a decision to bring most of their subsidiaries under the 888 Holdings umbrella. A series of acquisitions followed, strengthening the company's place in the market to such an extant that in 2002 a move was made to buy William Hill in a deal worth around £1.95 billion. Being able to put themselves in a position to buy one of the world's most established betting brands is a move that the brothers could only have dreamt of when they were first starting up an online casino.
The Shaked Brothers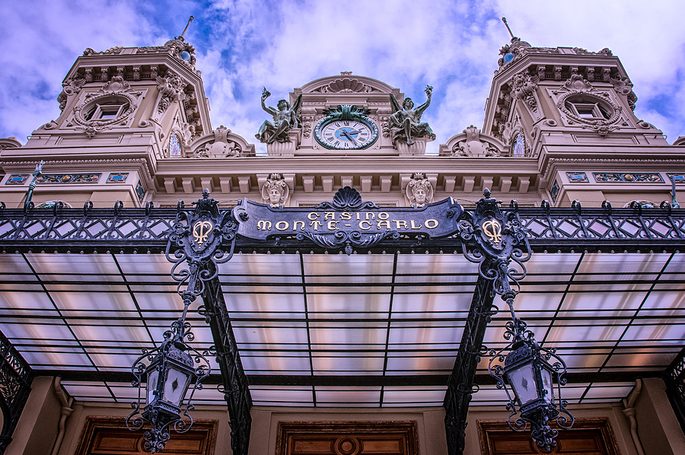 Avi Shaked was born in the Netanya district of Israel in the 1960s, with Aaron Shaked following a couple of years later. Despite being the younger of the two, it was Aaron that was the driving force behind the establishment of 888, having enjoyed his time in a casino after attending a dentistry conference in Monte Carlo. Avi had worked for a telecommunications company, paying off the debt that he'd racked up when studying a degree in chemical engineering at the Ben-Gurion University of the Negev, enjoying following politics and later contributing to the Geneva Convention.
Aaron recruited the help of his brother in order to build an online casino, believing that people would go there to spend money if they could make it impressive enough. The pair had studied at the same university where they formed their own friendship groups, drifting apart during this time. Still, they remained close and Aaron was quick to tell Avi about the banks of slot machines that he'd seen in Monte Carlo, as well as the vast amounts of money that people were willing to pour into them.
The Ben-Yitzhak Brothers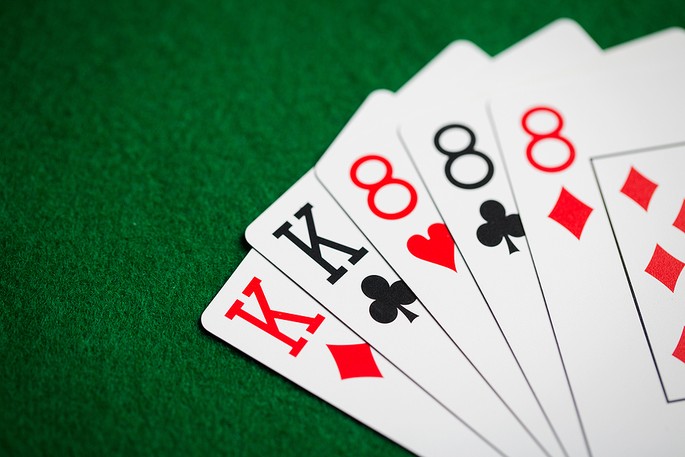 There isn't a vast amount known about the Ben-Yitzhak brothers. Ron is the older of the pair, born in the Israeli area of Ashkelon. Their parents were divorced when they were young, meaning that they spent their time between the two. Ron was a strong mathematician, choosing to study engineering at the Isreal Institute of Technology. When he left uni, he got a job at Zix-Av Engineering and climbed the ladder to become one of the head engineers for the company. During this time, he developed an aptitude for poker, travelling to Egypt to play various casino games.
Shay Ben-Yitzhak was two years younger than Ron, following his older brother to the Isreal Institute of Technology where he studied Computer Science. The pair met the Shaked brothers through mutual friends, often playing arcade games until the early hours. Shay became a software engineer for Tower Semiconductor Limited, occasionally joining his brother on trips to Europe in order to go to the casinos there. The fact that they had different expertise also meant that they enjoyed different aspects of their casino-going experience, both taking away different things from their trips.
Brothers Team Up To Form 888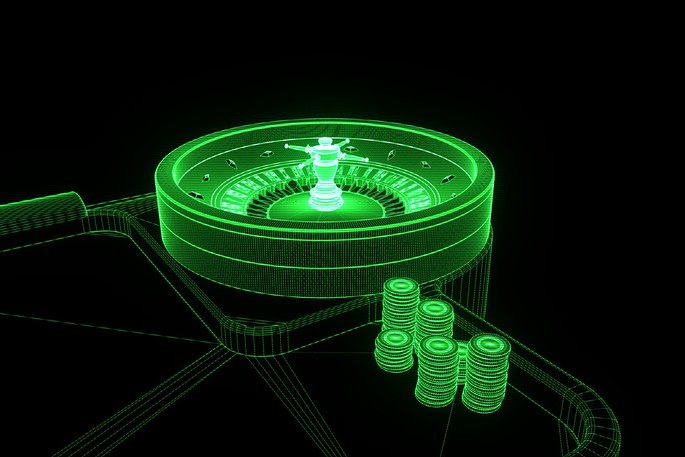 Though Avi and Aaron knew that their idea for a casino based online was a good one, they had no real sense of how gambling worked as an activity. They didn't really understand even the basics of games such as poker, which is why they got in touch with their old friends the Ben-Yitzhaks. It was in 1997 that Virtual Holdings was formed, with Shay taking on the responsibility of developing the software that the casino would be run from. This was because the initial website created by the Shakeds wasn't overly user-friendly, which Shay thought he could improve upon.
As the casino developed, the four chose to launch a new venture called Random Logic Limited. Little by little they began to expand, moving into new markets including that of the United Kingdom. A re-brand to 888 Holdings followed, then in 2005 they decided to go public with their company. Shares were offered on the London Stock Exchange in a move that turned out to be an excellent one, with the casino being voted the Best Casino Operator of the Year and 888 named the Best Overall Online Gaming Operators.
Company Expansion
Part of the 888 Holdings expansion plan had included a move into the markets opening up in the United States of America. It seemed as though disaster had struck when the Unlawful Internet Gambling Enforcement was passed, meaning that 888 could no longer offer its services in the US. To make matters worse, a rumoured merger with Ladbrokes, which had been mooted for some time, fell apart in 2007. Rather than wait for another company to come in for them, the brothers decided to instead go on the offensive and made a move to buy Globalcom Limited for around £40 million.
That helped to get 888's expansion underway, thanks in no small part to the newly acquired bingo company making $14 million in revenue in the first six months after the takeover. Through a desire to spend more time with their families, the Shaked brothers had stepped back from the day-to-day operation of 888 Holdings in 2007, deciding instead to maintain their financial interests. Aaron became a philanthropist, passing away in 2010 after building schools and working with his daughter to set up a medical supply company.
Branching Out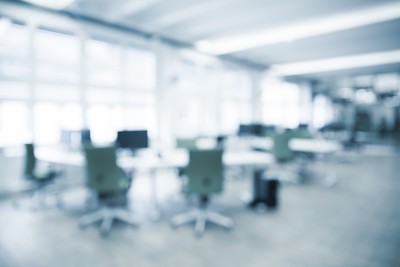 Online casinos aren't the only things that 888 Holdings offered. In 2009, Dragonfish was formed as a business-to-business operation. It provided a way of growing the business away from the online casino operation. The Total Gaming Service that they offered was designed to allow partner sites to ensure that they could promise an optimised gaming experience for their customers, based on the outline of what 888 had been offering for Yeats. This included taking on the responsibility of the marketing, operation, payments and more for the newly launched casinos, taking those duties away from them.
After that, the company continued to developed relationships across the board. As the rules around gambling in the US began to be relaxed, 888 Holdings was well-placed to take advantage. It was able to expand its poker network, for example, and move to dominate the newly emerging market as much as possible. The likes of Cassava Enterprises are companies that allow 888 to maintain its licence in Gibraltar, all whilst the company was positioned to make a move for its biggest and most important expansion.
888 Buys William Hill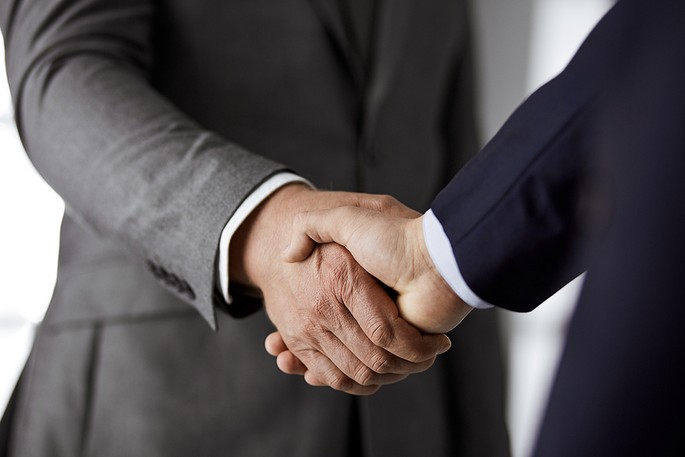 On the 2nd of May 2020, further tragedy befell the team behind 888 Holdings when Shay Ben-Yitzhak died in a plane crash close to Yakum in Israel. His 11-year-old son was in the light aircraft with him, but only sustained minor injuries. Though it was a terrible tragedy, 888 as a company had to keep on operating as best it could. Lord Jonathan Mendelsohn was appointed as the Chairman in March of 2021, then in May of the following year it was announced that the company's shareholders had approved the acquisition of William Hill.
One of the most established bookmakers in the world, William Hill International had itself been bought by Caesars Entertainment in 2020 in a move that was all about getting hold of the firm's expertise. Indeed, Caesars were clear about their lack of interest in any of William Hill's 1,400 or so betting shops, to say nothing of its non-US operation in general. So it was that 888 Holdings was able to sweep in and purchase the business for around £2.2 billion, giving it a way into having bricks-and-mortar betting shops on Britain's high streets.
888 Holdings had been in a bidding way for William Hill along with the likes of GVC Capital Partners and Apollo Capital Management, emerging as victors in September of 2021. The deal was completed in June of the following year, putting 888 Holdings in a position where it had become a 'powerful' global business. In the wake of the takeover, there were numerous changes at the boardroom level, as you might imagine. The move was completed in spite of uncertainty around betting and gaming as the government's own white paper on the matter still hadn't been published at the time.
In the end, 888 Holdings actually paid less for William Hill than had originally been anticipated. The deal in 2021 said that 888 would pay around $2.88 billion, a year or so after Caesars Entertainment had paid $4 billion for it. As the time for completion of the deal came around, it was agreed between both companies that the assets had an enterprise value of between £1.95 billion and £2.05 billion, seeing 888's share price soar as a result. Indeed, 888 planned to release new shares as a result of the takeover, worth about £136 million.