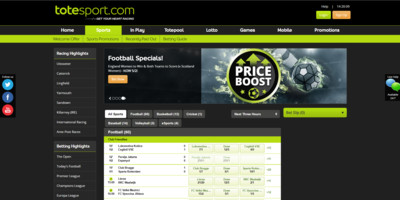 ToteSport – or the 'Tote' as it's more affectionately known – is not only one of the oldest bookmakers in the UK and Ireland, but the world. The Tote was first established in 1928 and since then has seen its fair share of changes over this time. In 2011 after a protracted bidding process, the Tote was taken over by Betfred, so you will see similarities between the two sites.
The company is very much set in its horse racing roots and offers punters more of 'pool' type of betting meaning pay-outs are made similarly to how the lottery would pay out, as well as having a more recognisable sportsbook.
The company has adapted into the 21st century however, with a more traditional bookmaking style embraced. Whilst it has worked hard on accommodating a bookmaker for bettors, it still works hard on keeping its values and roots in the pool format of bookmaking.

Totepool
The Totepool provides an alternative way to bet, generally on UK and Irish horse racing but there's also some availability on greyhounds. Instead of betting at set odds, funds go into a pool with the winners get a share of this. Winnings are given as a dividend which is declared for a £1 stake for everything apart from the Scoop 6. The Tote is just one of the many ways to gamble and other companies will offer you betting on Totepool products. As you might expect however, Totesport still offer the clearest and widest range of Tote betting options and information.
Available Bet Types
Scoop 6 – We'll start with the biggie, the Scoop 6, which is available every Saturday and also daily during the big festivals like Cheltenham or Royal Ascot, costing a flat £2 per line. Six races are selected, often those televised on terrestrial TV, each making up one leg of the bet. Pick the winner of each race and if you get all six correct you'll get a share of the prize pool. If this isn't won, it rolls over just like the National Lottery so it can and has run into millions of pounds. A consolation fund is won if all your six horses are placed. There is also a bonus fund if the winner(s) can pick which horse will win a specified race the following week.
Jackpot – This is available every day and as with the Scoop 6 you need to pick the winners of the six designated races that day. These tend to be the first six races of a selected meeting. The prize pool is shared by those getting all six winners. Again, if it isn't won, it rolls over to the next day. You can vary your stake to get a larger or smaller share of this.
Placepot – Probably the most popular Tote bet, the placepot is available on every UK & Irish horse race meeting and selected greyhound meetings. To take part you select at least one horse/greyhound that you think will be placed for each of the first six races at your chosen meeting. If they are all placed you will get a share of the divided depending on your stake.
Quadpot – The Quadpot is a scaled down version of the placepot. It consists of 4 races, which will be the 3rd, 4th, 5th and 6th race at each UK & Irish horse racing meeting. Just like the placepot, you select at least one horse per race to be placed at a particular meeting. If they all place, you will get a share of the dividend. This is designed to keep your interest should you go out of the placepot in the first two races.
Tote Win & Place – This is the Tote version of a horse single bet. Rather than taking the odds like you would with a regular bookmaker, how much you win depends on how many people in the pool picked the same selection. This may be higher or lower than the odds on offer, at Totesport it's easy to check between the two. You can bet win and place which is the equivalent of an each way bet. You can also bet to place only.
Exacta – Here you predict which horses will finish first and second, the Tote version of a forecast. This could be more or less than the forecast (CSF), and the amount that you will get depends on how many others predicted the same outcome.
Trifecta – Similar to the exacta, this time you need to predict what will finish first, second and third. This is available in any UK horse race with 3 or more runners unlike the non-Tote tricasts. There is a nominated bonus race every Saturday which has a boosted pool that will roll over if not won.
Live Information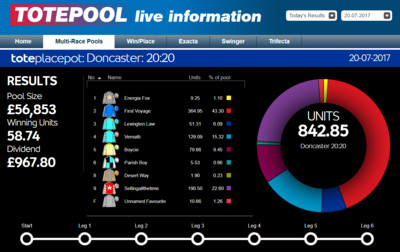 Another impressive feature of the Totepool area of the site is the way that they deliver the information. Current pool sizes and past results are readily available and colourfully displayed.
If you are following your own placepot or jackpot bet's progress you can see what percentage of the pool is running onto what horse. As well as being interesting, it will also give you a rough idea of how big the placepot or jackpot dividends are likely to be. If you see a favourite with 60% of the pool crashing out, the likely dividend will increase. You can also easily find the win, place, exacta and trifecta dividends that were paid for each race.
Current pool sizes for the days placepots, jackpots and Scoop 6 are displayed under 'featured pools' so if there is a large roll over amount or significant placepot pool you'll find out what it is here.
Features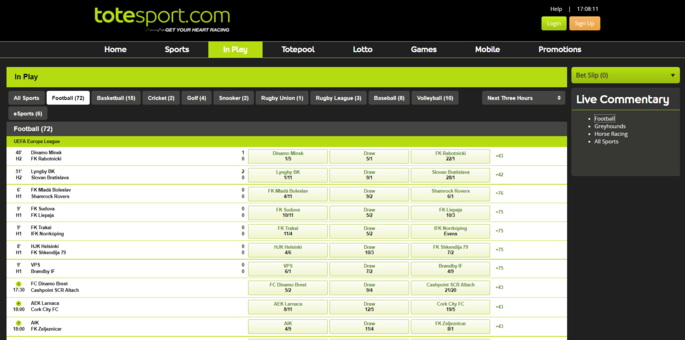 It it's former life Totesport was quite a niche operator, great for horse racing but you probably would have wanted another account for other sports. Now it has everything that you'd expect a modern sporstbook to cover. They might still not have the range of markets that others have but the site itself is quick and simple to navigate as a result.
A number of sports are available to bet on in-play, such as football, tennis, basketball and even eSports along with a number of others. The range of markets isn't the largest but there's certainly a decent range of options. Like other areas of the site, the live betting is clearly displayed and simple to work your way around.
For horse racing fanatics, the strongest features of the site remain the Totepool availability and the strong range of offers. Those betting on horse racing frequently will really appreciate the Lucky 15/31/63 bonuses, guaranteed odds and regular extra place races amongst others. There's also live commentary available throughout the day. In this sense, Totesport have remained loyal to the sport that has served them so well over the years.

Banking
Payment Methods
You will be able to deposit using all major debit cards, PayPal, Neteller, Skrill and the pre-payment card Paysafecard.
Fast Facts
Minimum Deposit – The minimum that you will be able to deposit is £5.
Minimum Withdrawal – This is also £5.
Withdrawal Time – Payment processing can take up to 48 hours. Once processed debit card withdrawals will take up to 5 working days, Neteller and Skrill will take up to 24 hours and PayPal up to 12 hours.
Fees – Depositing using debit cards will not incur a charge. Deposits using Paypal, Neteller are allowed one free deposit per day. Subsequent daily deposits may be subject to a 3% charge, applied at Totesport's discretion.
Bonus Exclusions – Deposits made using PayPal, Skrill, Neteller or Paysafecard are not eligible for the welcome offer.
Transaction Name – These will appear under the name of either Betfred or Petfre, the parent company.
Licence & Contact
Customer Support
Live Chat – Via website
Email – [email protected]
Telephone – UK: 0800 032 8188 Outside UK: +44(0) 1925 907520
Post – Customer Service Department, The Spectrum, 56-58 Benson Road, Birchwood, WA3 7PQ, UK
Company Information
Licence Details – UK Gambling Commission 39544
Company Name – Petfre (Gibraltar) Limited
Registered Company Address – 5.2 Waterport Place, 2 Europort Avenue, Gibraltar, GX11 1AA