When it comes to betting, everyone has a plan. Countless people have systems that they're prepared to use, wholeheartedly believing that it is failsafe in spite of the fact that one of sport's most endearing qualities is that it is so unpredictable. We all believe that goals are common in football and that matches that end 0-0 are a rarity, but is that true? For those that like to bet on the Over 0.5 Goals market, it is an important question to ask and get an answer to.
For those that haven't looked at the bet before, betting on the Over 0.5 Goals market is the equivalent of saying that you think there will definitely be at least one goal in the match. Indeed, the only scoreline that can result in your bet being a losing one is 0-0, given that any another score will mean that more than 0.5 goals have been scored. It doesn't matter whether it's a penalty, a screamer from the halfway line or an own goal, as long as one is scored your bet will be a winner. So how often isn't that the case?
How Many Games Finish 0-0?
Between the 2016/17 and 2020/21 season, 6.9% of Premier League games and 9.0% of EFL Championship games finished goalless and would have resulted in a losing Under 0.5 Goals bet.
Out of Europe's top leagues, the lowest percentage of 0-0 draws occurred in Italy's Serie A.
What Is An Over 0.5 Goals Bet & What Are The Rules?
Obviously it is impossible for 0.5 goals to be scored in a game. As a result, it's the perfect number to use when deciding upon a betting market. The final score of a game will either be under 0.5 goals or over it, but it can never be it exactly so bookmakers don't need to worry about figuring out what to do on the occasion when a bet is neither won nor lost. A bet on Over 0.5 Goals is, therefore, a wager that says that there will be at least one goal scored during a football match.
Under 0.5 Goals is the equivalent of saying that a match will end 0-0, but the beauty of an Over 0.5 Goals bet is that you don't need to specify an exact scoreline. Instead of saying that you think the game will finish 1-0, 3-1, or 5-4, you're just saying that you think there will be at least one goal scored. As long as the game doesn't finish 0-0 then your wager will be a winning one and you'll be paid out on your bet. As a result of that, the odds for Over 0.5 Goals bets aren't often very good.
The thing to remember about the Over 0.5 Goals market is that own goals are counted. Unlike in, for example, First Goalscorer markets, where an own goal would be ignored, it doesn't matter how the goals are scored in the game that you're betting on. As long as the ball hits the back of the net and is given by the referee, it will count as a goal. Neither the Video Assistant Referee, an act of good nor the person keeping the line can take that away from you once it's been officially given.
It's Often Considered A System Bet

Because we all have an overly romantic notion of football, we quickly dismiss the idea of a boring 0-0 draw happening in a game from our minds. Football is a thrilling sport, filled with excitement and celebrations. You can get too excited about a match ending without the ball hitting the back of the net, so we pretend that it doesn't happen. So it is that the appeal of a bet on the Over 0.5 Goals market is almost too much for many of us to resist, convinced as we are there every game will be a goal fest.
For some, this means that the Over 0.5 Goals wager is primed to be included in a system bet, believing that within a few weeks they'll have won themselves a decent return. After all, if you bet on a match ending with Over 0.5 Goals, win your bet and then re-invest your winnings on another game following the same pattern, you could soon be able to build up a decent kitty. That's dependent on your bet being on an outcome with odds of 1/10 or greater, which isn't always the case.
Regardless, many people believe that betting on their being Over 0.5 Goals in a football match is a good way of trying to gain a net win. It's certainly true that not many games in the biggest leagues finish at 0-0, but it's also not unheard of. Consequently, people will often use the Over 0.5 Goals bet as part of a system, believing that it offers them a good chance of winning their wagers. Rather than having an accumulator on match winners, for example, you could have an Acca on Over 0.5 Goals in games.
How Often Are There Under 0.5 Goals?
The key question for people looking to place an Over 0.5 Goals bet is how often it's likely to be a loser. After all, there's no point in trying to find a system that can win you money if it's going to end up as a losing bet virtually every time that you place it. Instead, we need to think about whether or not there's a good chance of it being a winning bet, putting ourselves in a situation where it's statistically more likely to happen than not over the course of a season.
Let's start by looking at the number of 0-0 draws in the past five seasons of Premier League football. Was it a common occurrence, or was it surprisingly rare for a game to end without a goal?
Premier League 0-0s
| Season | 0-0s | % Of Matches |
| --- | --- | --- |
| 2020-2021 | 30 | 7.89% |
| 2019-2020 | 21 | 5.53% |
| 2018-2019 | 22 | 5.79% |
| 2017-2018 | 32 | 8.42% |
| 2016-2017 | 27 | 7.11% |
We can see that, in the Premier League, bets on Over 0.5 Goals would be losing ones between five and nine percent of the time, give or take. Across all five seasons, there were 132 goalless draws, which equates to 6.94% of matches. That's not a bad figure, all things considered, so it helps to explain why so many people think it's a relatively safe bet to opt for when they're trying to think about what to place their money on.
The question is, is the Premier League reflective of football in general? The only way to tell is by looking at other leagues, both in England and across the continent. First things first, let's have a look at the number of times a bet on Over 0.5 Goals would have been a losing one if you'd been betting on the Championship during the same period:
EFL Championship 0-0s
| Season | 0-0s | % Of Matches |
| --- | --- | --- |
| 2020-2021 | 54 | 9.78% |
| 2019-2020 | 32 | 5.80% |
| 2018-2019 | 39 | 7.07% |
| 2017-2018 | 49 | 8.88% |
| 2016-2017 | 34 | 6.16% |
Again, looking at the total number of matches placed across five seasons it would be 2,300. Of that figure, 208 games ended in a 0-0 draw, which is the equivalent of 9.04%. It's a slight increase on the Premier League figure of 6.94% of matches over five seasons, giving us a slight outlier. We know that things are roughly similar in England, then but what about in Europe?
Let's start by looking at La Liga, with Spain's top-flight believed to be amongst the most exciting after the Premier League and therefore the one most likely to have fewer 0-0s.
La Liga 0-0s
| Season | 0-0s | % Of Matches |
| --- | --- | --- |
| 2020-2021 | 30 | 7.89% |
| 2019-2020 | 33 | 8.68% |
| 2018-2019 | 28 | 7.36% |
| 2017-2018 | 28 | 7.36% |
| 2016-2017 | 27 | 7.10% |
Over the course of five seasons, then, there were 1,900 games played in La Liga. During that time, there were 146 0-0 draws, which means that 7.68% of matches placed in Spain ended without a goal being scored. Another slight increase on the Premier League's figure, but not a vast one. Italy's Serie A is considered to be the most defensive league in Europe, so how do the figures stack up there during the same time period?
Serie A 0-0s
| Season | 0-0s | % Of Matches |
| --- | --- | --- |
| 2020-2021 | 19 | 5% |
| 2019-2020 | 21 | 5.52% |
| 2018-2019 | 34 | 8.94% |
| 2017-2018 | 28 | 7.36% |
| 2016-2017 | 19 | 5% |
It's fair to say that the outliers in the Italian league are far more noticeable than in both England and Spain. Once again there were 1,900 matches played over the five seasons, with 121 of them ending without a goal being scored. That equates to 6.36% of goals ending goalless, so fewer than in England but not so many as to be alarming. How did things work out in Germany's Bundesliga?
Bundesliga 0-0s
| Season | Number Of 0-0s | % Of Total Matches |
| --- | --- | --- |
| 2020-2021 | 23 | 6.76% |
| 2019-2020 | 17 | 5% |
| 2018-2019 | 22 | 6.47% |
| 2017-2018 | 26 | 7.64% |
| 2016-2017 | 24 | 7.05% |
The German top-flight season only contains 340 matches and we've ignored the play-offs for the purposes of this, but that's why looking at the percentage of matches is helpful. Of the 1,700 games played over the course of five seasons in Germany, 121 of them ended goalless. That is the equivalent of 7.11%, so not a huge discrepancy to the others. Finally, then, how did things pan out in France over those five seasons?
Ligue 1 0-0s
| Season | 0-0s | % Of Matches |
| --- | --- | --- |
| 2020-2021 | 26 | 6.84% |
| 2019-2020* | 21 | 7.55% |
| 2018-2019 | 32 | 8.42% |
| 2017-2018 | 21 | 5.52% |
| 2016-2017 | 29 | 7.63% |
France is a complicated country to look at during the five year period for the simple reason that they didn't complete their season in 2019-2020 due to the ongoing public health crisis. Instead, only 278 games were played instead of the usual 380. Even so, the fact that we work on percentages means that we can still include it when we look at goalless draws over the course of a five year period.
French football featured 1,790 matches across those five years. Of those, 129 finished without a goal being scored. That the equivalent of 7.20% of games ending 0-0, which would have resulted in any Over 0.5 Goals bets being losers. It means that, generally speaking, none of the European league were massive outliers when compared to each other, with only a single percent being in it in most instances.
Europe's Top Leagues Compared
Now that we've looked at each of the leagues individually, let's consider Europe as a whole. It's worth comparing the various leagues' five-year percentage to get a sense of how many matches finished 0-0 across the continent between the 2016-2017 season and the conclusion of the 2020-2021 campaign. Here's how those figures work out: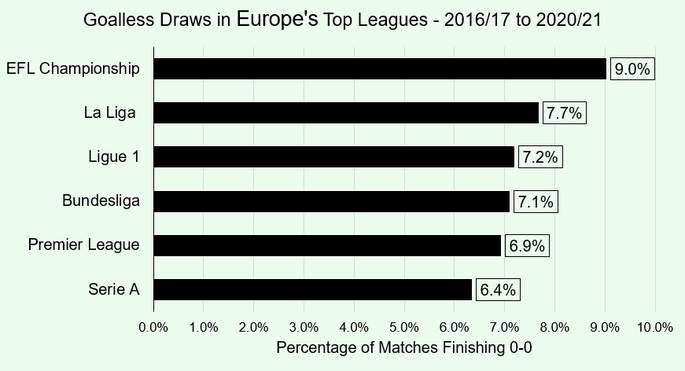 You can see, then, that only the Championship stands out as being a definitive league in which the amount of goalless draws differs significantly from the others. All told, there were 11,490 matches played across the Premier League, the Championship, La Liga, Serie A, the Bundesliga and Ligue 1 between 2016-2017 and 2020-2021. Of those, 857 ended 0-0. That's 7.45% of matches finishing without a goal being scored.
To put it another way, there is a less than 10% chance that a match that you're betting on is going to end without any goals during the course of a season, which is why betting on the Over 0.5 Goals market is such an appealing and popular market to look towards. Remember, though, that there is still a chance that games that you're betting on will end goalless, and the odds take this into account, so it is far from a flawless system.
Should I Bet On Under 0'5 Goals?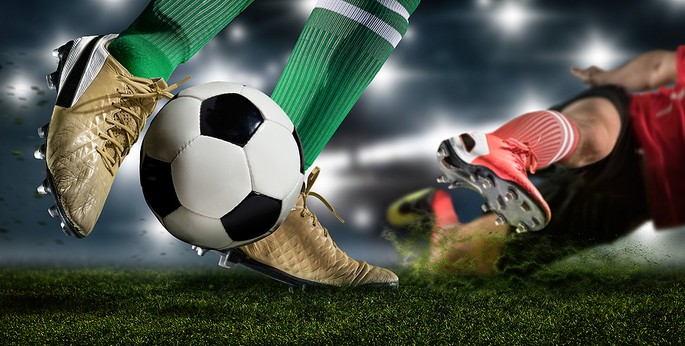 The question that bettors need to ask themselves when thinking about betting on the Over 0.5 Goals market is whether or not they'll be able to identify which matches are the most likely to end in a goalless draw. We know, for example, that teams lower down the league are likely to want to play defensive against those fighting it out at the top of the table, but will they be able to keep a clean sheet?
Equally, it doesn't really matter if a team has a rubbish attack as long as they've also got a leaky defence to match. Are some sides more likely to be involved in 0-0 games than others? That's not always something that is easy to predict. During the 2018-2019 season, for example, Liverpool and Manchester City finished on 97 and 98 points respectively, having scored 184 goals between them. When they met at Anfield, however, they drew 0-0.
You could argue that the strengths of the two teams meant that they cancelled each other out, but Riyad Mahrez missed a late penalty in the game. You would not have got very good odds on that game ending 0-0, even if you'd looked in-play, yet end 0-0 it did. That is the nature of football at the top-level and the unpredictable manner in which matches are decided that make the Over 0.5 Goals bet a constantly risky one.
As always, our recommendation would be to do your research. Are some teams more likely to end their season without a goalless draw to their name than others? During Liverpool's title winning campaign in 2019-2020, as an example, they had just one 0-0 draw. Sean Dyche's Burnley side is considered to be über-defensive, but they only had two 0-0 draws during that season, so one more than Liverpool.
Meanwhile Newcastle United, which is typically considered to be a team with attacking intent, notched up four 0-0s that season. That was the same number of 0-0 draws as Watford, who were relegated at the campaign's conclusion. Fellow relegated side Bournemouth had three goalless draws, whilst Norwich completed the relegation set but only drew 0-0 twice.
Doing your research is always vital, as is updating the details that you have as a season progresses. Are the more exciting teams in the league tending to cancel each other out when they face one another? Do teams from the same city often shut up shop in order to ensure that they don't give the other one bragging rights? They're the kind of thing that you'll need to think about when considering an Over 0.5 Goals bet.