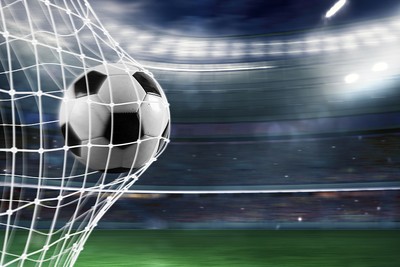 Both Teams To Score is a popular bet for football fans to place, not least of all because we all tend to buy into the idea that it is an exciting sport full of goals. In reality, that isn't really true, as articles you can read about the most common scorelines in the game will show you. Even so, we all want our football matches to be end-to-end affairs, filled with thrilling moments and plenty of goals, so we'll often bet accordingly.
Those of you that have either placed such a bet or would like to place it in the future might want to know how often it's a wager that you're likely to win. There are, of course, numerous different factors that can affect the outcome of a football match, but knowing the statistics involved will help us to have a sense of the likelihood of a bet that we've placed being a winner, which is what we're going to look at here.
How Often do Both Teams Score (BTTS)?
In the five seasons between 2016-17 and 2020-21, both teams scored in 50.3% of Premier League matches and 51.6% of EFL Championship matches.
Across Europe's top leagues during the same five seasons, the German Bundesliga had the most BTTS matches with 56.9%, just ahead of Serie A with 56.4%. France's Ligue 1 had BTTS in 49.9% of games whilst Spain's La Liga had the lowest percentage of BTTS games with 47.8%.
Premier League
Let's start by looking at the Premier League, which is the top-flight division in English football. It sells itself on the notion of being the world's most thrilling league, so you would imagine that matches in which at least one team fails to score are few and far between. Whether or not the reality lives up to that is a different question, so here's a look at the past five full seasons to give us some idea: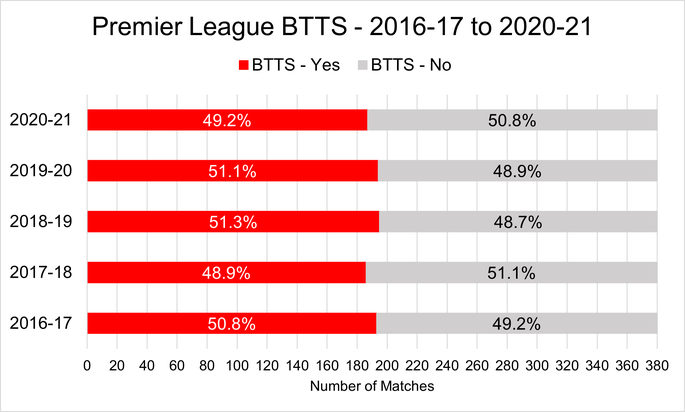 Though there are a couple of percentage points either way, it's clear that roughly half of all Premier League games end without at least one of the teams involved scoring. Indeed, when you look at the 1,900 matches that took place across the five seasons that we're looking at, 945 ended without a goal being scored by at least one of the teams. That equates to 49.7% of the total games played. To put it another way, a Both Teams To Score bet would have been a winner on 50.3% of the matches.
The Championship
The Premier League might be known for being one of the most exciting leagues in the world, but many football fans will tell you that England's second-tier is where the excitement is really at. A combination of less capable defences and a slight difference in the quality of the teams means that you can never be sure which team will win from one week to the next. Here's a look at the stats from the Championship over the same five seasons: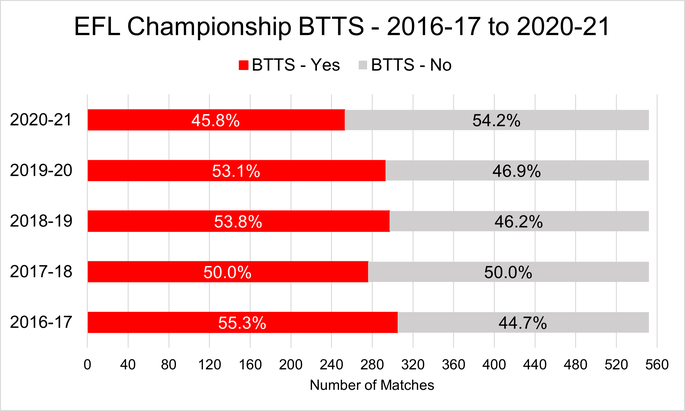 It's important to note that we have looked at the main season in terms of the Championship, so Play-Off matches aren't included. Even so, you can see that there is some wild variance between the seasons in terms of how often at least one team failed to score. Across the 2,760 matches that we looked at, it happened 1,336 times, or in 48.4% of the games played. That means a BTTS bet would have been a winner 1,424 times, or 51.6% of the time.
Spanish La Liga
If any division in world football would be able to take the Premier League's status as the most exciting league then it is surely Spain's La Liga. Whilst there are two or three standout teams at the top of the division each season, the rest of the sides that play their football in Spain are regularly able to take points from each other. The question is, how does that pan out across the course of a campaign?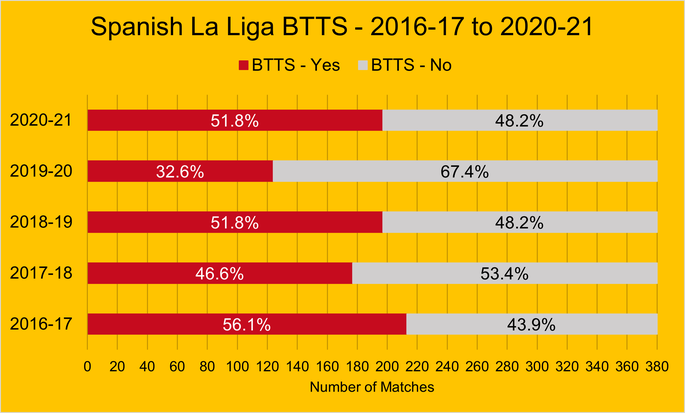 It's fair to say that the Premier League maintains its reputation over La Liga in terms of excitement. Across 1,900 matches over the five seasons, there were 992 matches that ended with at least one team failing to score. That's 52.2% of all games played, meaning that 908 games would have resulted in a win for a BTTS bet. In other words, you'd have won your Both Teams To Score wager 47.8% of the time if betting on La Liga, which is about 3% lower than in the Premier League.
German Bundesliga
Perhaps the league that most closely resembles the Premier League in several ways is Germany's Bundesliga. Whilst there is one team that wins it virtually every season, the rest of the teams in the division are about on the same level as each other, meaning that there's room for teams to score against one another on a regular basis. Here's a look at how often that has happened between the 2016-17 and 2020-21 seasons: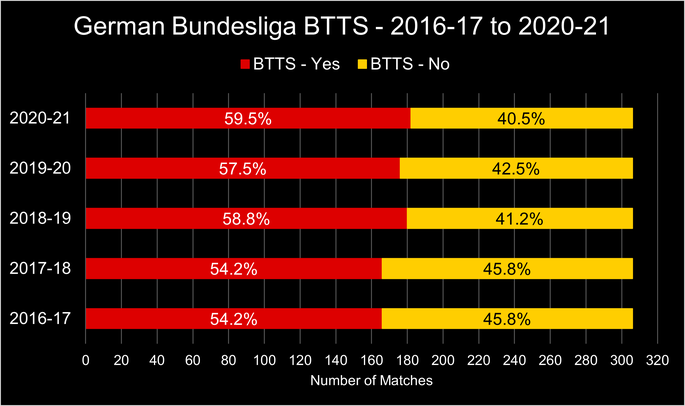 Similar to how we handled the Championship, we have ignored the relegation Play-Offs in the Bundesliga and are just looking at the 306 games played during the main body of the season. That means we've looked at 1,530 matches, of which 660 ended without at least one of the teams involved scoring a goal. That is 43.1% of all the games played. In 870 games, or 56.9% of all matches played, a BTTS bet would have won.
Italian Serie A
The Italian league is one famed for its defensive mindset, with Italians often praised for their organisation qualities on a football pitch. That's not to say that some Italian flair doesn't come into play every so often, but it is interesting to consider how much the stereotype of Italian football lives up to the reality. Here's a look at those same five seasons to give us some indication: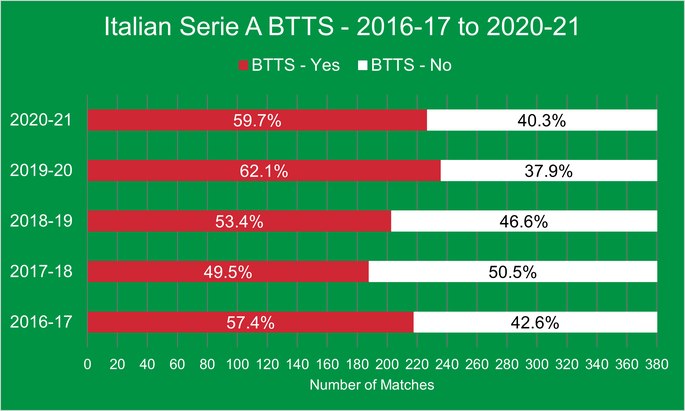 Over the course of 1,900 matches played in the Italian league, 828 games finished with at least one of the teams involved failing to score. That amounts to 43.6% of all matches, meaning that a Both Teams To Score bet would have been a winner on 1,072 occasions. In other words, BTTS bets on Italian league matches will be winners roughly 56.4% of the time.
French Ligue 1
The French league is often given the derogatory title of being a 'farmers league' by English football fans, largely because of the fact that Paris Saint Germain are far and away the leaders in terms of money spent and titles won. Whether this is fair is something that each individual has to decide for themselves, but one thing we can do is look at how often both teams score during a French top-flight match: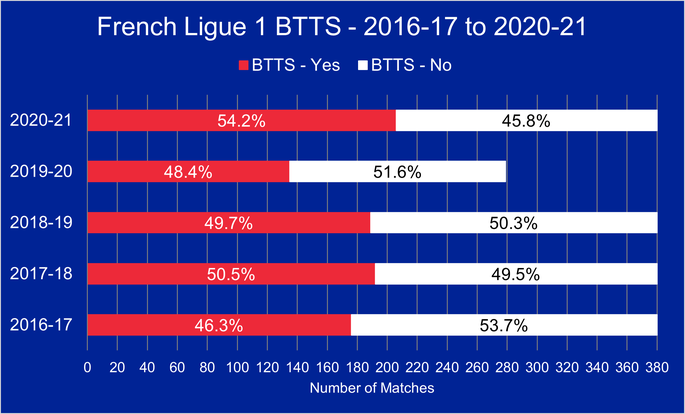 Once again we have ignored any Play-Offs and looked at the main body of the season. Ligue 1's results are slightly complicated by the fact that the French took the decision to curtail the 2019-2020 season slightly, meaning that 279 games were played instead of 380. What that means is that we looked at 1,799 matches in total, of which 901, or 50.1%, ended without at least one team scoring.
That means that 898 games, or 49.9% of all the matches we investigated, would have resulted in a Both Teams To Score bet being a winner. The question is, how does that compare to all of the other leagues when we put them side-by-side?
Comparing Leagues
Seasons vary in both the number of matches played and the manner in which teams approach them. A German team coming up against Bayern Munich might well take them on in a significantly different manner to how an English side might try to cope with Manchester City, for example. As a result, here's a look at each of the seasons for all teams, as well as the totals:
BTTS Across Europe's Top Leagues – 2016/17 to 2020/21
| Season | Premier League |  Championship | La Liga | Bundesliga | Serie A | Ligue 1 |
| --- | --- | --- | --- | --- | --- | --- |
| 2020-2021 | 49.21% | 45.83% | 51.84% | 59.47% | 59.73% | 54.21% |
| 2019-2020 | 51.05% | 53.07% | 32.63% | 57.51% | 62.10% | 48.38% |
| 2018-2019 | 51.31% | 53.80% | 51.84% | 58.82% | 53.42% | 49.73% |
| 2017-2018 | 48.94% | 50% | 46.57% | 54.24% | 49.47% | 50.52% |
| 2016-2017 | 50.78% | 55.25% | 56.05% | 54.24% | 57.36% | 46.31% |
| Total | 50.25% | 51.59% | 47.78% | 56.86% | 56.42% | 49.91% |
It's fair to say that most people would not imagine the Italian or German leagues to be the ones that see both teams score the most often in matches, but if the five seasons between 2016-17 and 2020-21 are anything to go by then they could be exactly the leagues that you should be placing a Both Teams To Score bet on. They would have been winners in 56.42% and 56.86% of matches respectively.
Of course, those matches will be spread out through the season, so you can't place a BTTS wager for six weeks running and expect it to come good in roughly three of those weeks. You might well find yourself on the losing end of the bet for all six weeks, but then place the same bet for six weeks later in the season and it might be a winner on all six of them. That is the trouble with betting and statistics: often they only tell half of the story.