The Prix de l'Arc de Triomphe is one of Europe's biggest flat races, worth a total of €5 million. Held in early October each year, it is one of the last of the major flat meetings and for many top horses, jockeys and trainers it will be their primary target of the entire season.
The race is held a Longchamp racecourse which is in central Paris in France, a short distance from the Eiffel Tower and Arc de Triomphe itself. The Arc Weekend spans Saturday and Sunday with the feature race on the second day.
Below we will show the best betting offers when they become available along with our tips and information on the big race.
Existing Customer Free Bets & Money Back Offers
Note: Offers will appear here nearer the event as and when they become available.
Prix de l'Arc de Triomphe Betting Tips
Please note: The following tips are for 2023 and will be updated shortly before the event starts.
Prestige and £4.4m in prize money are up for grabs in 2023, in a race which is effectively the 1m4f turf world championship. French, English, Irish, German, and Japanese yards are all represented in the final field of 15 ahead of what looks set to be a sizzling renewal.
Here, we run through the main contenders, highlight a couple of runners who may be flying a little under the radar, and pick out our best bets for one of the finest races on the European racing calendar.
The Favourites
The majority of runners in the field have at least one blemish on their record, but that is not the case with Ace Impact (3/1). This impressive son of Kingman has been immaculate in his career to date and boasts a perfect five from five record ahead of this test. A brilliant winner of the Prix du Jockey Club back in May, he copes with all ground conditions, and the main question centres around whether he will handle this step up to 1m4f.
Often mob-handed in the race, it is interesting that Aidan O'Brien sends just the one to post this year, in the shape of his recent St Leger winner, Continuous (6/1). This son of Japanese stallion Heart's Cry didn't lay a glove on Ace Impact in the Prix du Jockey Club but has hit new heights since, and unlike the jolly, has no questions to answer in the stamina department.
Leading the charge for the British raiders is the Owen Burrows-trained Hukum (6/1). A full brother to the sensational Baeed, this season has witnessed the six-year-old move out of his sibling's shadow. A verdict over 2022 Derby champ Desert Crown was a good start, and he stepped up on that when holding off Westover in the King George. Particularly dangerous on the back of a break – as is the case here – he looks set to go close under Jim Crowley
Second in the 2022 Epsom Derby, 2023 Dubai Sheema Classic, and the King George, Westover (7/1) has a habit of filling the bridesmaid position. Nevertheless, a repeat of any of those efforts ought to put him in the mix.
The Outsiders
The Japanese have long coveted this race but are yet to taste Arc glory. The Land of the Rising Sun has sent out more vaunted contenders in the past, but this year's sole representative Through Seven Seas (16/1) shouldn't be dismissed lightly. Improving out of all recognition this term, this admirable mare ran a cracker to go down by just a neck to ratings freak Equinox in the Takaruzaka Kinen.
With eight previous wins in the race, Andre Fabre knows more than most about what it takes to succeed, making his filly Place Du Carrousel (25/1) worth a second look. Her victory over Nashwa in last season's Prix de l'Opera was a rock-solid effort, and she warmed up for this with a smooth victory in the Prix Foy.
Predictions & Tips
Ace Impact is hard to knock on what he has achieved, but that lack of form at the distance is a concern. Hukum's record when fresh makes him a must for the shortlist, but overall, the runner who looks to boast the best combination of cruising speed, acceleration, and stamina is Continuous. Mightily impressive at Doncaster, he can continue his progression by landing Europe's biggest prize.
For an each-way punt, the filly Place Du Carrousel is hard to pass up at 25/1. In expert hands, a winner over course and distance, and at home on the likely ground conditions, her staying power and turn of foot could see her involved in the finish.
Betting Tip – Continuous at 6/1
Each Way Tip – Place Du Carrousel at 25/1
Event Stats
Prix de l'Arc de Triomphe 2023 Runners
| Horse (No) | Draw | Jockey | Trainer | Odds Guide |
| --- | --- | --- | --- | --- |
| Ace Impact (13) | 8 | Cristian Demuro | Jean-Claude Rouget | 3/1 |
| Hukum (7) | 14 | Jim Crowley | Owen Burrows | 5/1 |
| Continuous (15) | 7 | Ryan Moore | Aidan O'Brien | 11/2 |
| Westover (6) | 1 | Rob Hornby | Ralph Becket | 13/2 |
| Feed The Flame (12) | 2 | Christophe Soumillon | Pascal Barry | 10/1 |
| Fantastic Moon (14) | 12 | Rene Piechulek | Sarah Steinberg | 11/1 |
| Bay Bridge (5) | 6 | Richard Kingscote | Sir Michael Stoute | 12/1 |
| Through Seven Seas (9) | 5 | C-P Lemaire | Tomohito Ozeki | 12/1 |
| Free Wind (10) | 5 | Frankie Dettori | John & Thady Gosden | 20/1 |
| Place Du Carrousel (8) | 11 | Mickael Barzalona | Andre Fabre | 25/1 |
| Simca Mille (4) | 15 | Alexis Puochin | Stephane Wattel | 25/1 |
| Onesto (3) | 9 | Maxime Guyon | Fabrice Chappet | 40/1 |
| Mr Hollywood (11) | 10 | Bauyrzhan Murzabayev | Henk Grewe | 50/1 |
| Haya Zark (2) | 4 | Gerald Mosse | Adrien Fouassier | 100/1 |
| Sisfahan (1) | 13 | Lukas Delozier | Henk Grewe | 100/1 |
Arc Winners and Places – 2000 to 2023
| Year | Winner (SP) | Second (SP) | Third (SP) |
| --- | --- | --- | --- |
| 2023 | Ace Impact (19/10) | Westover (32/5) | Onesto (55/1) |
| 2022 | Alpinista (33/10) | Vadeni (78/10) | Torquator Tasso (81/10) |
| 2021 | Torquator Tasso (72/1) | Tarnawa (4/1) | Hurricane Lane (3/1) |
| 2020 | Sottsass (73/10) | In Swoop (10/1) | Persian King (63/10) |
| 2019 | Waldgeist (131/10) | Enable (1/2 F) | Sottsass (66/10) |
| 2018 | Enable (1/1 F) | Sea Of Class (6/1) | Cloth Of Stars (28/1) |
| 2017 | Enable (10/11 F) | Cloth Of Stars (20/1) | Ulysses (9/1) |
| 2016 | Found (6/1) | Highland Reel (20/1) | Order Of St George (14/1) |
| 2015 | Golden Horn (9/2) | Flintshire (20/1) | New Bay (5/1) |
| 2014 | Treve (11/1) | Flintshire (16/1) | Taghrooda (9/2 F) |
| 2013 | Treve (9/2) | Orfevre (2/1 F) | Intello (9/1) |
| 2012 | Solemia (33/1) | Orfevre (5/1) | Masterstroke (11/1) |
| 2011 | Danedream (20/1) | Shareta (66/1) | Snow Fairy (14/1) |
| 2010 | Workforce (6/1) | Nakayama Festa (22/1) | Sarafina (12/1) |
| 2009 | Sea The Stars (4/6 F) | Youmzain (20/1) | Cavalryman (12/1) |
| 2008 | Zarkava (13/8 F) | Youmzain (12/1) | Soldier Of Fortune (9/2) |
| 2007 | Dylan Thomas (11/2) | Youmzain (66/1) | Sagara (33/1) |
| 2006 | Rail Link (8/1) | Pride (11/1) | Hurricane Run (5/2) |
| 2005 | Hurricane Run (11/4) | Westerner (16/1) | Bago (8/1) |
| 2004 | Bago (10/1) | Cherry Mix (33/1) | Ouija Board (7/1) |
| 2003 | Dalakhani (9/4) | Mubtaker (25/1) | High Chaparral (13/8 F) |
| 2002 | Marienbard (158/10) | Sulamani (7/2) | High Chaparral (11/5 JF) |
| 2001 | Sakhee (11/5 F) | Aquarelliste (9/2) | Sagacity (105/10) |
| 2000 | Sinndar (6/4) | Egyptband (25/1) | Volvoreta (43/5) |
Schedule
Saturday 5th October 2024
12:23pm – Qatar Prix Chaudenay (Group 2)
12:58pm – Qatar Arabian Trophy Des Juments (Arabian Group 1)
1:33pm – Qatar Prix Du Cadran (Group 1)
2:15pm – Qatar Prix de la Place des Vosges Handicap
2:58pm – Haras de Bouquetot Criterium Arqana Stakes
3:33pm – Qatar Prix De Royallieu (Group 1)
4:08pm – Qatar Prix Daniel Wildenstein (Group 2)
4:43pm – Qatar Prix Dollar (Group 2)
5:18pm – Qatar Prix de la Place de la Concorde Handicap
5:50pm – Qatar Prix de la Place Dauphine Handicap
Sunday 6th October 2024
1:15pm – Qatar Prix Jean-Luc Lagardere (Group 1)
1:50pm – Qatar Prix Marcel Boussac – Criterium des Pouliches (Group 1)
2:25pm – Qatar Arabian World Cup (Arabian Group 1)
3:05pm – Qatar Prix de l'Arc de Triomphe (Group 1)
3:50pm – Qatar Prix de l'Opera Longines (Group 1)
4:25pm – Prix de l'Abbaye de Longchamp Longines (Group 1)
5:00pm – Qatar Prix de la Foret (Group 1)
5:30pm – Qatar Grand Handicap des Flyers
6:00pm – Qatar Prix de la Place de l'Etoile (Handicap)
Race times are subject to confirmation.
About The Prix de l'Arc de Triomphe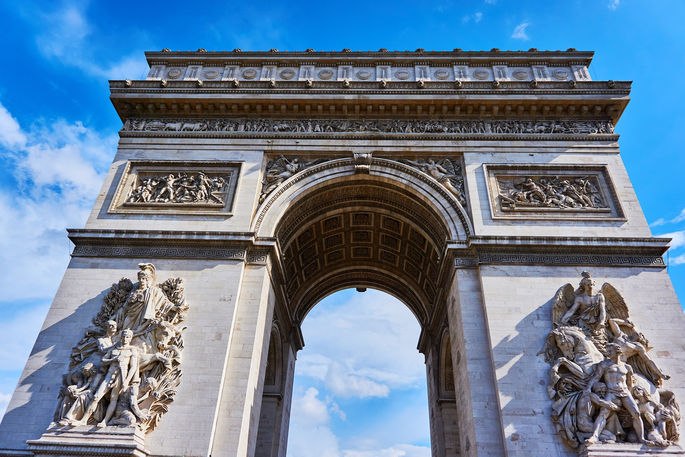 Known to an English audience as 'The Arc', the Prix de l'Arc de Triomphe is a Group 1 horse race that takes placed every October at Paris's Longchamp Racecourse. Run over a distance of two thousand four hundred metres, which is about one and a half miles, it is considered to be one of the most prestigious horse races in Europe and indeed the world.
The flat race has a roll of honour that features some of the finest thoroughbreds ever to take part in the sport, with the winners usually referred to as champions after the fact. Only The Everest, which takes place at Randwick Racecourse in Australia, and Meydan's Dubai Turf  are richer turf races than The Arc. Indeed, the race's slogan is 'Ce n'est pas une course, c'est un monument', which translates as 'It's not a race, it's a monument'.
In order to understand why the Prix de l'Arc de Triomphe came about you first need to have some idea about the state of horse racing in France in the nineteenth century. A governing body of French racing known as the Société d'Encouragement originally restricted the races that it organised to horses that were not only thoroughbreds but that had also been born and trained in France.
The Société Expands Its Race Criteria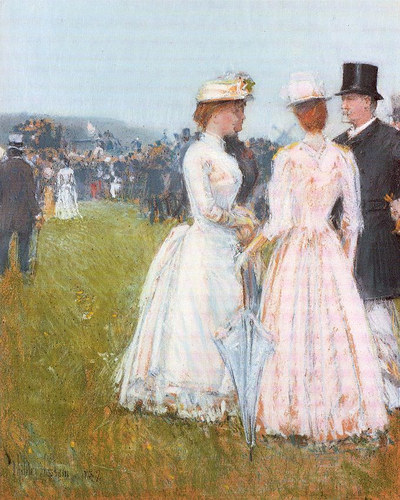 This ruling obviously restricted the quality of the horses that could take part in Société d'Encouragement races, so in 1863 it decided to launch a race that would bring together the best three-year-old horses that any country could provide. That race was the Grand Prix de Paris, which remains one of the most respected races in France to this day. It was won by a British colt in its first running and so the Société d'Encouragement continued running it year-on-year.
For a period the Grand Prix de Paris was the most prestigious and richest race in France, becoming the country's leading flat race. It was so successful, in fact, that a second such race was introduced thirty years later, with the Prix du Conseil Municipal being aimed at different age groups as the Grand Prix was only for three-year-olds. The race earned its name from the fact that it was funded by the Paris Municipal Council and was the country's second major race for international horses.
Nowadays that second race is known by the name of Prix du Conseil de Paris, which is a change that came into effect in 1974 when Paris reformed its own statutes. Once again it was successful enough to mean that a third race in a similar vein was proposed to the Société d'Encouragement at a committee meeting in January of 1920. The hope was that this new race would be a complimentary one to the Grand Prix de Paris and become a showcase for French thoroughbred racing.
The Creation and Development of the Arc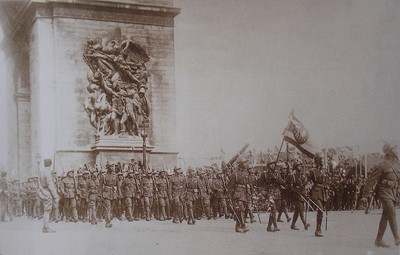 As well as acting as a complimentary race to the Grand Prix, the new race would also take some characteristics of the Prix du Conseil Municipal, except for the fact that horses would each enter the race on equal terms rather than be penalised for any previous victories that it had achieved. Once the nature of the race had been decided upon it needed a name.
Being created in 1920, as it was, it came fairly hot on the heels of the end of the First World War, so many people thought it would be appropriate to name it after the Arc de Triomphe, which had been built in Paris and used as the centre point for a victory parade by Allied forces in 1919. The name had, however, already been given to a smaller race that took place at Longchamp and so the 'Prix de la Victoire' was suggested. In the end, however, it was decided that it would just take the name of the smaller race instead.
The new race was run for the first time on Sunday the third of October 1920 and was won by a horse  called Comrade, owned by Evremond de Saint-Alary, one of France's leading thoroughbred owners and breeders. The prize was 150,000 Francs, meaning that it had an initial purse in excess of the 100,000 Francs offered by the Prix du Conseil Municipal. The result was that The Arc overtook it as the second most prestigious race in the country and the most prestigious of the autumn schedule at Longchamp.
The Prize Money Increases Before the War Begins
Despite already being one of the richest races in French horse racing, the Prix de l'Arc de Triomphe managed to further increase its purse ahead of the 1936 running by securing state funding. The idea was to have a sort of lottery, in which the participants would draw lots and prizes would be awarded according the result of that and the result of the race itself. It was considered a success in 1936 so was used again for the following two years.
The race didn't take place in 1939 and 1940 on account of the outbreak of the Second World War, then when it was run in both 1943 and 1944 it took place at Le Tremblay with a reduced distance of two thousand three hundred metres. The race resumed on a regular basis in the wake of the Second World War but initially without the government funding that had been secured via the lottery back in 1936. That government-run funding resumed in 1949 courtesy of finances obtained through the Loterie Nationale, which offered a jackpot of fifty million Francs.
The newly sourced funding allowed The Arc and the races that surrounded it to increase their purse substantially. Regrettably this didn't last, with the funding from the lottery reducing throughout the 1970s before finally coming to an end in 1982. In the years that followed, the race began to find its purse being swelled by money from sponsors, with the likes of Trusthouse Forte, CIGA Hotels and Groupe Lucien Barrière all coming on board at one point or another.
The Present Day Race
Those sponsors have changed and altered over the years, with one of the most significant developments being the sponsorship of Qatar Racing and Equestrian Club. That agreement began in 2008 at a time when racing in the Middle East was looking for something to give it increased credibility to an international market. It saw the prize money for The Arc double from €2 million to €4 million.
The monetary changes to the race to make it one of the richest flat races on the planet also saw it develop from being just a one-off race to being part of a larger program of horse racing.
The weekend also sees the running of the Arabian World Cup, which remains the richest race on the planet for horses that are purebred Arabian, thanks in no small part to the €1 million prize on offer. Despite the 2016 and 2017 races being moved to Chantilly because of renovations being carried out at the Hippodrome de Longchamp, the race has mainly stayed at the one venue since its introduction in 1920.
The Prix de l'Arc de Triomphe is run right-handed on a turf surface over a distance of two thousand four hundred metres. It is open to horses aged three and over, with the exception of geldings. The weight is fifty-six and a half kilograms for three-year-olds and fifty-nine and a half kilograms for horses aged four and over. There's a one and a half kilogram allowance for fillies and mares.
Specifically aimed at the world's best thoroughbreds, the Prix de l'Arc de Triomphe usually takes place on the first Sunday of October. In 2023 there was a purse of €5 million available, with €2.9 million of that going to the winner, that was Ace Impact, trained by Jean-Claude Rouget.
Longchamp Racecourse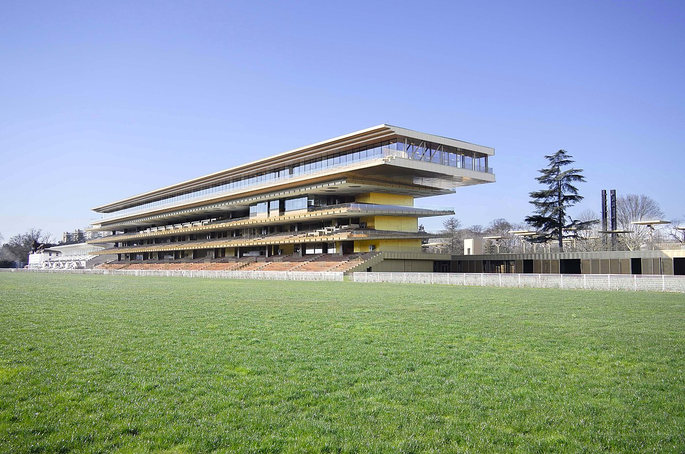 Longchamp Racecourse, known as the Hippodrome de Longchamp in French, is based over fifty-seven hectares and can be found on the Route des Tribunes in the Bois de Boulogne region of Paris. Noted for its interlacing tracks and a hill that asks serious questions of the thoroughbreds that race on it, it opened its doors in 1857 and can offer forty-six different starting points for courses that range from one thousand to four thousand metres in length.
Given that Longchamp is home to around half of the Group 1 races held in France each year, it's entirely fair to suggest that the course is the home of flat racing in the country. With a capacity of fifty thousand, Longchamp is the natural choice of course for the Prix de l'Arc de Triomphe on account of the fact that it is big enough to welcome the crowds that flock in to watch the world's best thoroughbred horses compete. It's not exactly unused to the attention, either, when you consider that the first racing that occurred at the venue did so on the twenty-seventh of April 1857 in front of Emperor Napoleon III, his wife Eugénie and a massive crowd.
Napoleon and his wife has sailed in a private yacht down the Seine in order to watch the racing, which was a tradition that many Parisians followed up until about 1930. The journey to the Pont de Suresnes took about an hour, at which point Emperor Napoleon and Eugénie met with Jérôme Bonaparte and his son Prince Napoleon, the Prince of Nassau, Prince Murat and the Duke of Morny in the Royal Enclosure. The rest of the upper classes in France who weren't aristocratic couldn't enter the royal enclosure and had to watch the racing from barouche carriages on the lawn.
Away from the historical side of Longchamp, the racing there has been painted by a number of high-profile artists over the years, including Édouard Manet in 1867 and Edgar Degas in 1871.
Interesting Facts
Given that the Prix de l'Arc de Triomphe has been taking place for over one hundred years, it's entirely reasonable to suggest that it's got plenty of interesting facts surrounding it. Eight different horses have won it twice, for example, but no horse has yet won it three times. The oldest horse to have won it was Motrico, who did so for the second time as a seven-year-old in 1932. Here are some other facts you might be interested in:
Ksar became the first horse to win it twice when he did so in just the race's second and third running in 1921 and 1922
Since then, Motrico, Corrida, Tantieme, Ribot, Alleged, Treve and Enable have all repeated the trick
Italian jockey Frankie Dettori has won the race more times than any other jockey, picking up six wins in his career to date
Despite none of his winners being ridden by Dettori, André Fabre is the race's most successful trainer with eight wins between 1987 and 2019
The title of 'Most Successful Owner' is shared between Marcel Boussac and Khalid Abdullah, who have six wins apiece
The fastest winning time was achieved in 2016 when the race was run at Chantilly; Found coming in at two minutes and twenty-three point six one seconds
The fastest winner at Longchamp was Danedream in 2011, clocking at time of two minutes and twenty four point four nine seconds
Ribot in 1956, Sea Bird in 1965 and Sakhee in 2001 all won the race by six lengths, which is the widest winning margin in the Prix de l'Arc de Triomphe's history
1967 saw the most runners taking part in the race when thirty horses entered
The fewest runners came in 1941 when just seven horses took part
The most common age for a winning horse in the race is three-years-old; this is largely because the Prix de l'Arc de Triomphe is a fast race and lends itself to younger horses more than older ones, with three year olds getting a 3kg weight advantage