Fast Facts
When: 12th December 2019
Where: United Kingdom
Watch: Various
Politics is rarely off our screens, social media and our news outlets. This no more than of late with some high profile results produced from the ballot boxes. With such a big impact on our day to day goings on, many of us will have an opinion when the big votes come around.
Where there's opinion, there will be speculation, and where there's speculation there's betting. Politics and elections have become a popular betting medium and as a result a whole raft of markets are produced when it comes to general elections, leadership contests and new US Presidents amongst others.
Here we guide you through some of the main betting opportunities that you might come across, as well as notifying you of the best political promotions around when they become available.
Existing Customer Free Bets & Money Back Offers
Note: Offers will appear here nearer the event as and when they become available.
UK General Election Betting Tips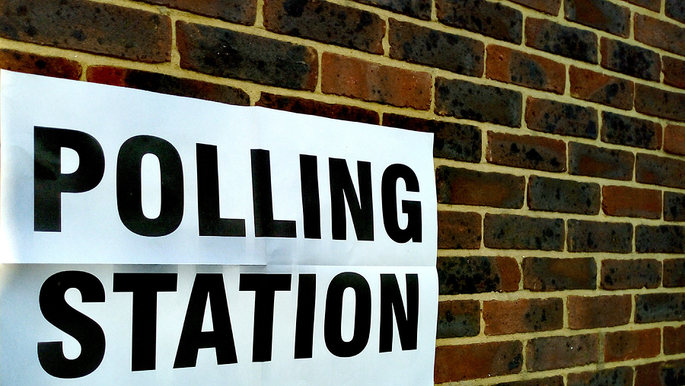 Please note that these tips are for the 2019 UK general election. Tips for the next election will be available closer to the time.
After three and a half years of Brexit shenanigans, there aren't too many people in the United Kingdom who are exactly enamoured by the state of British politics. But hey, it's nearly Christmas, so why not throw a general election into the mix to get everyone's spirits up! They'll be no shortage of topics to have big family arguments about by the 25th!
The good thing is, whatever your political leanings, and whatever the eventual outcome of the vote on 12th December, you have the chance to soften the blow/enhance your excitement by betting on the 2019 UK general election. Here we give you the lowdown on the main political betting markets for the election, along with our predictions for what will transpire (although, let's be honest, predicting anything in the current political climate might just be asking for trouble!).
Just in case you've managed to avoid politics completely in the last few months, here is how things stand going into the election (though there could still be some last minute party resignations or switches!):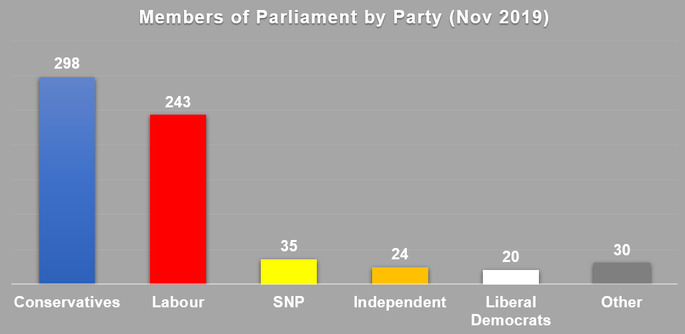 The Conservative Party are currently the governing party (at least in name!) and have 298 members in parliament (at the time of writing)
The Labour Party are the official opposition (again, at least in name!) with 243 MPs
The Scottish National Party are the third largest party with 35 MPs
There are 24 independent MPs at present
The Liberal Democrats have 20 MPs
The remaining MPs are made up of the DUP, Sinn Fein, The Independent Group for Change, Plaid Cymru, the Green Party and the speaker (with two vacant seats)
So, without further political bluster, let's get stuck into the election betting markets ahead of what might just be the hardest to call UK general election ever.
Most Seats
At the time of writing, the bookies believe the Conservatives are essentially nailed on to win the most seats in the election, with most bookies pricing them around the 1/6 mark. That the Tories will return to parliament with the most seats is a relatively safe assumption given the most recent polling which shows they are enjoying a lead over Labour of between 10% and 12%. Even allowing for a good margin of error, it would take a serious swing to overcome such a gap.
Labour are priced at 6/1 to win the most seats, and for those who feel Boris Johnson might cause his party's campaign to implode completely by making one gaff too many, this might be viewed as decent value.
Realistically though, the spectre of Brexit hangs over this election like a rancid odour, and given the perception of Labour's position as being somewhat ambiguous at times (which is being kind), it is highly unlikely that Jeremy Corbyn, whom many feel cannot be trusted to run the country, will be able to muster enough support to propel Labour into being the biggest party, much less win an overall majority.
As for the other parties, the odds speak for themselves: the Lid Dems are out at 50/1 (which is appalling value!), with the Brexit Party at an even more ludicrous 66/1 – they'll be lucky to get more than two MPs we fancy. As such, we're playing it safe here, and though the price isn't amazing, there really is only one party likely to bring a return here, and that is the Conservatives.
Overall Majority
Things become a little more complicated in the overall majority market, because while the Conservatives are highly likely to win the most seats, they are far from nailed on to win enough to command a majority (with 326 being the number required). Boris Johnson and his merry band are the shortest price of any of the parties to get a majority, of course, with their odds ranging from 11/10 to 5/4.
The favourite in this market, however, is one that is sure to dismay a good proportion of the public who have had their fill of politics recently: no overall majority. That's right, folks, after all the fun and games of another election campaign, the odds-on favourite to win is… no one! Great.
Priced at odds of between 4/5 and 10/11, we have to say this holds more appeal than the 16/1 available on a Labour majority. And while there is a fair chance the Tories could haul themselves over the line (perhaps with a last-minute "Devil's Pact" with the Brexit Party), we agree with the bookies that another hung parliament is definitely on the cards. With lots of tactical remain voting likely to win at least a few marginal, 10/11 for no overall majority looks more than fair.
Next Prime Minister
Of course, even if the Conservatives are the biggest party in the new parliament in terms of the number of MPs, it is not a foregone conclusion that they would be able to form a government. Theresa May required the support of the DUP after her party's poor 2017 election showing, but after Boris effectively threw them under the bus when negotiating his Brexit deal with the EU, they are certainly not going to be rushing to prop him up should the situation arise.
As such, there is a distinct possibility that a "remain coalition" of some sort, including Labour, the Lib Dems and perhaps the SNP, might be the only group of MPs capable of commanding the confidence of more than half of parliament. In that scenario it is likely that Lib Dem leader Jo Swinson would only agree to such an arrangement if Jeremy Corbyn steps aside as Labour leader. It is in this scenario that the Next Prime Minister market could get really interesting and there could be the chance to land a really long odds winner.
Given that it is the Next Prime Minister (rather than "who will be Prime Minister on the day after the election?"), Boris Johnson, as the incumbent/most recent holder, is not included in the market, and indeed, even if he were to win, this market would stay live until there is another PM.
At present Jeremy Corbyn is the 2/1 favourite, but that is largely due to the uncertainty about who the next Conservative leader will be. As we've already suggested, Corbyn won't be able to gain a majority. So given the scenario we outlined above, we think the value here lies with backing Keir Starmer (an overt Remainer with whom Jo Swinson could potentially work) who is priced at odds of around 18/1 to be the next PM.
Event Stats
Most Recent UK Prime Ministers
| Prime Minister | Party | From | To |
| --- | --- | --- | --- |
| Rishi Sunak | Conservative | October 2022 | Present |
| Liz Truss | Conservative | September 2022 | October 2022 |
| Boris Johnson | Conservative | July 2019 | September 2022 |
| Theresa May | Conservative | July 2016 | July 2019 |
| David Cameron | Conservative | May 2010 | July 2016 |
| Gordon Brown | Labour | June 2007 | May 2010 |
| Tony Blair | Labour | May 1997 | June 2007 |
| John Major | Conservative | November 1990 | May 1997 |
| Margaret Thatcher | Conservative | May 1979 | November 1990 |
| James Callaghan | Labour | April 1976 | May 1979 |
Politics Betting Explained
By Brian Snelson, flickr
Election betting is a very underused and underrated area to bet on. It's not something that goes hand in hand with betting, unlike horse racing or football, so this is likely why many people either avoid it or simply aren't aware that you can even bet on it.
These days, the range of betting markets that you can choose from has grown exponentially, even over the last 5 years or so. Election or political betting to be more precise, is an area where money can be made, with the right strategy applied.
Election Betting Results
As elections only happen every few years, it's not something that you can really look to be betting on every week. But, it's likely that most of the larger bookmakers will be offering up to date on odds on upcoming or potential future elections throughout the year.
Many people see this as a novelty market and to some extent, they would be right. But, there are plenty of ways to potentially gain a net win from it. The reason why we say this is that politics is massively in the public domain meaning information (betting research) is easily obtainable.
In the lead-up to an election you are going to find that the number of markets that you are able to bet will drastically increase. This is for two reasons:
Bookmakers have a better idea of who's running
The amount of money that punters are wanting to stake increases, thus a greater interest and more competitive odds are available.
Winning Party
Picking the winning party for an election is probably going to be the most common. You often get three picks; the two candidates that are running and a potential coalition. The issue is that as there are so many polls taken before hand and even during the election, it's often pretty easy to see which way the public are going to vote.
But, politics is a lot like sport in that it can also be quite unpredictable. Two of the most recent elections in the UK and US have seen two very surprising results. The first being that of Donald Trump beating Hilary Clinton for the presidency, with the second being that of the conservatives not winning the UK General Election and having to form a coalition.
As the odds are often so bloated towards one result over the other, the ability to really make any serious money (apart from huge stakes) is fairly slim. So, we would recommend that if you were betting on this market to start betting in-play.
The US election is a prime example of how shrewd bettors managed to see where the votes were going and time the swings in favour of Trump and away from Clinton to make some serious money. When Trump first announced that he was going to run for president he was quoted at odds of around 25/1, with several candidates in front of him at much shorter odds.
As momentum increased for Trump, he was as short at 6/4 at one point, before drifting back to 5/1 before the polls opened. Even at 5/1, the bookies are essentially giving him little chance in a 2-horse race.
We spoke about shrewd bettors making money this way and it was reported by Betfair that one punter had managed to get several pieces of Trump after important speeches and campaigns, also reacting to poor press release from his opponent, Hilary Clinton. From several bets placed over the course of a 12-month period, the anonymous bettor won a staggering $2.5million!
Most Number of Seats
Another popular market is that of betting on the most number of seats won. In countries such as the UK, the government needs to win a certain number of seats within the House of Commons to be granted control of the country. If they fail to reach the minimum amount, then a coalition government will be formed via the party with the most and then however many others they agree to include and take them over the threshold.
This can often offer up a more competitive betting market for most punters. Bookies will often offer an over/under line for the number of seats they are expected to win, which means that the odds will be somewhere around even money.
An expansion of this would be the bookmakers switching the number of seats to offer higher or lower margins. Again, this will in turn affect the odds either way and also offer up bigger margins to take higher odds that could potentially come in.
Other Bets
With politics, you are actually going to be able to place bets on some fairly obscure markets. In fact, with each year that passes we find ourselves seeing more and more on offer, which is good if you're reading this article!
Year of Next Election
The date when elections are run is usually set as 5 year fixed term. But, it's not uncommon for this period to shorten, especially if public support is starting to waiver for the party that is leading. In the UK there is widely tipped to be a general election well within the 5 year term that is originally set out and other countries across Europe and even around the world aren't illusive to this either.
A good tip for this market is to really keep an eye on big dates within the political calendar. Again, referencing the UK's current climate, but as the Brexit negotiations continue it's likely that as more deals are terminated, pressure is going to mount on the current Prime Minister. A deadline has been set to make sure the UK leave the EU and if it's not met, then huge fines will be paid.
As a punter you'd be looking at trying to work out if they were able to meet this demand and if not, probably look to see another general election scheduled sooner rather than later.
Next Prime Minister
The next prime minister ties in with the winning party above, but doesn't necessarily always relate. You see, it's possible to bet on this market at any time, so it could be whilst the government from that person's party is already in power.
It's good to address these bets as future bets or what could also be classed as ante-post, just without the restrictions. For example, at the time of writing Teresa May's job as Prime Minister in the UK is massively under scrutiny, so it might be a case of finding who's next in line within her party to take over. Whilst they won't have won the general election personally, they will still technically be Prime Minister.
The flip side is that if Teresa May does see if through until the next General Election, as the betting currently stands, her party (Conservatives) is set to lose out to the opposition (Labour). So, for this you could either take the current leader of the opposition (Jeremy Corbyn) or his predecessor.
Next Party Leaders
The next party leader is a little more of an open book. Eventually the person currently leading that party will step down, this much we know. So, you will need to work out who is most likely to take over as the leader of that party.
The key thing to work out is timing. When is the current leader likely to leave? If it's sooner rather than later then it's much easier to see who could step into line. If they are in for the long haul, then you could be looking at younger, more up-and-coming politicians for this role.
Why is Election Betting so Popular?
Election betting has definitely seen a sharp rise in popularity of the last decade or so. Whether that has to do with the popularity of online betting or the fact it's just more readily available, we don't really know.
But, we do know that a lot of money is now wagered on the event. In fact, it was reported that over £30million was wagered on the 2017 general election alone, a record for any political market within the UK.
The popularity has to come down to a generation thing for us. The older generation probably never had access to politics betting, so would never think to bet on it, yet they will have a vested interest in politics. The younger generation who are probably much more aware of online betting and politics betting in particular are also starting to age. As they age they tend to get more invested into politics and what's going on, whilst also linking it to bet betting.