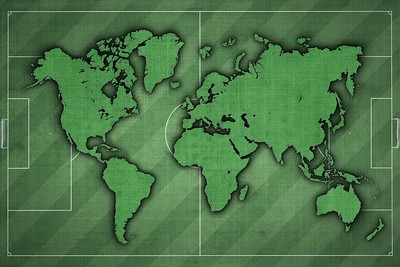 When it comes to international football, there is no tournament with more prestige attached to it than the World Cup. It is the greatest competition that a player can win, on account of the fact that it sees all of the best players from around the world come together in order to battle it out for the chance to lift the World Cup Trophy. Even Lionel Messi, who is widely considered to be one of the best players of all time, was not given the respect that he deserved in some quarters on account of the fact that he hadn't won the World Cup, until he managed to do just that in 2022
Once that happened, Messi went from being one of the best to the all-time G.O.A.T., as well as the toast of Argentina. We often read about the most successful countries in the history of the World Cup, but what of the continents? Are any of them more likely to produce a winning nation than any others? You might imagine that Europe, as the continent where football was born, might be the best, but South American countries have also enjoy their fair share of World Cup wins over the years, which might well tip it in their favour.
Quick Answer: Which Continent has the Most World Cup Wins?
Between 1930 and 2022, the World Cup has been won by a European country on 12 occasions, with 10 winners from South America. No other continent has had a World Cup win.
Across these same tournaments, Europe has had the runner-up in 17 World Cups, versus 5 from South America.
Continents & Confederations
Before we start looking into the answer, it is first important to outline exactly what we're talking about when we refer to the continents. There are seven continents on the planet, with a continent being defined as a large geographical region, with convention being the major deciding factor into whether something is a continent, as opposed to any sort of specific factor. Some of the continents are single land masses, whilst others are spread over several land masses. Each continent has an organisation or confederation that runs football in their specific region, with the exception of Antarctica. Here is a look at the continents and their governing bodies that organise the game in those regions, shown with the national associations that compete within each confederation:
Africa – Confédération Africaine de Football (CAF)

Algeria, Angola, Benin, Botswana, Burkina Faso, Burundi, Cameroon, Cape Verde, Central African Republic, Chad, Comoros, Congo, Djibouti, DR Congo, Egypt, Equatorial Guinea, Eritrea, Eswatini, Ethiopia, Gabon, Gambia, Ghana, Guinea, Guinea-Bissau, Ivory Coast, Kenya, Lesotho, Liberia, Libya, Madagascar, Malawi, Mali, Mauritania, Mauritius, Morocco, Mozambique, Namibia, Niger, Nigeria, Rwanda, São Tomé and Príncipe, Senegal, Seychelles, Sierra Leone, Somalia, South Africa, South Sudan, Sudan, Tanzania, Togo, Tunisia, Uganda, Zambia, Zimbabwe

Asia – Asian Football Confederation (AFC)

Afghanistan, Australia, Bahrain, Bangladesh, Bhutan, Brunei Darussalam, Cambodia, China, Chinese Taipei, DPR Korea, Guam, Hong Kong, India, Indonesia, Iraq, Islamic Republic of Iran, Japan, Jordan, Korea Republic, Kuwait, Kyrgyz Republic, Laos, Lebanon, Macau, Malaysia, Maldives, Mongolia, Myanmar, Nepal, Northern Mariana Islands, Oman, Pakistan, Palestine, Philippines, Qatar, Saudi Arabia, Singapore, Sri Lanka, Syria, Tajikistan, Thailand, Timor-Leste, Turkmenistan, United Arab Emirates, Uzbekistan, Vietnam, Yemen

Oceania – Oceania Football Confederation (OFC)

American Samoa, Cook Islands, Fiji, Kiribati, New Caledonia, New Zealand, Papua New Guinea, Samoa, Solomon Islands, Tahiti, Tonga, Tuvalu, Vanuatu

Europe – Union des Associations Européennes de Football (UEFA)

Albania, Andorra, Armenia, Austria, Azerbaijan, Belarus, Belgium, Bosnia and Herzegovina, Bulgaria, Croatia, Cyprus, Czech Republic, Denmark, England, Estonia, Faroe Islands, Finland, France, Georgia, Germany, Gibraltar, Greece, Hungary, Iceland, Israel, Italy, Kazakhstan, Kosovo, Latvia, Liechtenstein, Lithuania, Luxembourg, Malta, Moldova, Montenegro, Netherlands, North Macedonia, Northern Ireland, Norway, Poland, Portugal, Republic of Ireland, Romania, Russia, San Marino, Scotland, Serbia, Slovakia, Slovenia, Spain, Sweden, Switzerland, Turkey, Ukraine, Wales

North America – The Confederation of North, Central America and Caribbean Association (Concacaf)

Anguilla, Antigua and Barbuda, Aruba, Bahamas, Barbados, Belize, Bermuda, Bonaire, British Virgin Islands, Canada, Cayman Islands, Costa Rica, Cuba, Curaçao, Dominica, Dominican Republic, El Salvador, French Guiana, Grenada, Guadeloupe, Guatemala, Guyana, Haiti, Honduras, Jamaica, Martinique, Mexico, Montserrat, Nicaragua, Panama, Puerto Rico, Saint Kitts and Nevis, Saint Lucia, Saint Martin, Saint Vincent and the Grenadines, Sint Maarten, Suriname, Trinidad and Tobago, Turks and Caicos Islands, U.S. Virgin Islands, United States

South America – Confederación Sudamericana de Fútbol (CONMEBOL)

Argentina, Bolivia, Brazil, Chile, Colombia, Ecuador, Paraguay, Peru, Uruguay, Venezuela
You may have noticed that certain countries don't compete within their geographic continent. Australia, for example, are part of Oceania, however they compete in the Asian Football Confederation. Also, as you will no doubt be aware, there are some countries that actually span more than one continent. This is the case for the likes of Russia and Turkey. These nations don't compete in multiple confederations however.
World Cup Winning Countries & Continents
At the time of writing, only eight countries have ever won the World Cup. They are as follows, alongside the number of times that they've won it and the continent that they are considered to be part of: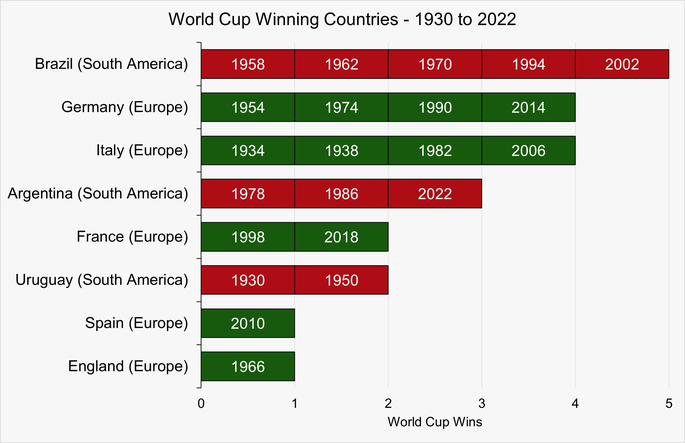 This shows that only two continents – Europe and South America – have produced a World Cup winner to date. Obviously you could look and count the number of wins per continent and work it out for yourself which one has been the most successful over the years, but we want to make things much easier for you than that. As a result, here is a look at both continents and the number of World Cup Wins each has enjoyed: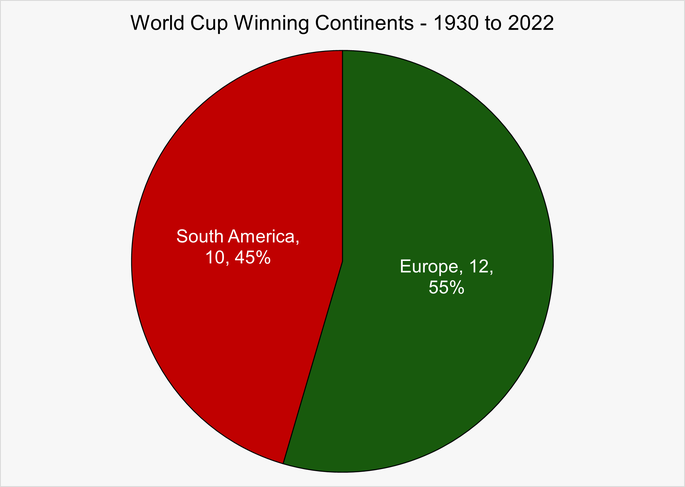 It is fair to say that it is close between Europe and North America when it comes to the World Cup wins. With just two wins in it, Europe is shading it at the time of writing, though obviously that could change over the years to come. You can also see why FIFA is keen to try to alter the World Cup's format in order to give the other continents at least a fighting chance of winning a World Cup at some point. That being said, bets on a win for Antarctica are likely to go unclaimed for a while.
Looking at Winning and Placed Nations
The only question left to answer when it comes to the success of continents on the World Cup stage is whether or not things change when you add in the teams that came close to winning the World Cup but just missed out. That means that there are effectively four places available, even if winning it is ultimately the biggest prize. With that in mind, here is a basic system to establish which continent is the best in terms of success, or near success, in the World Cup.
Winners will be ranked first followed by the team that finished as runners-up, then the team that finished 3rd and finally any fourth placed finishes. Using that system, here is the information for the World Cups that have taken place since the first one in 1930:
It is fairly clear from looking at the table that Europe has dominated the World Cup's final stages over the years. Europe has notched up 61 last four finishes over the years compared to the 23 that South American countries have managed. A veritable white wash for the continent of Europe in terms of success in the World Cups that have taken place between 1930 and 2022. North America is third on our list with a single third-place finish. They are followed by Asia with two fourth places and then by Africa with one fourth place. To date, a team from Oceania has yet to reach the semi-finals.
Which Continents Have Hosted The World Cup The Most?
Now that we know that Europe is the most successful continent when it comes to World Cup wins and places, we can have a look to see if there is any sense of home favouritism working in the continent's favour. Have there been more World Cups held in Europe than any of the other continents? Or does FIFA work to ensure that things are as fair as possible on that front? Here is a little look at which of the continents have enjoyed the most hosting duties since the first World Cup: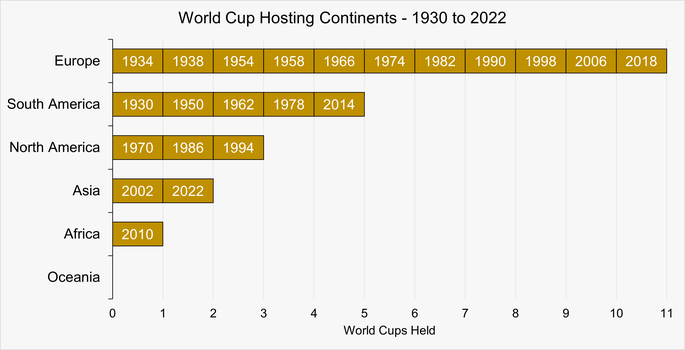 Once again, it is Europe that leads the way when it comes to hosting duties. To date, European countries have hosted the World Cup on 11 occasions. South America has held five World Cup followed by North America with three, Asia with two and Africa with one.