There is plenty of debate to be had around the world of penalty kicks. If a player is in the top corner of the box facing away from goal and is tripped by a player, should that receive the same reward as if a player is bearing down on goal and gets taken out by the goalkeeper before they get a chance to get their shot off? Whatever we might think, both incidents will result in a penalty being awarded to the attacking team, which doesn't feel fair enough for the team with the attacker running in on goal and is perhaps too generous when it comes to the player who isn't even facing goal.
Irrespective of our thoughts about penalties, they can be a game-changer. A team that has been under the cosh for the duration of the match and clinging on by the skin of their teeth can be awarded a penalty during a rare attack and find themselves with a chance of winning. Equally, a team that has been on top throughout but hasn't been able to make the breakthrough can be given a penalty and suddenly take a deserved lead. Penalties aren't guarantees of goals, as anyone who has seen one of their players miss will know, but they can change games if they're scored.
Quick Answer: How Often Are Penalties Awarded in Football?
In the five season between 2018-19 and 2022-23, 440 penalties were awarded in the Premier League, averaging at 0.23 penalties per game or 4.32 games per penalty.
This compares to 5.38 games per penalty in the Championship, 4.04 in the German Bundesliga, 3.28 in Spain's La Liga, with just 2.71 games per penalty awarded in the Champions League in the same five seasons.
When looking at the World Cup, 88 penalties were given in the five tournaments between 2006 and 2022. This works out at 0.28 penalties per game or 3.64 games per penalty.
Looking At The Premier League
First things first, then, and a look at the Premier League. The English top-flight is one of the most exciting divisions in the world, famous for its attacking football and the flare that is often demonstrated by the players. It is also one in which the referees are almost constantly criticised for their performances, with horrendous mistakes occurring seemingly every week, even in the age of the Video Assistant Referee. With all of that in mind, you'd imagine that a wealth of penalties are given away on a weekly basis, but does that bear out when we look at the stats?
Here is a look at five seasons' worth of data, looking to see how many times a referee has given a penalty during the league campaign. We will look at the specific referees in more detail after we've looked at the five seasons in question, the first of which will be the 2018-2019 campaign, moving through to the 2022-2023 season: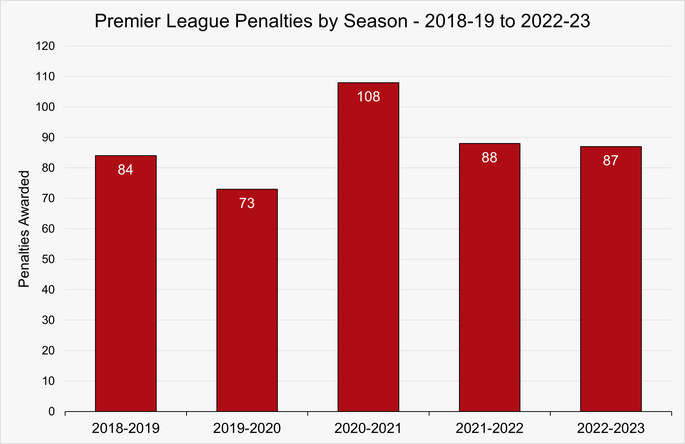 Across the 1,900 games during the five seasons of Premier League action that we're looking at, there were 440 penalties given by match referees. That means that there was a penalty awarded every 4.32 games. Given there are ten Premier League matches each game week, that means that there can be expected to be roughly two penalties each week, presuming that ten games are played as usual.
Premier League Referees
Whilst we won't do this for each of the divisions that we look at, if for no other reason than maybe English punters won't know the referees in Germany or Spain, for example, it is worth having a look at whether some referees are more penalty happy than others. Here is a look at the referees that have taken charge of games in the Premier League over the five seasons in question, including how many games they've been in the middle for and how many penalties they awarded during those games:
Penalties Awarded by Premier League Referees – 2018-19 to 2022-23
| Referee | Games | Penalties Given | Games Per Penalty |
| --- | --- | --- | --- |
| Michael Oliver | 146 | 45 | 3.2 |
| Anthony Taylor | 150 | 44 | 3.4 |
| Mike Dean | 107 | 31 | 3.5 |
| Chris Kavanagh | 97 | 30 | 3.2 |
| Paul Tierney | 127 | 27 | 4.7 |
| David Coote | 89 | 25 | 3.6 |
| Jonathan Moss | 102 | 25 | 4.1 |
| Stuart Atwell | 109 | 24 | 4.5 |
| Craig Pawson | 125 | 24 | 5.2 |
| Andre Marriner | 108 | 21 | 5.1 |
| Kevin Friend | 95 | 20 | 4.8 |
| Martin Atkinson | 113 | 18 | 6.3 |
| Darren England | 45 | 16 | 2.8 |
| Robert Jones | 48 | 14 | 3.4 |
| Graham Scott | 68 | 13 | 5.2 |
| Simon Hooper | 75 | 13 | 5.8 |
| Andrew Madley | 69 | 12 | 5.8 |
| Peter Bankes | 60 | 7 | 8.6 |
| John Brooks | 23 | 6 | 3.8 |
| Jarred Gillett | 26 | 6 | 4.3 |
| Lee Mason | 46 | 5 | 9.2 |
| Thomas Bramall | 8 | 3 | 2.7 |
| Tony Harrington | 9 | 2 | 4.5 |
| Michael Salisbury | 18 | 2 | 9.0 |
| Josh Smith | 1 | 1 | 1.0 |
| Darren Bond | 4 | 0 | N/A |
| Tim Robinson | 3 | 0 | N/A |
| Bobby Madley | 1 | 0 | N/A |
As you can see, there are numerous different levels to which referees have taken charge of matches, with Josh Smith's record of one match, one penalty meaning that 100% of his matches have featured penalties. Others, such as Anthony Taylor, have taken charge of a lot more matches at 150, but only given away 44 penalties during that time. That means that less than one in three of Taylor's games have had a penalty in them, not to mention the fact that our system is blunt in nature and doesn't allow for occasions when someone has given more than one penalty in a game.
The Championship
Whilst the Premier League is the obvious division to look at on account of the fact that it is the top-flight in England, it is helpful to also look at the Championship in order to get a sense of how penalty-happy referees are across England. Are teams more or less likely to concede a penalty on the Premier League or the Championship? The quality level is obviously much better in the top-flight, but does that convert into how many times during a season the referees are likely to give away a penalty? Here is a look at the data: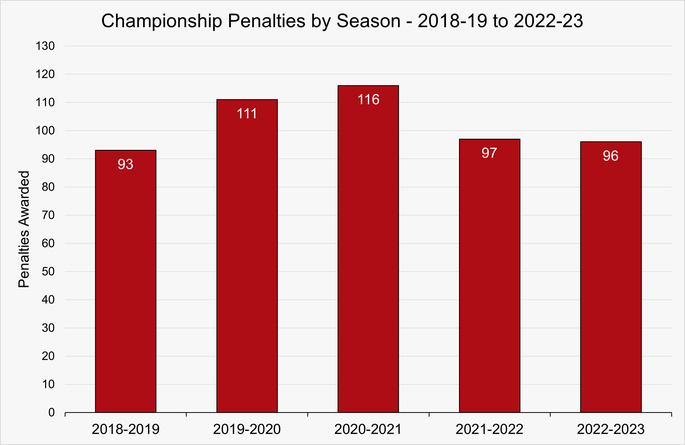 The first thing that is worth pointing out is the fact that the Championship matches don't include the Play-Offs, which are a separate entity. Across the 2,760 matches that we're looking at during the course of our five seasons in question, referees in the Championship awarded 513 penalties. That works out as a penalty every 5.38 matches, which is a little over the penalty every 4.32 matches that we discovered tended to be given in the Premier League.
Is the suggestion, then, that referees are more generous in the Premier League? After all, many of the names that took charge of matches in the Championship eventually move to the top-flight.
La Liga
Having looked at the two English divisions, it is now worth having a quick look at another country to see how things work there. La Liga is arguably the division that comes closest to the Premier League, on account of the fact that there are 380 games played across the course of a season and it tends to witness attacking football. With that in mind, how do the referees usually handle the matches that are played in Spain? Are they more generous with their penalties or a touch harsher? Here is a look at five seasons' worth of data: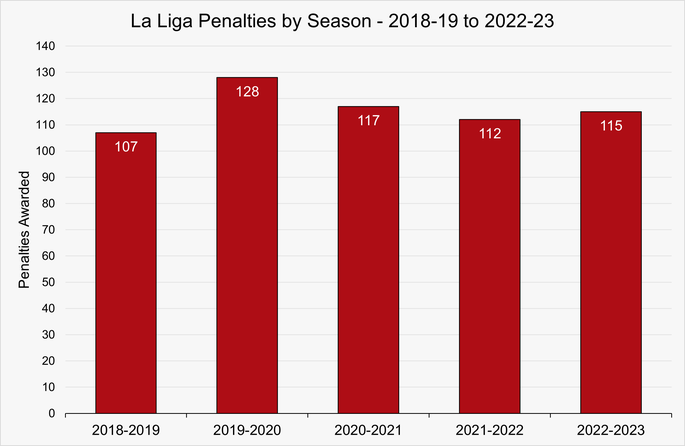 Over the course of 1,900 games during five season, there were 579 penalties given by the referees. That equates to a goal every 3.28 games, which is obviously much more regularly than both the Premier League's one penalty in every 4.32 games and significantly better than the Championship's penalty every 5.38 matches. There is certainly a chance that refereeing in La Liga is just much better than in England, with the Video Assistant Referee system used to make the correct decision rather than protect officials.
The German Bundesliga
Now we've got some more information about a different country, it is worth looking to see whether that is specific for life in Spain or whether penalties are generally more common on the continent. The Bundesliga is another good competition to look at, considering the fact that the game in Germany is much more organised and defensively minded than any of the others that we've looked at. Does that equate to defences that are much better at being disciplined and not giving away penalties or is the opposite true?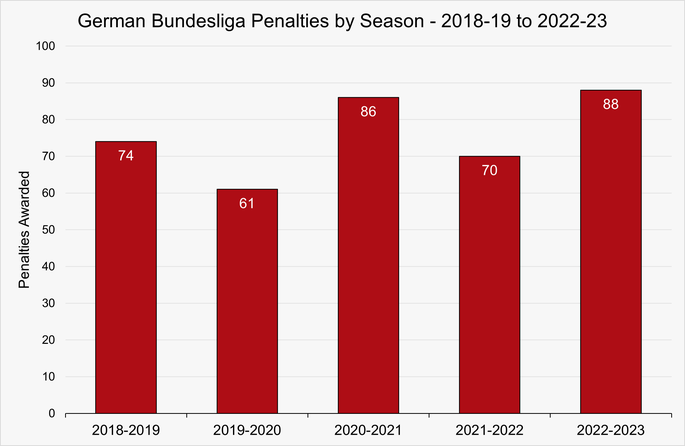 The fact that there are fewer teams plying their trade in the Bundesliga means that there are obviously less games played during the course of the season. Over five season, there were 1,530 games that referees took charge of in Germany, with 379 penalties awarded. That amounts to a penalty every 4.04 games. Is it too much of a stereotype to suggest that German referees are more likely to stick to the rules rather than chop and change them depending on how they feel during a match? Certainly they have given penalties on a more regular basis than the Premier League or Championship though not as many as in Spain's La Liga.
The Champions League
Another competition that it is worth looking at is the Champions League. Europe's premier tournament sees the best of the best from the various divisions around the continent come together in order to try to decide which is the best team in Europe each season. With that in mind, you would expect the referees to be at the top of their game in order to be selected to take charge of such prestigious games, but what does that mean in terms of how many penalties are given during the course of five seasons?
The global health crisis of 2019-2020 meant that only 119 games were played in the Champions League proper that season, whilst the rest of the campaigns that we've looked at covered 125 games apiece. That means that 619 games were played during the Champions League across the five seasons that we've looked at, with 228 penalties given. That is the equivalent of a penalty every 2.71 games, showing that English referees are decidedly less strict than their European counterparts. Again, there is an argument that the quality of refereeing in the Champions League, as with the Bundesliga and La Liga, is simply better than the Premier League.
The World Cup
Last but not least, here is a look at the World Cup. Having established that referees are much more likely to award a spot-kick in the Champions League than in any domestic league, it is worth looking to see whether that stickler nature for the rules rather than an interpretation of them carries over into the World Cup. If the Champions League is the most prestigious tournament in club football, there is no question that the World Cup takes that crown when it comes to international competition. Hosted every four years, is there a major difference in how penalties are awarded between tournaments?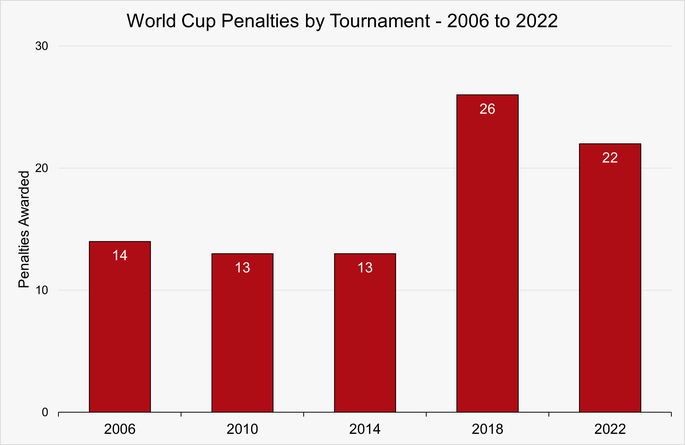 You can see that referees became more generous with penalties as the years went on, with the number given across the first three tournaments we're looking at being 40, whilst the following two World Cups resulted in 48 penalties being awarded. All told, there were 320 games played, with 88 penalties given during that time. That equates to a goal every 3.64 matches, which is closer to La Liga than any of the other divisions.
So…How Do the Tournaments Compare?
We know now the number of games per penalty across several competitions. We can use that data to work out how many penalties are given per game on average. Here is how it looks for the competitions that we've been looking at: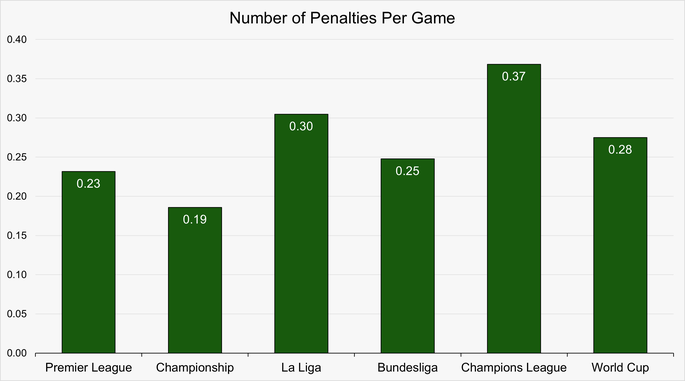 We can also flip this round and look at how many games it takes before a penalty is awarded on average.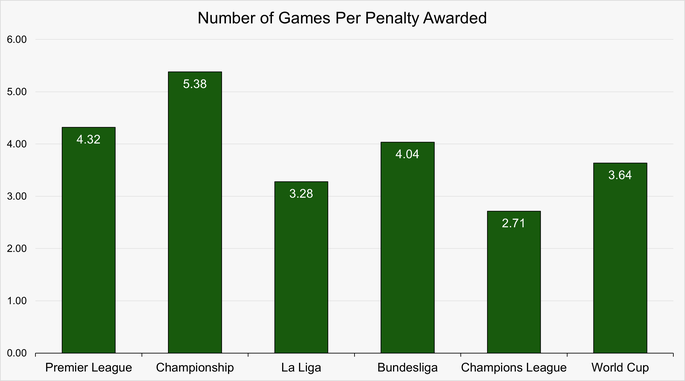 This shows that a penalty is least likely to be awarded in the Championship, followed by the Premier League, Bundesliga, World Cup then La Liga with the highest chance of a penalty coming in the Champions League.
Over the course of all of the matches that we've looked at, there have been 9029 games played. During that time, 2,227 penalties were awarded. That works out at a penalty every 4.05 games, or 0.25 penalties per game. In other words, one penalty will be given for roughly every four games played over a large selection of games and competitions.