In footballing terms, there are few events that have the majesty and global importance of the World Cup. It sees dozens of nations come together in order to decide which is the best footballing country, with group stages and knockout football combining to create a genuinely thrilling feast of the sport. When the event comes around, the first thing that many bettors are tempted to do is head to their bookmaker of choice in order to place a wager on the team that they think will emerge victorious at the end of it all.
For some, this will be more about their own personal feelings on the matter, ignoring research in order to simply follow their heart. It isn't uncommon for punters to place a bet on a team that is unlikely to win simply because it is the side that they support. The question is, would you be any better off opting to bet on the favourite every time the World Cup is about to begin?
Quick Answer: How Often Have the Favourites Won the World Cup?
Between 1966 and 2022, the pre-tournament hosts have won the World Cup on three occasions, a rate of 1/5 or 20%. These were West Germany in 1974 at 9/4, Brazil in 1994 at 3/1, and Spain in 2010 at 4/1.
In total during these same 15 World Cups, Brazil have been the favourites on ten occasions, with England (1970), West Germany (1974), Italy (1990), France (2002) and Spain (2010) all favourites for one tournament each.
World Cup Favourites
In order to work out how often the favourite ends up winning the World Cup, the best thing that we can do is to have a look at previous tournaments. At the time of writing, there have been 22 World Cups that have taken place, with the first being held in Uruguay in 1930. As you might imagine, heading back so far in time does mean that it is all but impossible to find the odds for the teams that took part, given that betting on football didn't really begin legally until the 1960s, despite the fact that the Football Pools began in 1923.
We are able to look towards World Cups from 1966 onwards, given that that is the first tournament that we are able to find odds for. As a result, here is the information regarding the favourite for each of the World Cups between 1966 and 2022 and the state of the competition that the favourites managed to reach, including whether they won it:
World Cup Favourites – 1966 to 2022
| World Cup | Favourite | Odds | Stage of Elimination |
| --- | --- | --- | --- |
| 1966 | Brazil | 7/4 | Group Stage |
| 1970 | England | 3/1 | Quarter Finals |
| 1974 | West Germany | 9/4 | Winners |
| 1978 | Brazil | 22/10 | Second Group Stage |
| 1982 | Brazil | 15/8 | Second Group Stage |
| 1986 | Brazil | 10/3 | Quarter Finals |
| 1990 | Italy | 3/1 | Semi Finals |
| 1994 | Brazil | 3/1 | Winners |
| 1998 | Brazil | 3/1 | Final |
| 2002 | France | 4/1 | Group Stage |
| 2006 | Brazil | 3/1 | Quarter Finals |
| 2010 | Spain | 4/1 | Winners |
| 2014 | Brazil | 3/1 | Semi Finals |
| 2018 | Brazil | 4/1 | Quarter Finals |
| 2022 | Brazil | 4/1 | Quarter Finals |
As you can see from the table, the favourites before the tournament have won on three occasions between 1966 and 2022. That means that the pre competition favourites have won 3 times out of 15, which equates to 20%. If you had place a bet of £10 on the favourite for all 15 of the World Cups for which we have odds available, you would have spent £150 and won £50 back including your stake on Spain in 2010, £40 back including your stake on Brazil in 1994 and £32.50 including your stake back on West Germany in 1974. That would have seen a total return of £122.50, meaning an overall loss £27.50.
Are There Better Bets To Consider?
The interesting thing to note on the above table is how often Brazil went into the tournament as favourites. Between 1966 and 2022, they were the favourites on 10 occasions but only actually won the tournament once. The question, therefore, becomes about whether or not there is a better bet that you can place when the World Cup comes around. After all, if the bookmakers always think a team like Brazil is best placed to win the competition only for them to fail to do so 90% of the time, might you be better off spending your money elsewhere?
In 1978, Argentina won the World Cup with odds of 4/1, making them the second favourites. The same country won the tournament eight years later, this time with odds of 7/2 but again as the second favourites in the pre competition odds that were offered by the bookies. In 1998, the second favourites won again, this time thanks to France, who had odds of 6/1. In other words, if you had spent £10 on the second favourites in those same 15 World Cups you would have spent £150 but would have seen a better return than backing the favourites.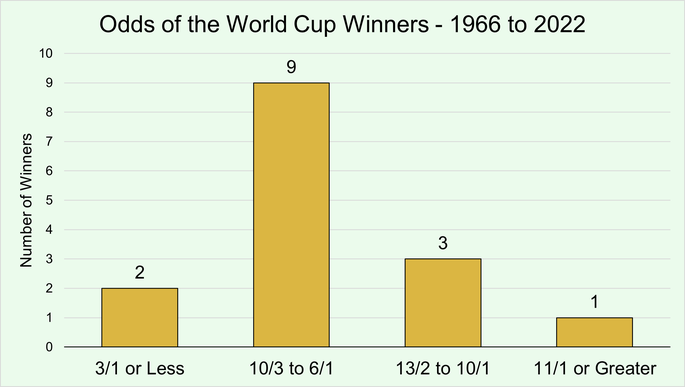 In the case of the second favourite betting, you'd have won £50 including your stake thanks to the success of Argentina in 1978, £45 including your stake thanks to the same country in 1986 and £70 including your stake because of France's win in 1998. That would have given you a total return of £165 for an overall profit of £15. Is betting on the second favourite therefore a better strategy in future World Cups? Judging by the number of times that Brazil have been installed as pre tournament favourites by the bookmakers only to flatter to deceive, it could certainly appear so.
How Often is the Host Nation Favourite?
An obvious question to ask is whether or not the favourites that have won the competition have also been the hosts. After all, there is nothing quite like a partisan crowd to spur a team on to victory. If that is paired with the country being talented enough for the bookmakers to consider the team possible overall winners of the tournament, is that an unbeatable combination? Here is a look at the host each year as well as their odds to win:
World Cup Host Outright Odds – 1966 to 2022
World Cup
Host
Odds
Favourite?
1966
England
9/2
✖
1970
Mexico
Unknown
✖
1974
West Germany
9/4
✅
1978
Argentina
4/1
✖
1982
Spain
Unknown
✖
1986
Mexico
Unknown
✖
1990
Italy
3/1
✅
1994
United States
Unknown
✖
1998
France
6/1
✖
2002
Japan
125/1
✖
South Korea
200/1
✖
2006
Germany
7/1
✖
2010
South Africa
150/1
✖
2014
Brazil
3/1
✅
2018
Russia
30/1
✖
2022
Qatar
750/1
✖
Between 1966 and 2015, the hosts have won the World Cup on four occasions (six in total), which is one more than the number of times that the favourites have gone on to win it. Of those hosts, only one of them were the pre tournament favourites, which was West Germany in 1974. That was obviously a powerful combination, but being hosts is marginally more likely to result in the country going on to win the overall competition than being favourites is likely to do.
If you had bet £10 on the hosts for all 15 World Cups during the time period that we're looking at, your initial outlay would have been £150. You would have got back £55 including your stake thanks to England in 1966. The 1974 victory of West Germany would have resulted in £32.50, including your stake, being returned to you. Argentina's win as hosts in 1978 would have seen you get £50 back, including your stake, whilst you'd have received £70 including the stake for your bet on France in 1998.
That would have given you a total of £207.50 back in winnings, including the stake, meaning that you'd have had an overall positive return of £57.50. In other words, of the various options that we've looked at, only betting on the pre tournament favourites would have seen you lose money. Betting on either the second favourite before the competition got underway or else the hosts would have seen you receive a positive return for your £10 wagers. Whilst obviously far from a flawless system, it is interesting to note the difference between betting on the favourite and betting on something else.
There are plenty of reasons why a bookmaker might have installed a certain team as the favourites before the World Cup got underway. It is worth noting that the odds we've been able to find for the World Cups in question were from British bookmakers, meaning that the odds offered on England were likely to be longer than they would have been had you been using a bookie from a different country. Whatever the reason behind a side being installed as favourites before the World Cup begins, the truth of the matter is that you're statistically more likely to lose money betting on them than not.
Pre-Tournament Odds of the World Cup Winners
Below we have a full list of the pre-tournament odds of the World Cup winners between 1966 and 2022.
Odds of the World Cup Winner – 1966 to 2022
| World Cup | Winner | Odds | Favourite? |
| --- | --- | --- | --- |
| 1966 | England | 9/2 | ✖ |
| 1970 | Brazil | 7/2 | ✖ |
| 1974 | West Germany | 9/4 | ✅ |
| 1978 | Argentina | 4/1 | ✖ |
| 1982 | Italy | 18/1 | ✖ |
| 1986 | Argentina | 7/2 | ✖ |
| 1990 | West Germany | 6/1 | ✖ |
| 1994 | Brazil | 3/1 | ✅ |
| 1998 | France | 6/1 | ✖ |
| 2002 | Brazil | 13/2 | ✖ |
| 2006 | Italy | 8/1 | ✖ |
| 2010 | Spain | 4/1 | ✅ |
| 2014 | Germany | 13/2 | ✖ |
| 2018 | France | 6/1 | ✖ |
| 2022 | Argentina | 11/2 | ✖ |