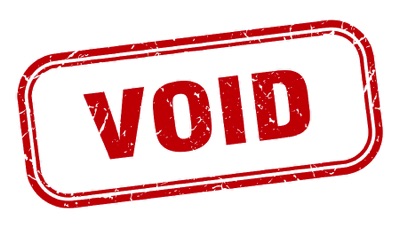 There are various reasons a bet you place might be declared void (essentially cancelled) by a bookmaker and we'll examine the most common of these in due course. When a bet gets made void it can be a bit annoying if you had spent ages researching it, but it is not a major concern for punters in general because in most cases bookies will simply refund your stake to your account.
But what happens if you had used a free bet to place the wager and the bet had subsequently been declared void? Will you be given a new free bet to use or would you simply lose your freebie? And, how about if the bet that has been voided was your qualifying bet to get you a free bet? Would you still be credited with a free bet under this circumstance?
The short answer to these questions is that in many cases, if either your free bet or your qualifying bet is made void, it is basically tough luck and you'll have lost the chance to make use of the bonus. As we shall see though, many of the best bookmakers around usually have it within their discretion to offer customers additional free bets or a chance to qualify for new free bets, especially where extraordinary circumstances had led to the bet being made void, or indeed if it came about as a result of a mistake from the bookie in question.
In this article, we will endeavour to answer these questions in a lot more detail, as we look into what happens when free bets or qualifying bets (used to acquire free bets) are voided. We will also look at the most common reasons for bets being made void and give examples of the bet types to avoid and those to go for when trying to minimise your chances of your bets being made void. All that said, in truth very few bets are voided and most of the time your claiming and use of a free bet will go smoothly enough.
Before we look at any potential banana skins though, let us briefly explain what it means for a bet to be made void and look at some of the more common examples of when that is likely to occur.
What Is a Void Bet?
When a bet is made void, it means it has been effectively cancelled as if the bet hadn't been placed in the first place, often because an event or given scenario could not take place for some reason or other.
What Can Cause a Bet to Be Made Void?
There are numerous reasons a bet could be made void, but the most common is that the event on which the bet was placed has been cancelled. This could be for any number of reasons such as the weather, a major global event (such as a terrorist attack or pandemic!), illness to a team or player, or some other unforeseen eventuality.
If an Event is Cancelled Before It Takes Place
If for instance a race meeting is called off due to weather, a whole football tournament is cancelled in advance due to some global pandemic (surely that won't ever happen!) or horse racing is shut down for something like the foot-and-mouth disease crisis, then bets placed on the event in question will be made void and will be refunded in full (in most cases).
If the Team/Player/Outcome Is Found to Have Not Been Possible
For instance, is a bet is placed on the first goalscorer in a game of football, and during the warm-up prior to the game, that player gets injured and can play no part in the game. In this case, the bet is made void and, in most cases, the stake is refunded.
If an Event Takes Place but Is Subsequently Made Void
A perfect of example of this scenario is the 1993 Grand National. After a mix up at the start, the runners were recalled but some carried on regardless, and though it was "won" by Esha Ness, the race was subsequently declared void and the bookies were forced to refund all bets on the race.
If the Bookmaker Has Made a Mistake
Whether the bookie has put incorrect information (such as incorrect team/players, or even incorrect dates) or they have somehow managed to set odds that are so extreme as to be clearly incorrect. If a bookmaker has made an obvious error they will generally void all bets place on a given event or market, or sometimes offer a reduced payout (for instance, when they had set incorrect odds). See below for some examples of mistakes by bookies leading to them refusing to pay out to punters!
If the Bet Type Includes the Possibility of a "Push" (or Being Made Void)
For instance, in the case of Asian handicap betting on football, the handicap gives one of the sides a head start; this could by multiples of goals or could be multiples of half goals. The latter type of bet effectively takes the possibility of the draw out of the running, but if you use the Asian handicap market to bet with a whole goal handicap, it is possible for the bet to become a "push" or made void if, for instance, you back a side to win with a +1 handicap and they lose 1-0.
What If My Free Bet or Qualifying Bet Is Voided?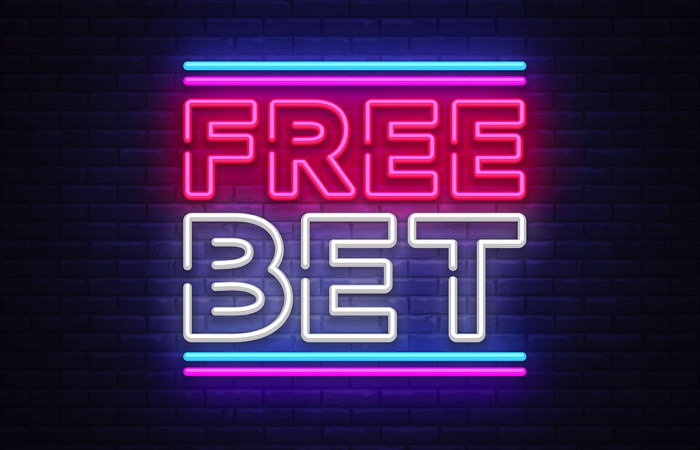 There is no set rule here that is adhered to by all bookies. Most will go along the same lines with Coral stating in the terms and conditions of their standard new customer free bet offer that, "Your free bet is not returned if your free bet wager becomes void." But, in this scenario, if you use your free bet and that bet is declared void for whatever reason, in many cases the bookie will not give you another bite of the cherry. You will simply lose your free bet. We asked another major bookie, Ladbrokes, via live chat and they concurred, saying:
When you use free bet as stake and this was voided, there are no returns on this. The free bet cannot be used on another promotion as you may only use real cash on this. If you use a real cash money and this was voided then you will receive a refund for this bet. You may not qualify on the said promotion since it was voided.
Hence you would get your stake back on a voided qualifying bet, but it wouldn't have triggered the free bet, so that would in effect have been forfeited.
This position is the default among almost all bookies, but that is not to say they cannot go against their own terms if they choose to. They have it within their power to change their rules and offer "goodwill gestures" to customers in certain circumstances, as we shall see.
Will Bookies Reinstate My Free Bet If It Has Been Made Void?
In general the answer to this is "no", if you use a free bet for a wager and it is made void, you will simply lose your free bet. In the same way, if the wager you place as your qualifying bet is voided, you will not be given another chance to qualify for a free bet. But as alluded to earlier, bookies have the power to use their discretion, or indeed common sense, and in some circumstances it is very possible a bookmaker will give you a second chance with a qualifying bet or reinstate a free bet that has been voided.
For example, when we contacted Betfred in the spring of 2020, when sporting events were getting cancelled, often at short notice, they told us:
Due to a lot of sports being cancelled if you place a qualifying bet that is voided we would then have to go off the second bet not the first bet to qualify for the offer. If a free bet is voided the free bet balance would reflect this so if you used £1 in free bets and it was voided you would get the £1 free bet back.
Of course there are no hard or fast rules in relation to when bookies might choose to do this, but contacting their customer services department in a polite and slightly pleading fashion might indeed encourage them to see things your way and give you another shot at qualifying for or using a free bet.
Bets Most Likely to Be Made Void
Sometimes there is no way to predict circumstances that might lead to a sporting event being cancelled. Whether a whole football squad gets taken down with severe food poisoning, a disease wipes out all animal-related sport for months (as in the foot-and-mouth crisis), or just about all sport is caused to cease due to a global pandemic, there is little punters could do to avert such scenarios.
On the other hand, there are certain sports (at certain times of year) or certain markets within sports that should be avoided by punters who don't want their free bets to get voided. Here are some of the more common ones to avoid:
Asian Handicaps
As mentioned above, Asian handicap football bets can result in a "push" or void bet if you are not careful, which would not be ideal if you had placed your qualifying bet or free bet on it.
First/Last/Anytime Goalscorer
Goalscorer bets in football, tryscorer bets in rugby and indeed any player-specific bets have the potential to be made void if the player in question does not appear for his/her team as expected. This could be due them simply not being selected, or due to an injury sustained in the warm up, a last minute bout of illness or even a bust up with the coach in the changing room before the game.
Whatever the reason, if the player you bet on doesn't feature in the game, the bet will be made void. If you place your bets after the team is announced, you will minimise the risk of this happening but you will still be open to a late mishap.
Horse Racing in Winter
The great British weather is a common culprit for horse race cancellations in winter. National Hunt racing fans will be all too familiar with meetings being postponed, cancelled or abandoned due to waterlogging, heavy snow, severe frost or strong winds. So, to avoid losing your free bet, either don't use it on horse racing in the winter months, or at the very least check the weather forecast before you do!
Any Outdoor Winter Sport
It isn't just horse racing that is frequently hit by bad weather. Football, rugby and other outdoor sports, especially at a lower standard, are often affected by postponements due to frozen or waterlogged pitches. And, in fact, this issue isn't just restricted to the winter, with rain affecting cricket another far-from-uncommon cause of void bets.
When the Odds Look Too Good to Be True
It is sometimes possible to get very good betting value, but if the odds look almost too good, it is very possible the bookie has made a mistake of some sort and that is sure to lead to just one thing: the bookie voiding the bet and you losing your free bet!
Bets Not Included in Terms of the Offer
Some free bet offers will have certain restrictions on the types of bet you are allowed to place for either the qualifying bet, the free bet or both. It might be, for instance, that multiple bets or accumulators are not permitted when using a free bet. If you place such a bet with a free bet it is likely to be voided and your free bet forfeited.
How to Minimise the Chances of Bets Getting Made Void
Essentially, in attempting to minimise your chances of having your qualifying bet or free bet voided, you ought to follow these simple steps:
Read the Terms & Conditions – As mentioned, some bet types, sports or events might be excluded from the free bet offer you are claiming, so always ensure you read the full terms and conditions before you claim the offer or you could be wasting your time from the beginning.
Check the Weather Forecast – For any outdoor sports, extreme weather might lead to the postponement or cancellation of an event, or weather-related travel disruption might even lead to an indoor event getting cancelled!
Leave It Late – Don't risk your player getting injured in the warm up – leave it till the last minute before you place your bet to ensure your player is actually on the pitch! At the very least, wait until the teams are confirmed.
If your bet has been voided and you have lost your free bet (or not qualified for it) as a result, remember that contacting the customer services team (in a polite manner, requesting rather than demanding) might well result in them giving you a "goodwill gesture" of another free bet.
If Bookies Make Mistakes Can They Void Your Bet?
In short, yes – if bookies have made a mistake with their odds, they are entitled to void bets placed at the incorrect odds, or at the very least to pay out at a reduced rate. This is called a palpable error and has happened numerous times over the years. Sometimes it can be caused by something as simple as putting the wrong odds for the wrong player, for example, having Rafa Nadal at 8/1 and the world number 665 at 1/8. Here are a few more unusual examples of when bookie mistakes have proved extremely costly (and annoying!) for punters.
One example of this that made the news was when Irish seven year old, Voler La Vadette, cruised to victory in the 2011 Christmas Hurdle at Leopardstown. Priced at odds of 13/8 going into the race, but an "obvious technical fault which allows a customer to exceed their exposure limit" on the Betfair Exchange led to £800,000 of in-running bets being taken on the mare at massive odds of 28/1 when the race was all but won! Luckily for the punter(s) (who faced a liability of over £2.2 million!) Betfair voided the bets.
That example was on the Betfair Exchange, but there are plenty of other examples when bookies have dug themselves out of a hole or two by voiding bets. For instance, during Euro 2016, a roofer called Andrew Jones saw odds of 4000/1 quoted by Coral in their shop on England to beat Wales 2-1.
After checking with staff the odds were correct, he placed his £5 bet and after the Three Lions delivered the 2-1 victory he was all lined up to collect his £20,000 winnings… except Coral had other ideas. They told him there had been a mistake and that the odds should have been just 8/1. They did pay him… but only £40 instead of the £20,000!
Conclusion: Void Free Bets
So, in summary, if you use a free bet for your wager and the bet is voided by a bookie for whatever reason, it is highly likely you will lose your free bet. If your qualifying bet is voided, you will generally get your stake back but not get the free bet you would have otherwise qualified for, nor get a secondary chance to earn one.
However, from personal experience most bookies are quite good about this. If you contact them and you ask really nicely and the customer services teams are in a good mood, you might just get a second bite of the free bet cherry!